Sesame Seeds
Sesame seeds add a nutty taste and a delicate, almost invisible, crunch to many Asian dishes. They are also the main ingredients in tahini (sesame seed paste) and the wonderful Middle Eastern sweet call halvah. They are available throughout the year.
Sesame seeds may be the oldest condiment known to man. They are highly valued for their oil which is exceptionally resistant to rancidity. "Open sesame" the famous phrase from the Arabian Nights reflects the distinguishing feature of the sesame seed pod, which bursts open when it reaches maturity.
African slaves brought sesame seeds, which they called benne seeds, to America, where they became a popular ingredient in Southern dishes.
Through the ages, the seeds have been a source of food and oil. Sesame seed oil is still the main source of fat used in cooking in the Near and Far East.
One of the first oil seeds known to humankind, sesame seeds are used in culinary as well as in traditional medicines for their nutritive, preventive, and curative properties. Its oil seeds are sources for some phyto nutrients such as omega6 fatty acids, flavonoid phenolic anti-oxidants, vitamins and dietary fiber with potent anti-cancer as well as health promoting properties.
Useful gardening information
Sesame needs well-drained and fertile soil, without too much nitrogen added or you will get lots of plant growth with not much seed production. You can direct-seed sesame after all danger of frost is past. Sesame must be planted shallow, preferably 1/2" deep, and does best just after a rain, or if the soil has been irrigated to slightly damp. Germination is 1-2 weeks, and sesame matures in 80-125 days on average. (Sesame is indeterminate so maturity is spread over time.) This herb will tolerate dry conditions once the seedlings are well established. Sesame grows 2-4 feet tall but can reach as much as 9 feet! The hairy, single stem needs space so plant seedlings in rows 2-3 feet apart. Sesame flowers white (and rarely pink) before becoming seed capsules with 8 rows of seeds in each 1 to 1-1/2 inch fibrous seed capsule. The seeds are tiny, flat and pointed, averaging 15,000 seeds per pound.
Links to useful information on the web:
Here is a link to instructions on
Harvesting Sesame Seeds.
---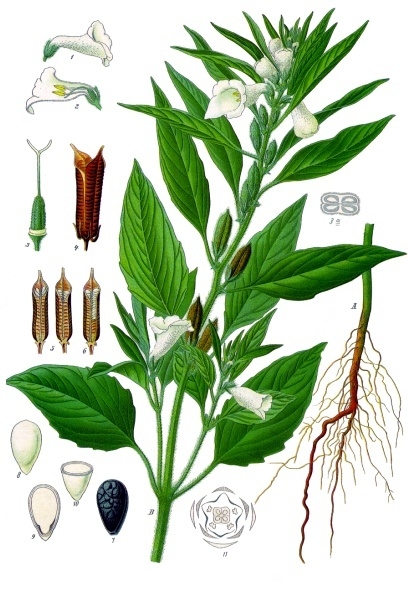 HR520 Sesame ( Sesamum indicum )
Sesame is a fun and easy to grow herb with beautiful bell shaped flowers. This variety has tan seeds and can be used for baking, salads, sauces and noodles. The leaves are also edible. It succeds in a wide range of soils. Do not overfertilize.
The seeds are ready to harvest in early fall when 1/3 of the pods have started to open. Cut the plants and lay on a tarp to finish maturing, the pods will open as they dry out. Direct seed after the last frost in the spring. They don't transplant well.
Sow 1/2"" deep in rows 1' apart, thin plants to stand 8"" apart in the row. It can also be grown as a house plant.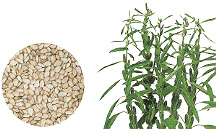 IP083 White Sesame "Shirogoma" ( Sesamum indicum )
White sesame seed is easy to grow and delicious roasted. We consider the Shirogoma the best variety for home gardeners. This plant likes long hot summers. Typically, seeds are roasted before using and then used whole, crushed or ground. Korean cooking makes use of sesame seeds, especially in soups and as a dressing for lightly cooked vegetables.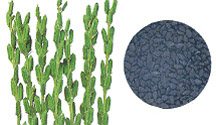 TRN081 Black Sesame "Kurogoma" ( Sesamum indicum )
This unique sesame is grown for its flavorful black seeds. Sesame grows best in hot weather and must have well-drained soil, it can be grown as an annual garden plant if started early.
This type of seseame is grown for Black Sesame Pudding (Kuro Goma Purin ).
Visit
lafjuimama.com
for a wonderful Black Sesame Pudding recipe.
---
Share a growing tip or recipe and help other gardeners!

Click on the Contact Form link, place "Tip" in the name line and fill in your information. If we accept your Sesame Seeds growing tip or recipe, we will post it on this page.