Spearmint Seeds
Spearmint is a very popular world wide flavor of chewing gum, across all brands. The flavor is extracted directly from the spearmint plants. It is also used as a flavoring in all sorts of toothpaste, candy, and shaving creams.
Spearmint appears in cuisine all around the world. Various types of mint are found in Asian and European cuisine, as well as a host of alcoholic and non-alcoholic drinks.
Spearmint has long been used for a variety of stomach and bowel complaints, as it tends to increase bile production in the stomach and aid digestion. This is the historical reason for the after-dinner mint!
Another popular use for Spearmint is for expectant mothers, as a mild remedy for nausea and vomiting during pregnancy.
Useful gardening information
Start seeds indoors 8 - 10 weeks prior to last spring frost or sow herb seeds directly outdoors in partially shaded, moist, soil.
Sow the herb seeds only 1/8 inch deep in loose soil. Transplant seedlings when they reach 2 inches tall.
Harvest leaves when the Spearmint herb plant reaches 12 inches tall. Pick the larger outside leaves as the plant grows to encourage more leaf growth. Young leaves and stems have best flavor. Dry mint leaves on trays or by hanging bunched branches upside down in a warm, dark, well-ventilated area. Fresh leaves are easy to freeze too.
Temperature: 60 - 70F
Average Germ Time: 14 - 21 days
Light Required: Yes
Depth: 1/8 inch
Sowing Rate: 3 - 5 seeds per plant
Moisture: Keep moist until germination
Plant Spacing: 18 inches

Links to useful information on the web:
Spearmint nutrition facts
---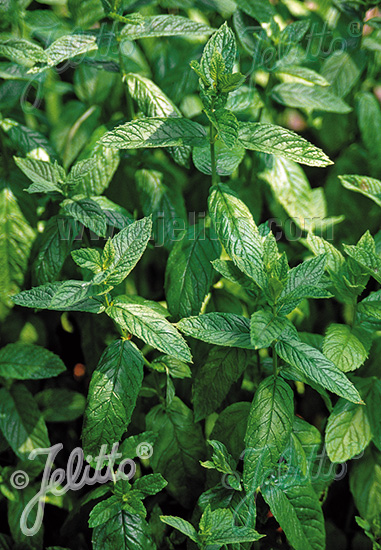 HR209 Spearmint ( Mentha spicata )
Sweetly aromatic, Spearmint, can be used in both cooking and in potpourri and other fragrant decorative items. Spearmint herb is used to make mint jellies and sauces and of course, tea! Spearmint also has medicinal benefits as well. It is a wonderful addition for the garden that can easily be started with seeds.
Spearmint has strong flavor and fragrance that is released with simple bruising. Itís the best mint variety for hot and cold drinks. Toss bruised leaves into ice water for a refreshing summer drink or add to iced tea. Spearmint is favored for flavoring beverages such as mojito. Also know as Yerba Buena. Spreading plant is great for containers. Tolerates light frost.

A perennial plant for zones 4-9, and can be grown in containers.
---
Share a growing tip or recipe and help other gardeners!

Click on the Contact Form link, place "Tip" in the name line and fill in your information. If we accept your Spearmint growing tip or recipe, we will post it on this page.