Note: We only ship these products to addresses inside the USA.
Seedman's Seed Starter Cup Kit
Our customers are always asking us to suggest the best ( and easiest ) way to start flower and vegetable seeds with the least amount of effort and still obtain the best results.
The simplest answer to this is to make sure you start with a good seed growing container that is deep enough to allow roots to expand, use a good seed starting media that drains well and will be able to maintain moisture against the seed without water logging them, provide the correct nutrient charge for young seedlings that provides all the food and micronutrients they need until reaching transplant size with burning the plant, provide protection to the seeds and young seedlings from fungus diseases and fungus gnats, then provide bright light and air circulation.
Sounds simple and it really is for greenhouse growers and experienced gardeners with a good supply source, but if you do not have a good gardening center close at hand, it can be difficult to put everything together and be assured you are using the best system possible.
That is why we have put together an excellent seed starting package for both first time growers and experienced gardeners as well. Our kit offers the same products we use to start our own flowers and vegetables for our gardens, flower beds and containers.
We start by offering the best growing cup available, the kit features the Jiffy Brand 4" cups made from all-natural sphagnum peat and wood pulp that have bottom holes to promote excellent drainage and strong, vigorous root development. These 4" round by 3 3/4" high pots also feature a top rim to make destacking easier and are designed to fit 4" shuttle or carrying trays. The depth of this cup is critical for good root mass formation, and thus healthy plants. The smaller cups simply do not allow the roots to form properly, resulting in stunted plants.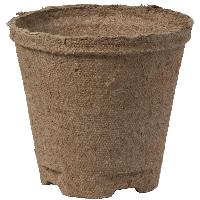 Made from all-natural sphagnum peat and wood pulp, Jiffy-Pots are completely biodegradable and may be transplanted directly into the ground or larger containers. The 4" round x 3 3/4" high size is ideal for tomatoes, peppers or other vegetable and flower bedding plants. These are large 4 inch growing cups, allowing you to start the seeds and retain them in the cup until final planting in the garden or container, this is not true of many smaller grow cups.
For a seed starting medium, we use our
PMIX02 Premium Concentrated Seed Starting Mix
made from natural coir. You invest a lot thought into selecting your seed selections, why not give them the best possible conditions to start off life with? We start all of our seeds ( all of our seed crops, germination trials and personal favorites ) in this seed starting medium, and now we are including it in our seed cup kits.
This mix ships in a dry brick form for easy handling and storage, and you use the giant zip lock bag that the kit is packaged in for mixing, just open the zip lock bag, place the brick inside, add one gallon of water ( save a gallon milk jug, fill it all the way full and it is the perfect amount to add to one brick ) and watch it expand to over 2 gallons very quickly, it starts swelling just as soon as the water is added.
Makes the perfect seed starting mix as it will never pack down like soil, it absorbs water readily, but it drains well also and does not trap moisture against seeds like peat pellets can do. Made from a single sterile source, it will never contain foreign weed seeds or diseases. This brick-sized concentrated seed starting mix is made from coir ( renewable coconut fiber ), it is sterile and makes an excellent natural soil alternative. No dirt means it is clean to handle, and it is good for the environment as it is made from a natural renewable resource.
Unused mix can be stored for later use, creating no waste.

While it is great when used for seed sowing, plugs and transplants, it may also be used for growing flowers and vegetables in baskets and containers. It is a truly versatile mix that can be used for growing just about anything.
We now come to the most important part of the seed starting process, once the seeds are sown, they need to either be covered to a recommended depth ( normally with soil ), or if they need light to germinate, they need to be left on the surface.
In the past, you simply covered the seed to the required depth, or if surface sown, sowed the seeds on the surface and tried to keep the soil moist by misting every day and hoping seeds did not get blown away by wind, or washed into the soil by over watering.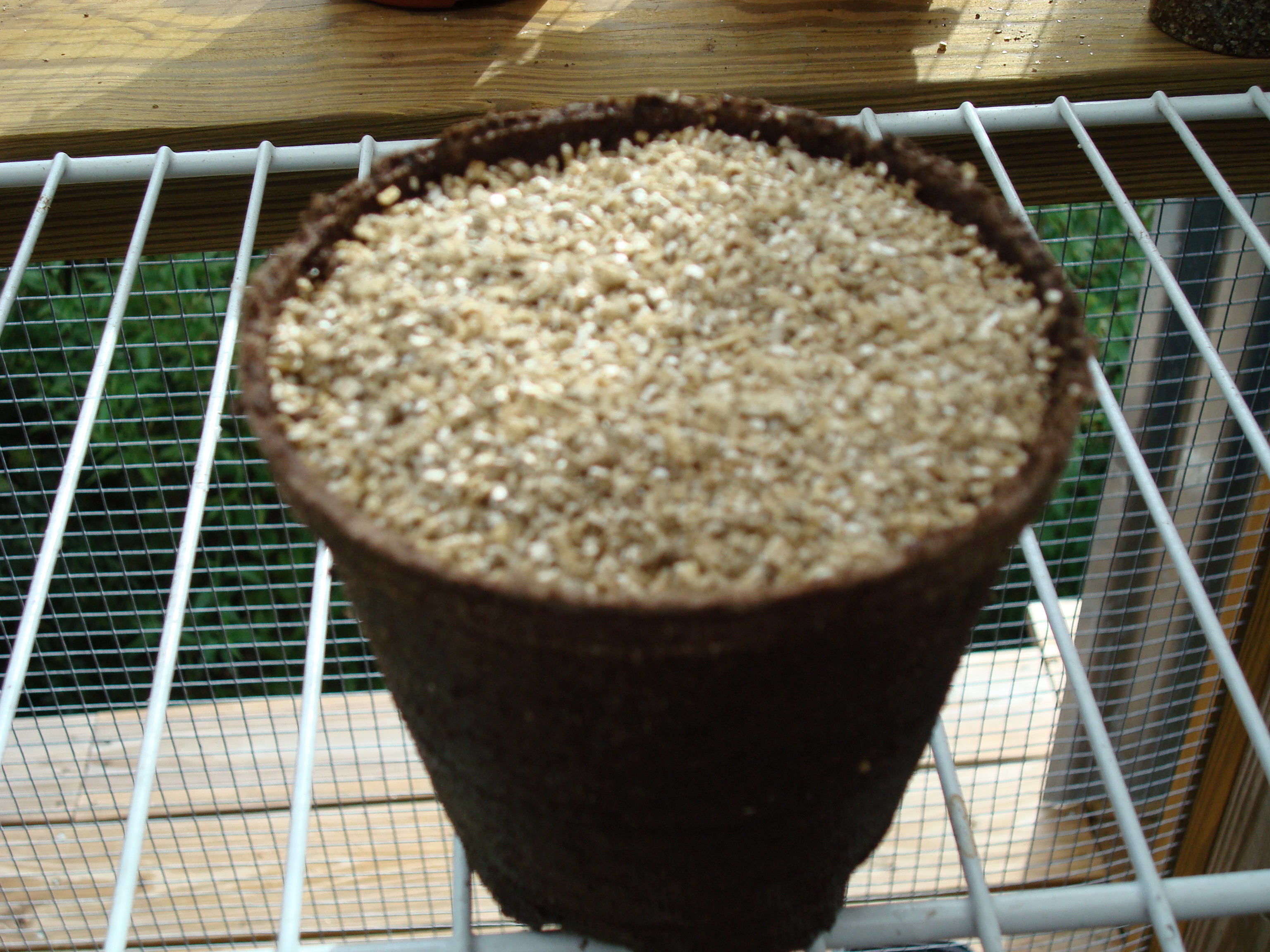 If seeds did germinate, they faced a new battle, the wet soil that could promote fungal grow and "damping off". Tiny seeds that require being surface sown often have a very high failure rate due to poor germination, or seedlings dying soon after germination. It is for this reason probably more than any other that there is not a large retail packet availability for tiny seeds such as petunia, begonia, and so many other favorite flower types that are normally only found in plant form at you local gardening center.
We had the same problems in our greenhouses, until we developed a product designed to overcome these limitations. Our system makes germinating these seeds a snap, using our exclusive SeedShield Seed Covering enhanced with Dampaide , which can be used on seeds that are normally sowed on the surface as the need light to germinate.
SeedShield Seed Covering enhanced with Dampaide allows light penetration, yet holds moisture in place for seeds, and helps prevent Damping Off of Seedlings and offers protection against Fungus Gnats, a common problem with young tiny seedlings.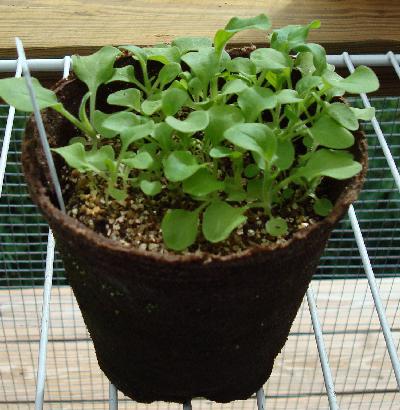 We include a one cup packet of SeedShield with our kit.
Then to finish things off, we even include a pack of 20 Plant Labels, these 5" plastic markers are perfect for identifying your seed plantings.
We feel that this is the best seed starting kit on the market today, we've received nothing but positive feedback from our customers about this kit.
Note: The seeds shown planted are pelleted petunia seeds and the young seedlings to the left are the petunias. So many customers have remarked in the past how difficult pelleted seeds were to start. No anymore! Our kit makes pelleted and tiny seeds a snap!
---
Note: We only ship these products to addresses inside the USA.
Order your Seedman's 20 Cup Seed Starter Kits now! These sell out about as fast as we can make them.
SSWAF07 20 Cup Seed Starting Kit
Each kit contains:
20 Each Jiffy Spaghnum/Wood Fiber Cups 4" x 3¾"
1 Concentrated Seed Starting Brick ( makes more than enough for 20 cups )
1 cup SeedShield Seed Covering
1 pack of 20 each 5" Plant Labels
Note: our Seed Starting Kits are heavy, and can only be shipped to USA residents, we cannot ship these outside the country. They must be shipped to a physical address as we use UPS, we cannot ship to PO Boxes.
---
Other Seed Starting Products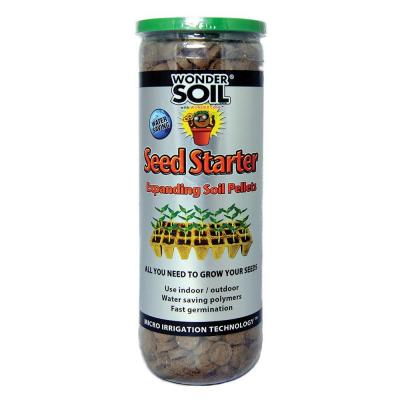 Seed Starter Expanding Soil Pellets (with Worm Castings!)
One half inch WONDER SOIL® wafers enriched with worm castings. Use in small seed starter cells, around roots and as a booster to the soil of existing plants. Promotes faster germination with more sprout success.
These small pellets are ideal for small containers or to sprinkle around your outside plantings. The addition of worm castings adds just the right amount of organic fertilizer and make this product perfect for soil enrichment and starting off seed and seedlings in containers. The 1lb container will make over ten pounds of enriched potting soil.
Wonder Soil Reground®
Wonder Soil Reground is made from Wonder Soil wafers that have been reground into thousands of expanding granules. Easy to pour and expand where needed. One pound expands to fill 20 or more 4" cups when rehydrated with water.
Wonder Soil Reground is easier to use and slightly more economical than wafers.
G21 Plant Labels, 4" white plastic. 25 per pack, with pencil