Sugar Beets Seeds
The sugarbeet is a root crop that flourishes in temperate climates where the growing season is about five months long. Farms can be found in California, Colorado, Idaho, Michigan, Minnesota, Montana, Nebraska, North Dakota, Oregon, Washington, and Wyoming.
Beets are planted in late March/early April and harvested in late September and October. When fully grown, a sugarbeet is about a foot long, weighs two-to-five pounds, and is about 18% sucrose. They are processed at 23 factories that are located near the fields, because beets are a perishable vegetable.
Factories generally operate around the clock, seven days a week, from October through April. Beet sugar represents about 54% of domestically-produced sugar. There is no difference between beet and cane sugar.
Useful gardening information
To plant, prepare your seed beds in a sunny location with firmly packed soil. Sow the seed in slightly moist soil at a depth of three-quarters to 1.5 inches. Sugar beets adapt well to a variety of soil types, but you'll want to make sure the soil is well-drained and free of roots and large stones that can inhibit the roots' growth.
Sugar beets prefer a soil pH of 6.0 to 6.5. Get your soil tested at a local Extension office and add lime as recommended to bring soil pH up if needed. It's best to apply lime early, at least 30 days before planting.
Virginia Tech Extension experts recommend planting seeds 1 inch apart in rows and then thinning the plants when they grow 4 to 6 leaves, spacing the plants 10 to 12 inches apart. Space rows 18 to 24 inches apart.
Links to useful information on the web:
Article on how to grow sugar beets.
Article on how to make sugar from sugar beets.
---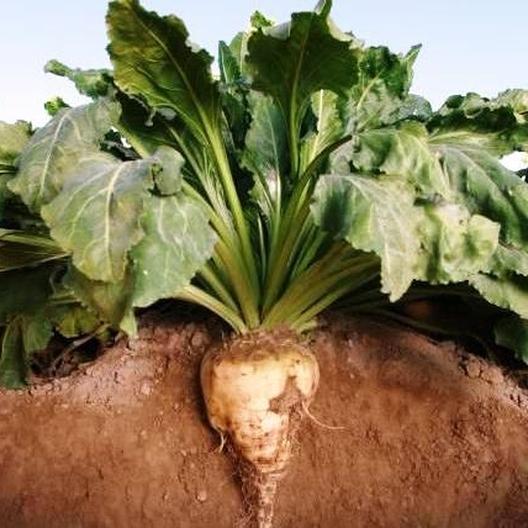 1A360 Sugar Beet Blend
A blend of sugar beet varieties containing 18 to 20 percent sugar. Huge roots grow up to 10 pounds each and are great for sugar-making, stock feed or game food plots. Good vigor and widely adapted.
---
Share a growing tip or recipe and help other gardeners!

Click on the Contact Form link, place "Tip" in the name line and fill in your information. If we accept your Sugar Beets growing tip or recipe, we will post it on this page.