Summer Savory Seeds
Savory (Satureja hortensis) is an old-fashioned, mild culinary herb that cooks have used for centuries. Savory is used medicinally to treat digestive problems. Savory has a rich taste but contains very little sodium, so it is useful as a flavoring for those trying to lose weight or adhere to a low-sodium diet. It aids digestion, replaces salt, pepper and spices for seasoning vegetables, and enhances salads.
Summer savory is preferred over winter savory for use in sausages because of its sweeter, more delicate aroma. It plays an important role in Bulgarian cuisine, providing a strong and pungent flavor to the most simple and the most extravagant of dishes. Instead of salt and pepper, a Bulgarian table will have three condiments: salt, paprika, and savory. When these are mixed it is called sharena sol (colorful salt).
Useful gardening information
Season: Annual
USDA Zones: 3 - 9
Height: 12 - 18 inches
Bloom Season: Summer
Bloom Color: Lilac
Environment: Full sun
Soil Type: Moist, well-drained, pH 6.1 - 7.8
Temperature: 60 - 70F
Average Germ Time: 10 - 14 days
Light Required: Yes
Depth: Press seed onto surface of soil, cover lightly with peat moss
Sowing Rate: 1 seed per inch
Moisture: Keep moist until germination
Plant Spacing: Rows 12 inches a part; thin seedlings 6 - 12 inches
Links to useful information on the web:
Summer Savory Recipes
---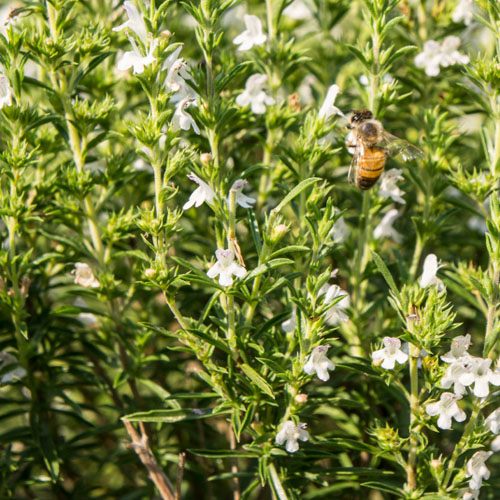 HR530 Summer Savory ( Satureja hortensis )
Every herb garden needs Savory seeds! Grow Summer Savory for your garden from herb seeds and season meat and veggies all summer long. As fast as you pick these aromatic leaves, new ones begin to grow! Summer Savory herb is popular along the eastern regions of Canada. It is also well-used in foods from France and Bulgaria. It's bright, pungent and slightly sweet. Summer Savory boasts a warming, peppery scent and taste. One of the essential ingredients in Herbs de Provence (along with rosemary, thyme, and oregano). Summer Savory is also wonderful alone to season beans, meats and dressings.
---
Share a growing tip or recipe and help other gardeners!

Click on the Contact Form link, place "Tip" in the name line and fill in your information. If we accept your Savory growing tip or recipe, we will post it on this page.