Sweet Annie Seeds
Useful gardening information
Slow to germinate, late to bloom, and somewhat plain, Sweet Annie may seem to be more trouble than it is worth. Yet this tall annual herb, native to southeastern Europe, northern Africa, and Iran, is a favorite of crafters in this country for its versatility and sweet, lingering fragrance.
Sow the seeds indoors in a flat of potting mix about two months before the last frost date. Press the seeds into the soil or just barely cover them, and keep the flat at 60°F to 70°F.
It sometimes takes a month for the small, feathery-leaved seedlings to appear. Pot up the seedlings when they're about 2 inches high, and keep them indoors until all danger of frost has passed. Harden off the potted plants for at least a week, setting them outdoors in a protected area for a longer period each day, and then transplant to the garden.

Space the plants at least 3 to 4 feet apart in the garden so they'll grow full and well branched.
Links to useful information on the web:
Growing and using Sweet Annie
---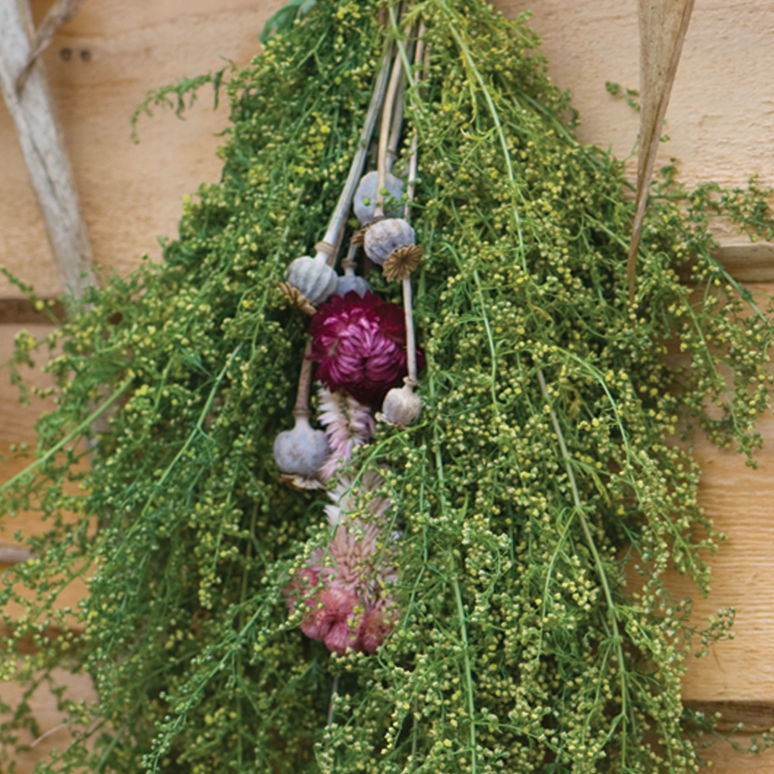 FB163 Sweet Annie ( Artemisa annua )
An excellent multi use herb for all gardens. A graceful and sweetly fragrant annual with tall stems 4'-7' tall, with fine bright green ferny foliage. Though most often grown for fresh and dried arrangements and wreath making (it holds color and fragrance very well) it also makes a graceful accent in the back of a flowerbed or a pretty quick screen, especially behind other container plantings. "Sweet Annie" has a wide variety of uses both medicinal and for handcrafting and makes a nice addition to potpourri and sachets.
This is a tall ferny green plant that grows to over seven feet high and four feet wide in one year! Excellent for back borders or any area that you want to give a tropical look and feel. Sweet Annie has thick strong woody stems and branches out like a shrub. The flowers are tiny and olive green and can't really be seen unless you look hard. However sweet Annie is grown for it's foliage and mostly for it's lovely aromatic scent which can fill the whole garden when the breeze rustles it branches. It has been used for centuries in it's dried form in wreaths and other aroma projects.
Sweet Annie is one of the best natural air fresheners around. Have a aroma you want to get rid of? Just wave a spring of Sweet Annie in the air and it freshens the whole area with a sweet appealing smell illuminating anything else. Don't use air fresheners with unknown chemical ingredients use a natural herb to do the work for you. The plant dries very well and the will last for years all you have to do is gently move a piece and the aroma bursts forth. It is excellent for use in wreaths and other aroma projects.
Germination is about 50 percent, normal for this variety.
---
Share a growing tip or recipe and help other gardeners!

Click on the Contact Form link, place "Tip" in the name line and fill in your information. If we accept your Sweet Annie growing tip or recipe, we will post it on this page.