Screw Pine Tree Seeds

Important Note: The seeds on this page will benefit greatly from using the CAPE Smoke Seed Germination Primer that we use in our own greenhouses. We find we receive significantly better germination results when we use this primer on these types of seeds.
---
Find your zone
using Garden Web's Zone Finder
---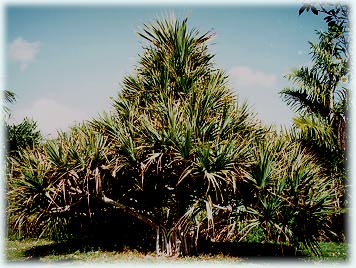 Photo and cultural info courtesy of Floridata.com

1A005 Screw Pine ( Pandanus utilis )
This exotic topical plant can grow up to 25'. It has many stubby branches, each topped by a rosette of 3' strap-shaped leaves. These saw toothed leaves resemble a pineapple plant and are used to make baskets and mats. Prop roots that reach down from the branches provide support and give the plant a unique appearance.
Location: Native to the island of Madagascar (Malagasy Republic). Used in frost free areas such as south Florida.
Light: Sun to light shade.
Moisture: Fast growth if given fertile soil and moist conditions. Will tolerate dry conditions.
Hardiness: USDA Zone 10. High salt tolerance -- does well near the beach.
Usage: Use as an exotic sculptural accent or in containers indoors and out. Young specimens make tough and easy to grow container plants.
Package of 5 seeds $3.95
---