Montezuma Cypress Tree Seeds

Important Note: The seeds on this page will benefit greatly from using the CAPE Smoke Seed Germination Primer that we use in our own greenhouses. We find we receive significantly better germination results when we use this primer on these types of seeds.
---
Find your zone
using Garden Web's Zone Finder
---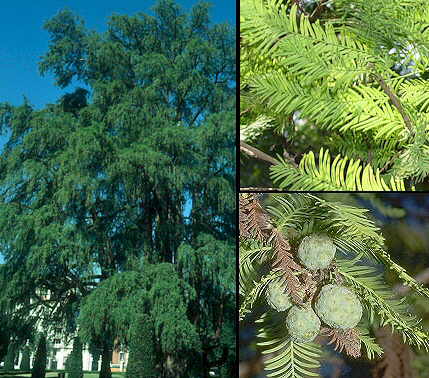 1A349 Montezuma Cypress ( Taxodium mucronatum )
This tree is closely related to the deciduous bald cypress (Taxodium distichum) of southeastern United States but even in colder years Montezuma Cypress tends to hold some foliage, though it often turns an orange brown color, and in frost free years is evergreen.
Montezuma cypress has a broad, spreading crown with strong, horizontal branches and delicate, weeping branchlets with pinnately arranged flattened bright green needles. The bark, often described as shreddy is a pale tan color. The roots of trees growing in standing water can send up conical projections ("knees") but those that experience periodic drying out, such as those growing along stream courses or in cultivation, are less likely to form these. Plant in full sun and irrigate regularly to occasionally.
This beautiful Mexican native can grow in dry soils, however it will grow slower, or in well-watered areas like lawns. Typically planted as a large tree we have also seen this plant kept as a large interesting hedge. Hardy to around 10°F.
Seeds will need to be cold stratified before sowing.