---
Our list of Exotic and Unusual Vine Seeds from around the world.
Annual Vines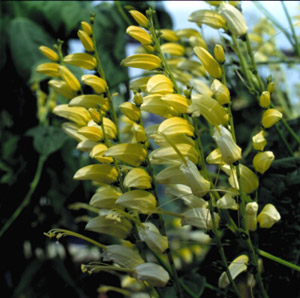 NB30 Citronella
A rare variety of Mina Lobata, Mina Citronella starts out with dark yellow buds, transforming to citrus yellow, and ending with creamy white tips. Blossoms are held upright on long stems making a nice contrast against dark green foliage. An easy to grow spectacular vine, Mina Citronella grows to 15 feet in full sun. Climbing vine is super in baskets, blooms in 10 weeks from seed.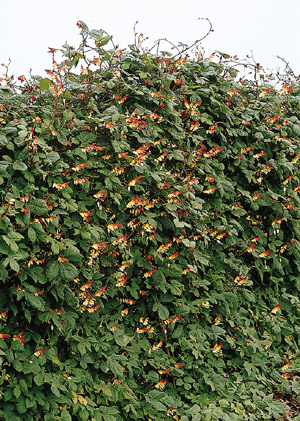 IP010 Firecracker ( Mina lobata )
This member of the morning glory family produces masses of dazzling 1.5 inch tubular flowers that mature from soft lemon yellow, through orange and deep rusty red. A plant in full bloom will never be forgotten! Incredibly showy, it deserves to be the focal point of your flower garden. Grows to 10 feet or more tall. Annual.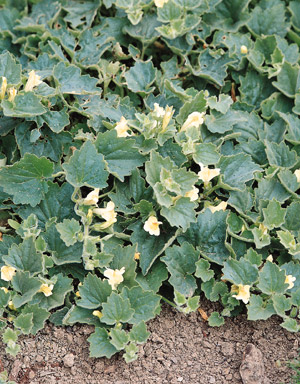 JF319 Creeping Snapdragon ( Asarina procumbens )
A trailing vine with snapdragon-like blooms, this variety is a tender perennial that is hardy to zone 7 but can be grown as an annual. Roundish emerald green leaves make a nice backdrop to fragrant, butter-yellow blooms with pink veins. Easy to grow, this native from Spain can be grown in heat, and cool weather and does well in moist, well drained soil. An ideal choice for containers and hanging baskets where they trail to 3 feet or more.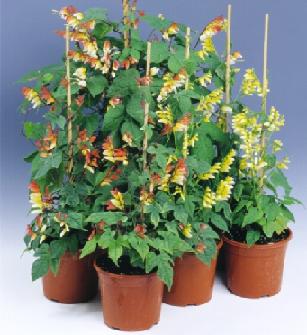 NB31 Jungle Queen
An exciting colorful climber for use in pots, containers, hanging baskets and gardens. Jungle queen has a stronger colour contrast than ordinary Mina Lobata below, a more robust selection, crimson orange flowers. If grown as pot plants periodically push the new growth downwards to the base of the plant. Blooms in 10 weeks from seed.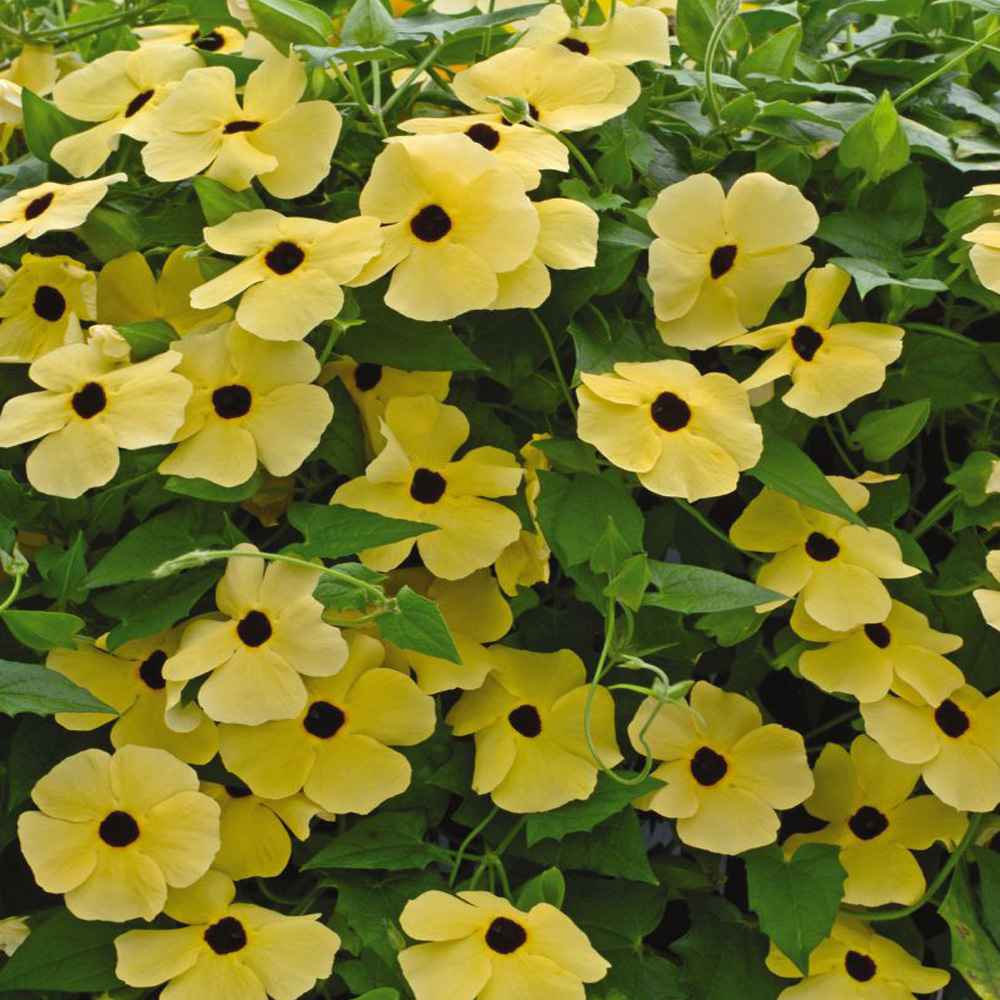 IM092 Susie Yellow-Black Eye
A unique variety of Black-Eyed Susan Vine ( Thunbergia ). Well branched vigorous climber for large pots with stake or trellis, easy to grow. This distinctive flowering vine broadens the color range of thunbergia,this Susie can "pop" into flower in as little as 6 weeks, and is excellent in hanging baskets or window boxes.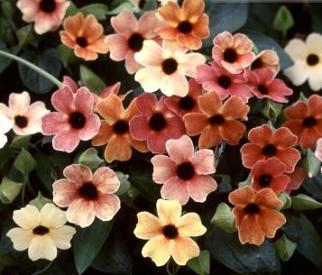 IM091 African Sunset
A unique variety of Black-Eyed Susan Vine ( Thunbergia ). Vigorous twining climber, ideal for hanging baskets or as a climbing plant or bedding plant. Colors range from deep brick-red to soft cream with many shades of pastel reds, pinks, oranges and yellows in between, with dark eyed centers. Individual flowers may change color as they age. Native to the mountains of Western Kenya.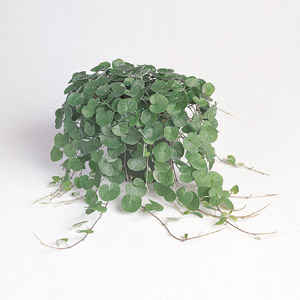 JF211 Emerald Falls MSP ( Dichondra repens )
Vigorous and easy to grow, this Dichondra boasts thick, super-soft deep green leaves (about an inch wide) arising profusely on very well-branched plants that need no pinching. Emerald Beauty will cascade about 3 feet from your baskets, windowboxes, or other containers, but it will also form a nicely domed shape that fills the available space beautifully!
Very heat- and drought-tolerant, Emerald Falls recovers quickly even if wilted, and looks fresh all season long. Try it in a large container behind super-cascading Silver Falls, or among trailing flowering plants from Periwinkle to Sweet Pea.
Emerald Falls thrives in full sun and well-drained soil. Start the seeds indoors in late winter (about 6 to 8 weeks before last anticipated frost) and then set out when the weather warms up in spring.
Multiseed Pellets ( each pellet contains 6-8 seeds ).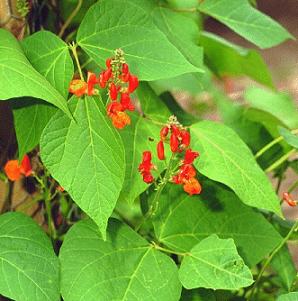 1A218 Scarlet Runner Bean ( Phaseolus coccineus )
Edible and beautiful. One of the oldest runner beans now in existence. First documented in 1750. Good for use as either small snaps, sliced pods or green shells, and often used in place of limas in cooler climates. Highly ornamental. Needs a trellis, fence or pole to train on, 65 days.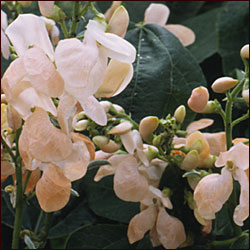 1A219 Sunset Runner Bean ( Phaseolus coccineus )
Edible and beautiful. Unique variety with salmon-pink blooms. Very early blossoming and maturing, nice crops of short and very flavorful beans throughout the season. Excellent for freezing. Needs a trellis, fence or pole to train on, 60-65 days.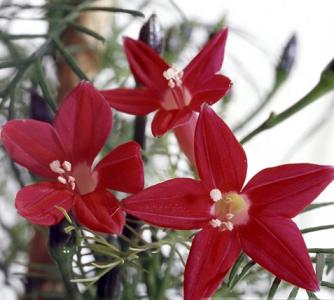 2235 Cypress Vine Mix ( Ipomoea Quamoclit )
Ipomoea quamoclit, syn. Quamoclit pennata.) This easy-care vine is great for high-margin container sales. Vigorous and fast-growing with fern-like, feathery bright green foliage and 3/4-inch trumpet-shaped blooms from summer to fall. Easily grows 6 feet; can reach 25 feet. Full sun. Cannot ship to AR, AZ, PR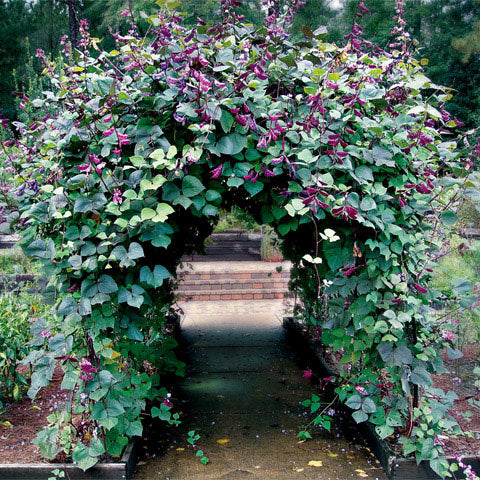 D9606 Hyacinth Bean ( Dolichos Lab-Lab )
Lablab bean is a twining vine with leaflets in threes and showy bright purple flowers and pods. In frost-free areas the vine becomes woody and can reach more than 30' in length. In zones 9 and colder, the vine remains herbaceous and rarely exceeds 10'. The leaflets are purplish-green, broad-oval or triangular in shape and 3-6" long. The flowers are pea-like, a rich, brilliant purple, and arranged in loose clusters on long stems that extend above the foliage. The pods are just as showy as the flowers. They are flat and curved, about 3" long and bright purple.
Easy to grow in poor, acidic to alkaline soils. Lablab beans take 90-150 days from sowing to maturity. Immature pods can be picked sooner. Needs full sun for best growth. Requires well-drained soil. Once established, lablab bean is drought tolerant, more so than most beans.
Young immature pods are cooked and eaten like green beans (older pods may need to be de-stringed). They have a strong, beany flavor and some people like to mix them with other beans or green vegetables. Unfortunately, the purple color disappears during cooking. Young leaves are eaten raw in salads and older leaves are cooked like spinach. Flowers are eaten raw or steamed. The large starchy root tubers can be boiled and baked. The immature seeds can be boiled and eaten like any shelly bean. Dried seeds should be boiled in two changes of water before eating since they contain toxic levels of cyanogenic glucosides. In Asia the mature seeds are made into tofu and fermented for tempeh. They are also used as bean sprouts.
Lablab bean is a good choice for a quick screen on a trellis or fence. It grows fast, has beautiful, fragrant flowers that attract butterflies and hummingbirds, and it even produces edible leaves, flowers, pods, seeds and roots. Each summer I train a vine or two of lablab up the clothes line pole just for the color and fragrance.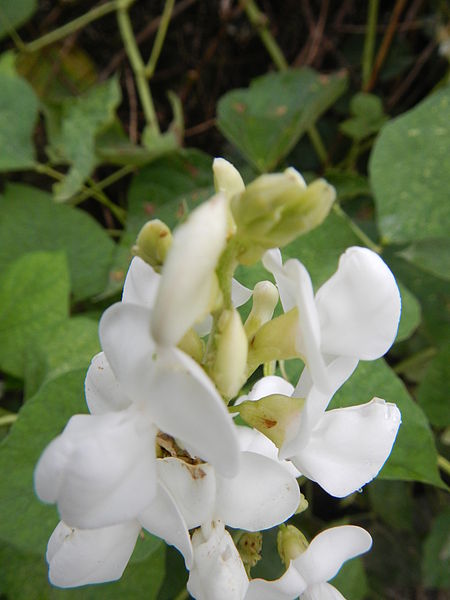 JF171 White Flowered Hyacinth Bean ( Dolichos Lab-Lab )
This variety grows beautiful white flowers and thin pods. Young pods are harvested for vegetable use. Plants are vigorous and are often grown along trellis and fences in the Orient. It is almost necessary to harvest young pods every day during the actively growing season in the summer time.
---
Perennial Vines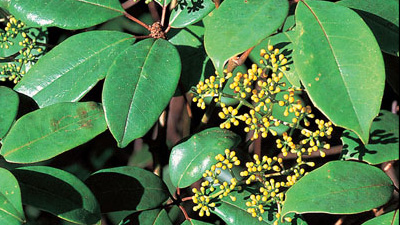 3331 Jungle Grape ( Cissus hypoglauca )
Also known as Water Vine or Five leaf Water Vine, is a common Australian Vine. It is one of the better known climbing plants of the genus Cissus in the grape family. A very common climber in moist areas of eastern Australia, it often colonises large areas after forest damage due to storms, fire or logging.
The name water-vine comes from the fact that the woody sections of the vine may be cut into sections and the sap that drips from the sections may be drunk as water. The leaves are palmate, and are usually arranged in a group of five.
The young leaves are reddish and hairy. Tendrils appear opposite the leaf stalk. Yellow flowers occur on terminal umbels, mostly in spring and summer.
A purple globose fruit matures in the middle of the year. Five leaf Water Vine provides abundant food and shelter for birds and small animals. The stunning blue berries may be eaten raw and provide a delicious watery snack but do leave an acrid aftertaste ( somewhat like the opossom grape ).
It also makes an attractive container plant while young, like it's cousin the Kangaroo Ivy Vine.
Should be grown as a patio plant for zones cooler than zone 8.