---
Our list of Exotic and Unusual Vine Seeds from around the world.
Annual Vines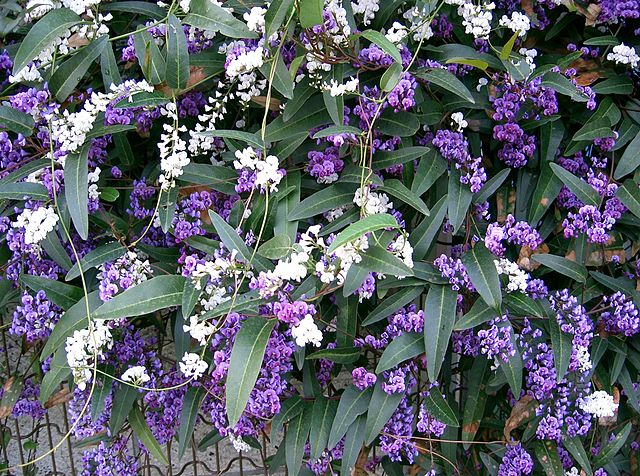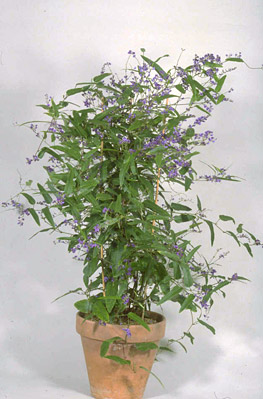 3404 Happy Wanderer VineHardenbergia violacea
A species of Australian flowering plant, known in Australia by the common names false sarsaparilla, purple coral pea, native lilac and waraburra (which comes from the Kattang language). It often grows as a climbing vine, but also as a subshrub if pruned.
It is used as a landscape plant in the southwestern U.S. where it is commonly called lilac vine, and occasionally Mexican lilac vine.
Happy Wanderer blooms profusely in late winter and spring with long cascading racemes like a Wisteria. The vine is much smaller at maturity and also tolerates dry conditions once established.
Purple, or occasionally pink or white, flowers to almost half inch across are borne in pendent racemes throughout much of the year.
Cold hardy to about 22 degrees.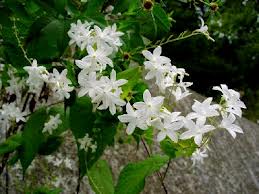 3386 Snow Creeper Vine Porana racemosa
This tropical climber forms a dense mass of foliage, it smothers itself in late summer into autumn with an incredible, snow-drift profusion of tiny, tubular, star-faced, snow-white flowers. It can reach a large size of 30 feet or more over time, and makes a good screen. Zones 10 and higher.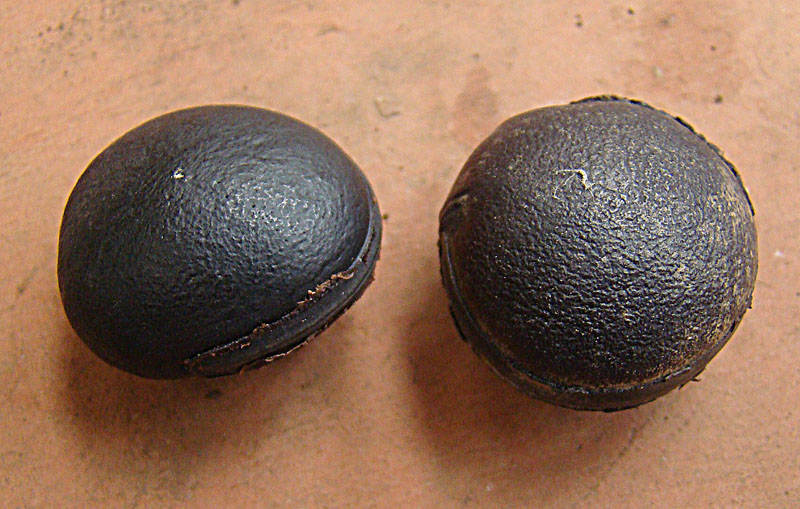 TRZ022 Black Horse Eye Sea Bean Vine ( Mucuna holtonii )
Also known as Jet Black Sea Bean. This is a beautiful high-climbing woody vine. Native to Mexico, Belize and all of Central America, and the northern part of South America. The vine produces pods which contain several beans that are extremely buoyant and well adapted for ocean dispersal.
Known to beachcombers around the world and commonly called "sea beans", they drift on the world's oceans and often wash ashore on the beaches of distant continents and tropical islands. These are beautiful seeds and are often collected and polished by natives and made into lovely necklaces, bracelets and other handicraft items. This one is the most common species of sea bean that washes ashore on beaches of the south eastern United States. It is easy to grow from seeds and is easily cared in the garden or landscape; just needs sunlight and space.
Zones 9 and higher.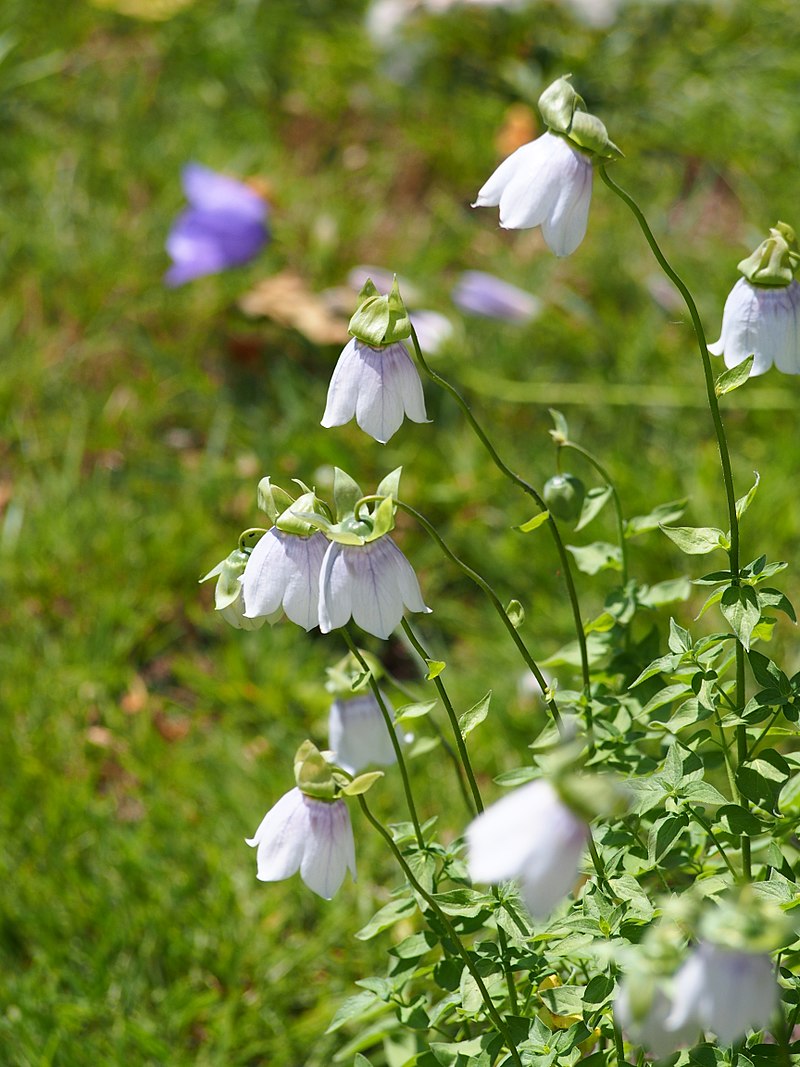 TRM540 Asian Bellflower Vine Codonopsis Clematidea
This herbaceous perennial, commonly referred to as a vine, with its sprawling tendencies and 2 to 3 feet height, looks more like a bedding plant; however, it does twine like a vine. Endemic to the rocky mountain slopes of East Asia, the name Codonopsis comes from the Greek word kodon, meaning a bell and opsis, referring to the bell-shaped flower. Clematidea refers to its clematis-like flower. This is not surprising since the flower looks like a cross between a clematis and campanula.
Site this plant carefully; once these plants are established, they do not like their fleshy, tuberous roots to be disturbed. The best view of them would be on top of a wall, because looking up into the blossoms reveals the striking markings inside the nodding, pale-blue bells. Hardy for zones 7-9.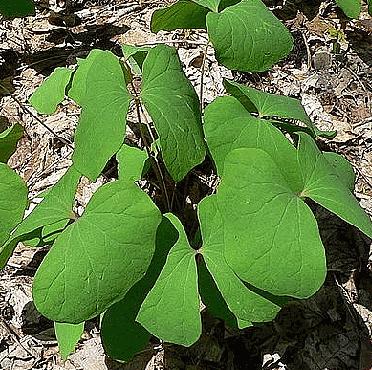 TRM687 Twinleaf Vine ( Jeffersonia diphylla )
Twin Leaf an early-blooming, long-lived, shade perennial that's extremely hardy and very easy to grow in virtually any climate. One glance at this plant and you'll understand why the common name is "Twinleaf". The pure white flowers are about an inch across and are produced in abundance and make a striking display.
This shy woodland flower has become somewhat rare and is now a protected plant in several states. Named in 1792 by American botanist Benjamin Smith Barton, its genus name of Jeffersonia honors the third American president. Thomas Jefferson was himself an aspiring horticulturist and grew this plant in his gardens at Monticello.
The common name of twinleaf comes from the two identical leaves on each stem. Hardy for zones 4-8.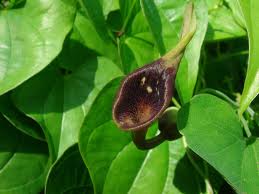 3346 Chinese Pipe Vine Aristolchia debilis
This exotic vine is hardy in zones 8a-10b and blossoms best in light shade. It will stay evergreen all year in the above zones. A real attraction for many unusual types of butterflies and you will see them come from miles around for this plant. The very unusual green/maroon fragrant dutchmans pipe shaped blossom are an attention getter. The plants will grown up to 20 feet if let climb on a structure.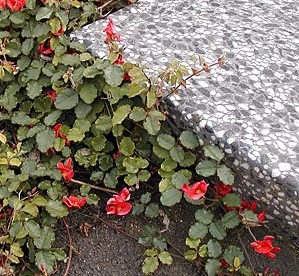 RLP069 Running Postman Kennedia prostrata
Also known as Scarlet Runner. A neat, small, creeping shrub native to Australia with pretty scarlet flowers and small round leaves with ruffled edges. It likes sandy soils and a spot in full sun in USDA Zones 9 to 11.
Outstanding, vigorous climber or creeper/trailing plant with trifoliate green leaves and pea-shaped red & yellow flowers in spring/summer. Prefers well-drained soils with a mulched root system in full sun or partial shade. Foliage damaged by moderate frost but foliage will return in spring. Pruning extends the life of the plant. Useful groundcover or container plant. Really nice in hanging baskets, or grown at top of walls, allowing vine to creep down for cover.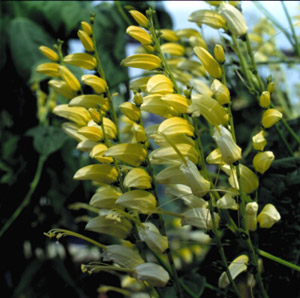 NB30 Citronella
A rare variety of Mina Lobata, Mina Citronella starts out with dark yellow buds, transforming to citrus yellow, and ending with creamy white tips. Blossoms are held upright on long stems making a nice contrast against dark green foliage. An easy to grow spectacular vine, Mina Citronella grows to 15 feet in full sun. Climbing vine is super in baskets, blooms in 10 weeks from seed.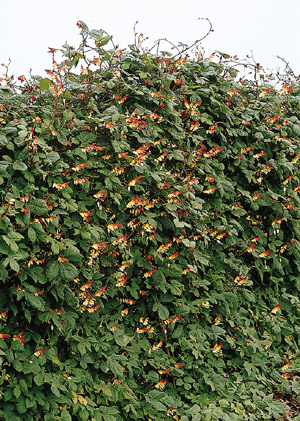 IP010 Firecracker ( Mina lobata )
This member of the morning glory family produces masses of dazzling 1.5 inch tubular flowers that mature from soft lemon yellow, through orange and deep rusty red. A plant in full bloom will never be forgotten! Incredibly showy, it deserves to be the focal point of your flower garden. Grows to 10 feet or more tall. Annual.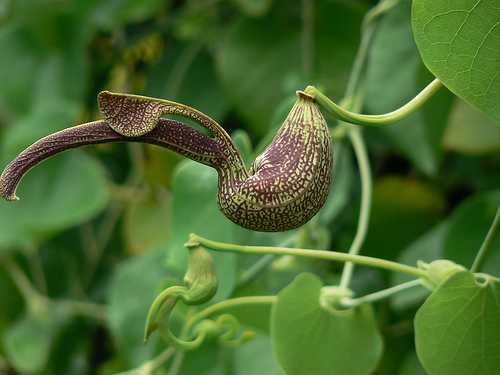 FB161 Dutchman's Pipe ( Aristolochia ringens )
Strange nepethes-like flowering vine. Flowers are large, ornate, and sometimes smelly. Description: Fairly fast growing vine, usually to 20-30ft, but it can also spread out in all directions. Cold hardy to around 30F.
t: It is quite adaptable and can be grown in subtropical areas, tropical areas, and any place where temperatures don't frequently drop below 30F. It also does well in low light conditions and can be grown indoors. Will tolerate high humidity or arid climates with little rain, although irrigation should be provided. Grow in full sun or shade. Pretty flowers will sometimes have a fragrance, which can be smelly, but the scent doesn't drift from the flower. Will also grow well in pots.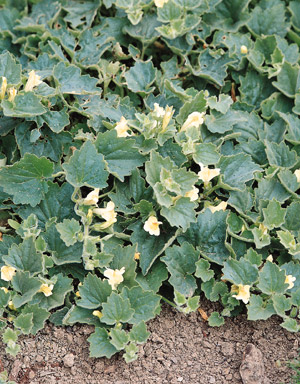 JF319 Creeping Snapdragon ( Asarina procumbens )
A trailing vine with snapdragon-like blooms, this variety is a tender perennial that is hardy to zone 7 but can be grown as an annual. Roundish emerald green leaves make a nice backdrop to fragrant, butter-yellow blooms with pink veins. Easy to grow, this native from Spain can be grown in heat, and cool weather and does well in moist, well drained soil. An ideal choice for containers and hanging baskets where they trail to 3 feet or more.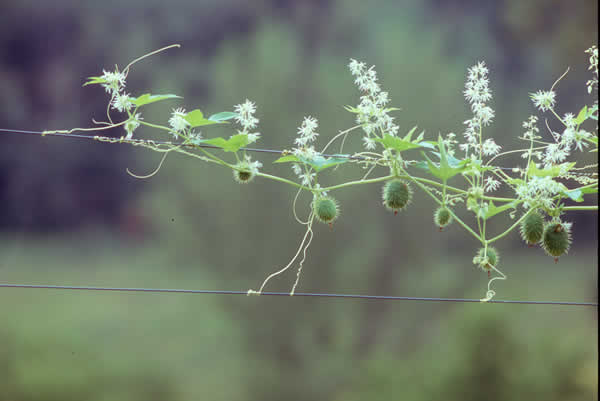 JF125 Wild Cucumber ( Echinocystis lobata )
Wild Cucumber is an annual; it completes its life cycle during one season but will re-seed. The dried vines and cucumbers are great in dried arrangements. The smooth, branching vines reach lengths of 15-20 feet and can be aggressive. Wild Cucumber is identified by its alternately placed star-shaped leaves, which resemble maple-like leaves, each with 5 to 7 pointed lobes. Its flowers are pale yellowish-white and are very fragrant. Wild cucumber's pulpy green, oval seed pods grow up to two inches long and are covered with sharp spines so beware. Likes sun and moist soil. When ripe, the pod bursts open and large brown or black seeds are found.
Despite its name, the Wild Cucumber is NOT edible!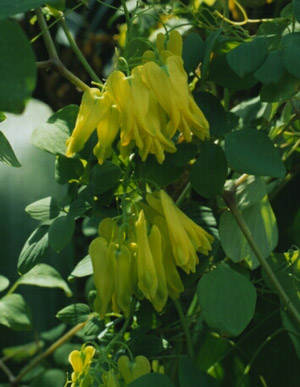 BM44 Golden Tears ( Dicentra scandens )
Bright yellow heart-shaped flowers bloom in April or May; bloom continues off and on throughout the season. This climbing perennial can reach 3 feet high and wide. The species is native to the Himalayas.
Grow in fertile, well-drained, slightly alkaline soil in part shade and allow to self-sow. Provide a strong support for its tender weaving tendrils. May be grown as an annual in cooler climates.
A hardy perennial, hardy to zone 3.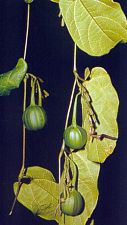 IM087 Indian Birthroot Vine ( Aristolochia tagala )
This is an aggressive, sun-loving slender climber. Best suited for zones 8-11.
Birthworts are so-called because the curved flower looks like a womb and therefore, are used by herbalists to remove obstructions after birth as well as to treat difficult births.
The caterpillars of two rare butterflies, the Common Birdwing (Troides helena cerberus) and Common Rose , feed on the leaves of this plant. A foodplant for the species, Aristolochia tagala has been planted in the Kadoorie Farm and Shan Liu Road in Hong Kong to sustain a healthy population of Common Birdwing.
The species is used as medicines. The Malays pound the leaves apply it to the head to treat fever. In Indonesia, poultice are made with leaves of the species ; it is applied to the swollen abdomen or limbs. In the Philippines, snake bites and malaria is treated with the plant. In India, the roots are considered a tonic, carminative and emmenagogue.
This item is currently out of stock, if you would like to be notified by E-mail when it becomes available again, simply enter your E-mail address in the field below and hit "Submit".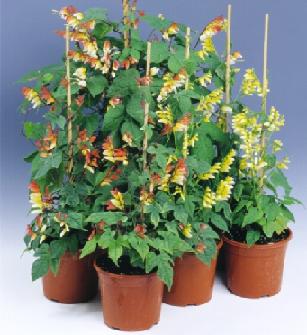 NB31 Jungle Queen
An exciting colorful climber for use in pots, containers, hanging baskets and gardens. Jungle queen has a stronger colour contrast than ordinary Mina Lobata below, a more robust selection, crimson orange flowers. If grown as pot plants periodically push the new growth downwards to the base of the plant. Blooms in 10 weeks from seed.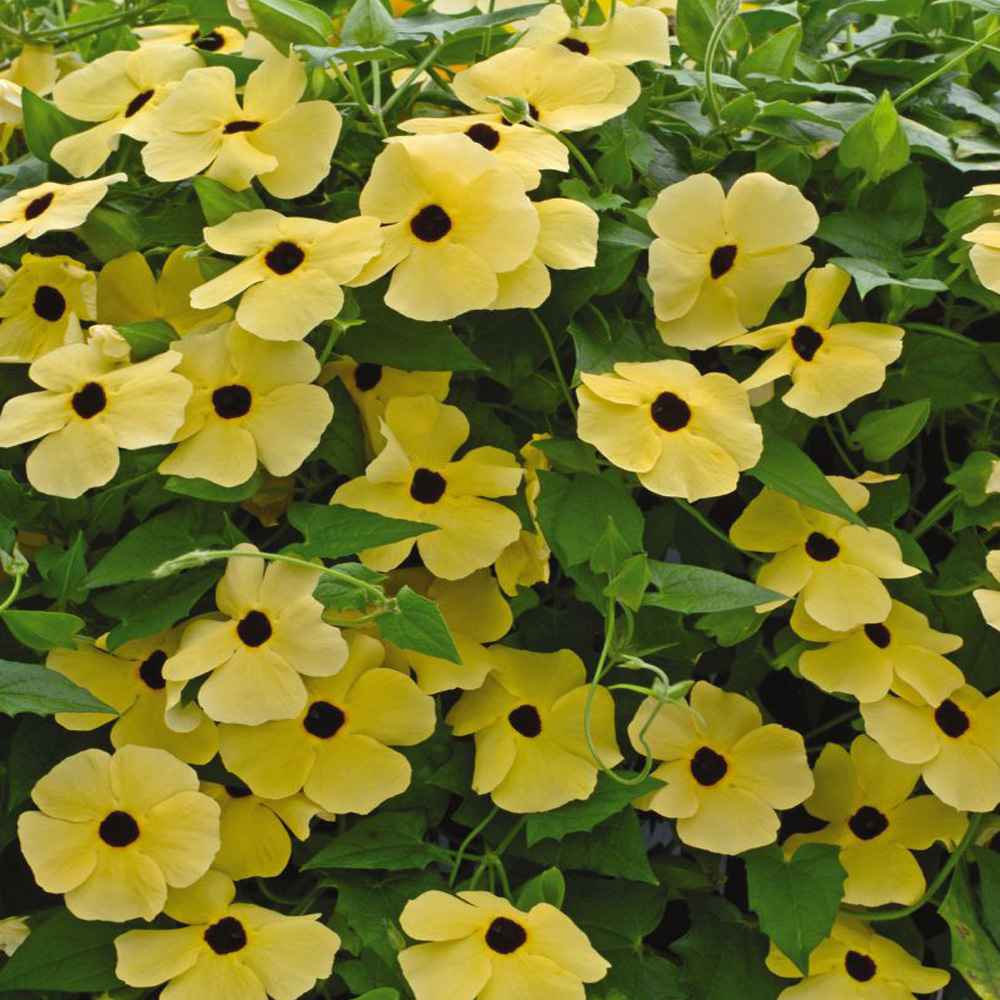 IM092 Susie Yellow-Black Eye
A unique variety of Black-Eyed Susan Vine ( Thunbergia ). Well branched vigorous climber for large pots with stake or trellis, easy to grow. This distinctive flowering vine broadens the color range of thunbergia,this Susie can "pop" into flower in as little as 6 weeks, and is excellent in hanging baskets or window boxes.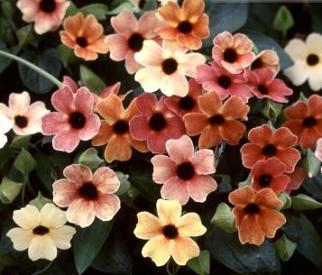 IM091 African Sunset
A unique variety of Black-Eyed Susan Vine ( Thunbergia ). Vigorous twining climber, ideal for hanging baskets or as a climbing plant or bedding plant. Colors range from deep brick-red to soft cream with many shades of pastel reds, pinks, oranges and yellows in between, with dark eyed centers. Individual flowers may change color as they age. Native to the mountains of Western Kenya.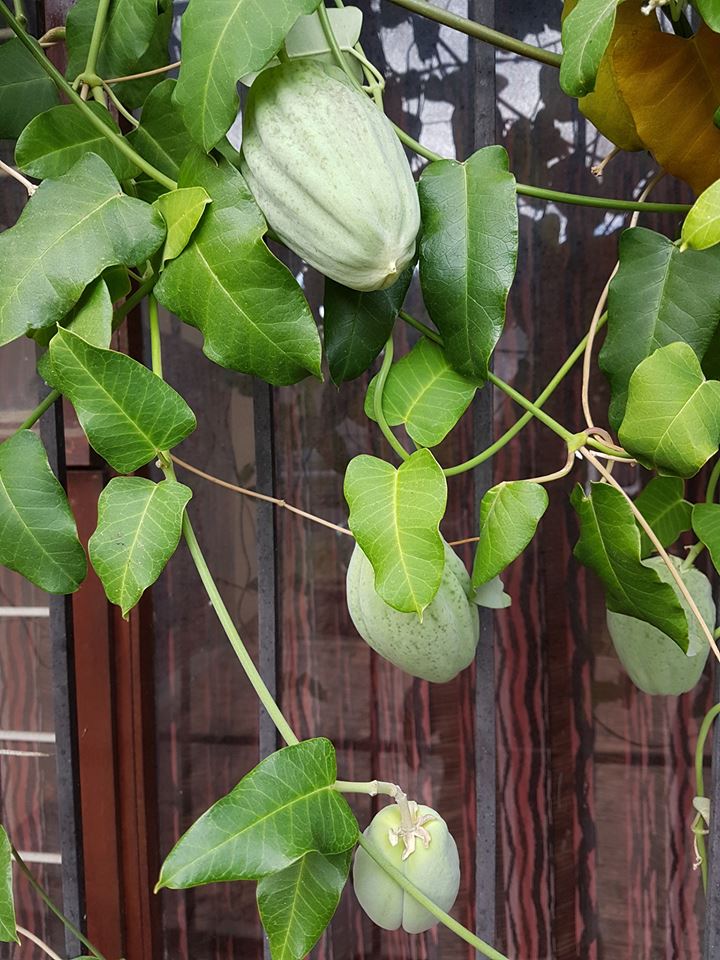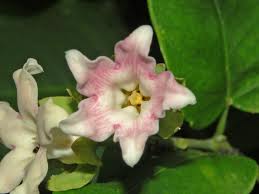 TRM128 Cruel Vine Araujia sericifera
Also know as Moth Plant, White Bladderflower and Common Moth Vine.
A good plant for large tubs with a bit of trellis attached, makes a unique looking ornamental plant, can be grown on fences outside in zone 9b and higher.
The pear-shaped fruits are large pods of about 3-4 inches of length. They contain numerous black seeds surrounded by silky hairs which enable them to be dispersed by the wind. They are ornamental only, and are not edible.
A climbing or creeping vine with thick, elliptic leaves and waxy white and pink, scented flowers. Originally from South America it is now widely cultivated as an ornamental in tropical and warm temperate climates. The name cruel vine comes from the vines twining so tightly around the branches of trees that it grows on in the wild that it girdles them.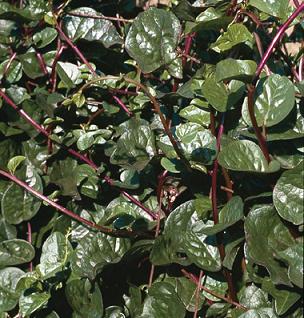 FB159 Red Malabar Spinach ( Basella rubra v Rubra )
Charming twining climber, dark red-olive leaf, purple red stem, pink flowers, vine for large pots or beds or as vegetable.
Also known as Ceylon spinach, vine spinach or Malabar nightshade. It is a climbing perennial plant, mostly cultivated as an annual vegetable against a support in home gardens but in some areas as a vine like market vegetable without staking. Malabar spinach is not a true spinach (Spinacia oleracea L., chenopodiaceae), but its leaves, which form on a vine, resemble spinach, and are used in the same way. The plant is a native of the East Indies, and found its way to the New World from China. It has spread throughout the tropical world and it is one of the best tropical spinach widely adapted to a variety of soils and climates. It is particularly abundant in India, Malaysia, and the Philippines, but it is also seen throughout tropical Africa, the Caribbean, and tropical South America.
Malabar spinach has thick tender stems and the leaves are almost circular to ovate, alternate, and short petioled. The flowers, borne on axillary spikes or branching peduncles are bisexual and inconspicuous. The fruits are fleshy and purplish black and the juice is sometimes used as a dye.
The succulent young and mature leaves, and the stems are eaten. The most common method of cooking is as a pot herb, mixed with stew or other vegetables. The leaves have mild flavor. Malabar spinach is a good source of vitamins A and C, calcium, and iron.
Malabar spinach is a perennial that tends to extend itself over time. Seeds can be sown directly or vines may be established directly from stem cuttings. These need a little shade on transplanting, but root readily. Malabar spinach can thrive under conditions of moderate soil fertility, but is quite responsive to nitrogen fertilizer. Can be harvested at 57 days after planting.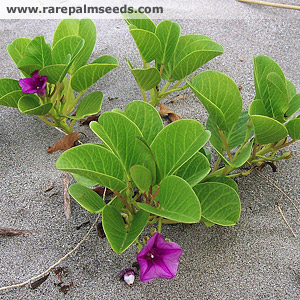 RLP061 Railroad Vine Ipomoea pes-caprae
Railroad vine, Ipomoea pes-caprae, is a pantropic vine found on beaches and dunes from Georgia, south along the Atlantic and Gulf coasts to Texas and Mexico, and throughout peninsular Florida. It is established worldwide on many tropical beaches, including those of Australia and the Caribbean. Its range extends from approximately latitude 30° north to latitude 30° south. It does not tolerate prolonged frost conditions. It is hardy for zones 9-10, and can survive short periods of cold down to 20 degrees.
The vine, along with sea oats, is often used in beach restoration and stabilization. It is one of the primary colonizers of beaches. It grows well on nutrient-poor, moist, sandy, or calcareous soils. Thus, it is excellent for beachfront properties. It provides habitat for many diverse animal species, including threatened or endangered species such as gopher tortoises, beach mice, Scrub-Jays, and kestrels.
Railroad vine grows rapidly but unevenly. Its common name can be attributed to its ability to send out "tracks" of stolons more than 100 ft. long. Stolons are similar to stems, except they produce adventitious roots at the nodes and run horizontally rather than vertically. Taproots are deep, sometimes penetrating 3 ft. into the soil. This ground-hugger usually grows no more than 16 in. high but can form a dense groundcover as much as 30 ft. across.
See a nice Youtube video at Railroad Vine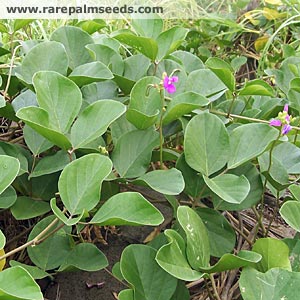 RLP108 Beach Bean Canavalia rosea
Beach bean is a fast growing vine that trails along beach dunes and coastal strand. The thick, fleshy stem can grow to 20 feet or more in length and more than 1 inch in diameter. The stem is rather woody near the base and several branches radiate outward, forming mats of light green semisucculent foliage. The leaflets fold up under the hot sun at midday. The flowers are typical pea flowers, purplish pink, about 2 inch long and borne in erect spikes on long stalks. Beach bean blooms most of the summer and sporadically the rest of the year. The pods are flat and 4-6 inches long.
It occurs naturally on seashores in the tropics and subtropics throughout the world. Beach bean grows on the upper beaches and sand dunes and on seaside cliffs. In the United States, beach bean occurs on the coasts of the central and southern Florida peninsula, southern California and southern Texas.
The sturdy, fast growing beach bean thrives in almost any well drained soil. It is highly salt tolerant. It will have to be pruned to be kept in check. Best suited for zones 9-11.
It can be grown as an annual in cooler zones, and it has great potential for xeriscape gardening. It should be an excellent ground cover for dry sandy areas. Needless to say, it is a must-have for seaside gardens. Use beach bean as a ground cover where you have full sun, poor soil, and drought conditions. Beach bean is used as a biomass cover crop in Third World countries and in arid lands in Australia and Africa where its amazingly rapid growth quickly covers even the harshest soils. It is used to control soil erosion in many parts of the world. The young pods and seeds are edible and used for food in northern Australia.
Mature seeds must be boiled or roasted to render them edible. Mature seeds are toxic until they are cooked!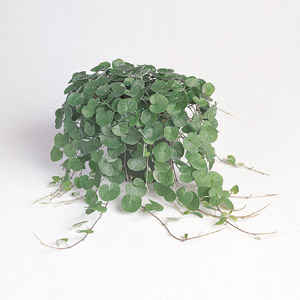 JF211 Emerald Falls MSP ( Dichondra repens )
Vigorous and easy to grow, this Dichondra boasts thick, super-soft deep green leaves (about an inch wide) arising profusely on very well-branched plants that need no pinching. Emerald Beauty will cascade about 3 feet from your baskets, windowboxes, or other containers, but it will also form a nicely domed shape that fills the available space beautifully!
Very heat- and drought-tolerant, Emerald Falls recovers quickly even if wilted, and looks fresh all season long. Try it in a large container behind super-cascading Silver Falls, or among trailing flowering plants from Periwinkle to Sweet Pea.
Emerald Falls thrives in full sun and well-drained soil. Start the seeds indoors in late winter (about 6 to 8 weeks before last anticipated frost) and then set out when the weather warms up in spring.
Multiseed Pellets ( each pellet contains 6-8 seeds ).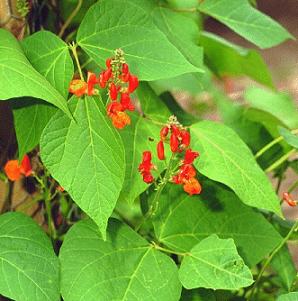 1A218 Scarlet Runner Bean ( Phaseolus coccineus )
Edible and beautiful. One of the oldest runner beans now in existence. First documented in 1750. Good for use as either small snaps, sliced pods or green shells, and often used in place of limas in cooler climates. Highly ornamental. Needs a trellis, fence or pole to train on, 65 days.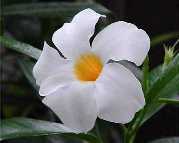 W199 Chilean Jasmine ( Mandevilla suaveolens )
A moderately fast growing semi-deciduous slender stemmed twining vine that grows to 12 feet or more wide and high with support and develops a succulent subterranean caudex. It has luxurious 6 inch long bright green glossy leaves with a long tapering point and an abundance of fragrant white flowers in summer months.
The tubular flowers are 2 inches long and flare open to 2-1/2 inches wide with what is described as a heady vanilla aroma most pronounced in the evening but some seem not to be able to smell it at all. The flowers are followed by pairs of long bean-like fruit pods - these fruit and the fragrance cause some to call this plant the vanilla bean vine though it certainly should not be used in cooking. Plant in full to part sun (blooms best in full sun) and water occasionally to regularly. Tolerates most soils and is root hardy to at least 12 degrees (we have seen claims to below 0 degrees ) and deciduous in most California gardens as temperatures near freezing. Prune in late winter prior to new growth starting and watch for aphids on the flower buds.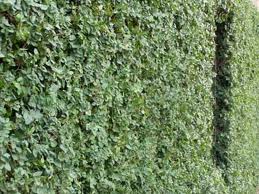 TRM024 Creeping Fig Ficus pumila
This plant is native to China, Vietnam, and Japan. It is a self-climbing root-clinging, evergreen perennial vine. It clings by aerial roots along the stem and has solid green leaves that are small, bright green and heart-shaped, small when young; increasing in size to 5 to 10 cm long when mature. It produces a droopy fig-like fruit, plum-sized and inedible.
It will cling to surfaces allowing you to hide an unsightly wall or to just soften the architecture and can grow up to 18 feet on a vertical wall.
Creeping Fig will grow in moderate shade or morning sun and works well as an indoor potted plant, as long as it has a sunny spot to sit in, although it is slower growing in the shade. It is frost hardy to about 15 degrees.
The vine can be pruned to create shapes or patterns by simply cutting the stems. Pruning may also be necessary if tips/stems stray away from the surface they are climbing. Should a stem pull away from a tree or wall, the ends become progressively more woody.
With its tolerance of pruning this species makes a useful bonsai subject and is particularly suitable for a cascading style.
This item is currently out of stock, if you would like to be notified by E-mail when it becomes available again, simply enter your E-mail address in the field below and hit "Submit".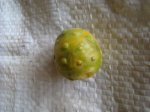 TRM279 Wild Noni Vine Morinda royoc
Also known as Wart Vine, Yellowroot, Redgal, and Mouse's Pineapple. Sprawling or clambering to 3-10 feet. Usually spreading and broader than tall and can form dense patches. This is a rare and unusual wild relative of the famed Polynesian medicine plant Morinda citrifolia 'Noni". A vine, native to Belize, that produces fruit that are minature versions of the noni fruit. Identical in taste flavor and unpleasant smell but praised for its healing properties in traditional medicine. The plant has shiny dark green leaves and makes a beautiful plant. Easy to grow from seeds and makes an excellent container plant that is easily cared for.
Zone 10 and higher outside, can be grown inside in containers in cooler zones.
This item is currently out of stock, if you would like to be notified by E-mail when it becomes available again, simply enter your E-mail address in the field below and hit "Submit".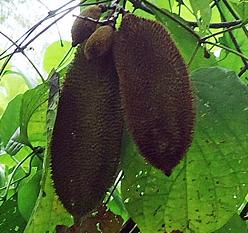 TRM163 Monkey Comb Amphilophium crucigerum
Widely distributed from Mexico through tropical South America, this climber sports large, heart-shaped leaves and white flowers with a yellow throat followed by large, flat, spiny seed pods, the edges of the flat pods do resemble a comb. It is a popular ornamental in the tropics but also has invasive potential and should be handled with care. It is well suited for pot culture in warm greenhouses.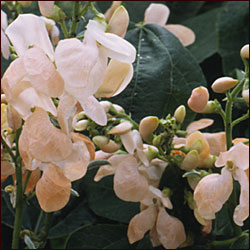 1A219 Sunset Runner Bean ( Phaseolus coccineus )
Edible and beautiful. Unique variety with salmon-pink blooms. Very early blossoming and maturing, nice crops of short and very flavorful beans throughout the season. Excellent for freezing. Needs a trellis, fence or pole to train on, 60-65 days.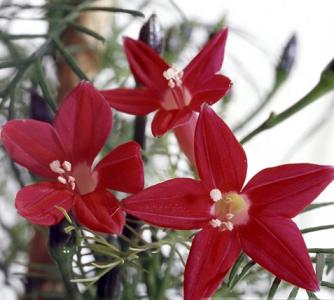 2235 Cypress Vine Mix ( Ipomoea Quamoclit )
Ipomoea quamoclit, syn. Quamoclit pennata.) This easy-care vine is great for high-margin container sales. Vigorous and fast-growing with fern-like, feathery bright green foliage and 3/4-inch trumpet-shaped blooms from summer to fall. Easily grows 6 feet; can reach 25 feet. Full sun. Cannot ship to AR, AZ, PR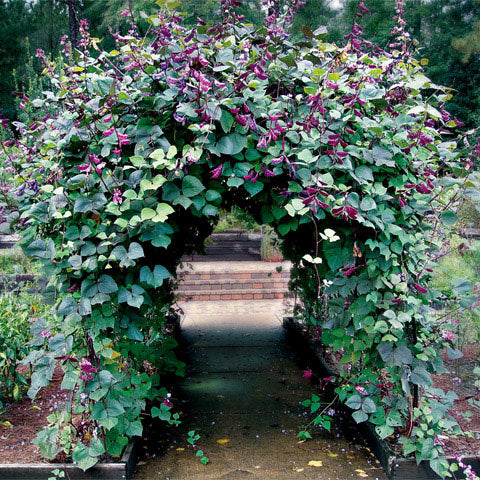 D9606 Hyacinth Bean ( Dolichos Lab-Lab )
Lablab bean is a twining vine with leaflets in threes and showy bright purple flowers and pods. In frost-free areas the vine becomes woody and can reach more than 30' in length. In zones 9 and colder, the vine remains herbaceous and rarely exceeds 10'. The leaflets are purplish-green, broad-oval or triangular in shape and 3-6" long. The flowers are pea-like, a rich, brilliant purple, and arranged in loose clusters on long stems that extend above the foliage. The pods are just as showy as the flowers. They are flat and curved, about 3" long and bright purple.
Easy to grow in poor, acidic to alkaline soils. Lablab beans take 90-150 days from sowing to maturity. Immature pods can be picked sooner. Needs full sun for best growth. Requires well-drained soil. Once established, lablab bean is drought tolerant, more so than most beans.
Young immature pods are cooked and eaten like green beans (older pods may need to be de-stringed). They have a strong, beany flavor and some people like to mix them with other beans or green vegetables. Unfortunately, the purple color disappears during cooking. Young leaves are eaten raw in salads and older leaves are cooked like spinach. Flowers are eaten raw or steamed. The large starchy root tubers can be boiled and baked. The immature seeds can be boiled and eaten like any shelly bean. Dried seeds should be boiled in two changes of water before eating since they contain toxic levels of cyanogenic glucosides. In Asia the mature seeds are made into tofu and fermented for tempeh. They are also used as bean sprouts.
Lablab bean is a good choice for a quick screen on a trellis or fence. It grows fast, has beautiful, fragrant flowers that attract butterflies and hummingbirds, and it even produces edible leaves, flowers, pods, seeds and roots. Each summer I train a vine or two of lablab up the clothes line pole just for the color and fragrance.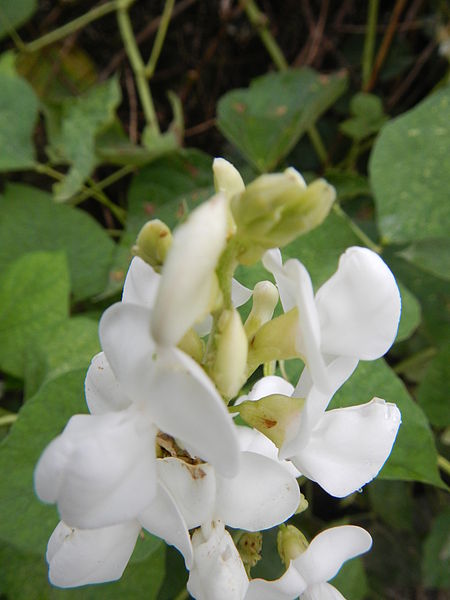 JF171 White Flowered Hyacinth Bean ( Dolichos Lab-Lab )
This variety grows beautiful white flowers and thin pods. Young pods are harvested for vegetable use. Plants are vigorous and are often grown along trellis and fences in the Orient. It is almost necessary to harvest young pods every day during the actively growing season in the summer time.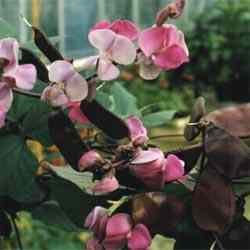 2222 Puple Flowered Hyacinth Bean "Moonshadow" ( Dolichos Lab-Lab )
With dark purple stems, flowers and leaves, it is a wonderful additon to the garden. Grows like the common Hyacinth Bean listed above.
This item is currently out of stock, if you would like to be notified by E-mail when it becomes available again, simply enter your E-mail address in the field below and hit "Submit".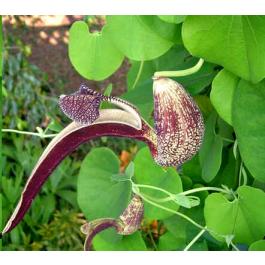 TRM295 Gaping Dutchman's Pipe Aristolochia ringens

An evergreen vine in warm zones, the tops will be killed to the ground in freezing weather but usually return in the spring in zone 8. It likes to grow in a light and airy place, but not in direct sunlight. The plant can endure short periods of drought and still look fresh. From spring to summer, the vine produces quantities of 12 cm long fragrant flowers scattered among the drooping leaves. The flowers trap insect pollinators and facilitate cross pollination. Highly entertaining flowers; a vigorous grower, the outrageous blooms are patterned with a network of burgundy, red, and purple over a creamy-yellow background. The fruit is a capsule, green maturing to brown and opening to release many fertile seeds. Prune back shoots after flowering.
Features: A vine with beautiful dark green heart shaped leaves and paler underneath. These are about 8 cm long by 5 cm wide and grow closely together to create a dense mass of foliage. These slender woody stems twine gracefully in tight coils around fence wire and other supports lifting itself to heights of 2 to 10 meters. Stems age to woody.

This item is currently out of stock, if you would like to be notified by E-mail when it becomes available again, simply enter your E-mail address in the field below and hit "Submit".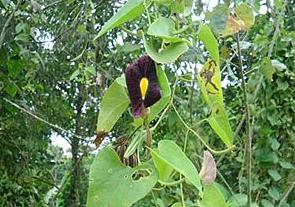 TRM296 Fragrant Dutchman's Pipe Aristolochia odoratissima

A smallish climbing plant with heart-shaped leaves and fragrant, pinkish to dark purple flowers with a yellow center, widely distributed on forest edges or in disturbed sites from southern Mexico to Argentina. Easily grown in tropical climates. A tea made from the leaves of this plant is effective to treat snakebites.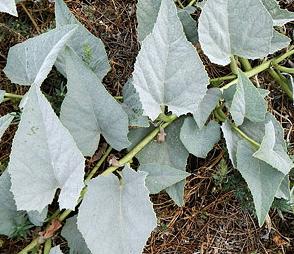 TRM297 Buffalo Gourd Cucurbita foetidissima

A perennial vine, widely distributed from the northwestern and north-central US to the north of Mexico, where it thrives in disturbed locations. It grows long, prostrate stems, triangular grey-green leaves with an unpleasant smell when crushed. The bell-shaped, yellow flowers are followed by a round yellow fruit that contain edible seeds. Native Indians used Cucurbita foetidissima in traditional medicine and for soap-making. It also is a very adaptable, drought-tolerant ornamental, hardy to USDA Zone 5.
The fruit is consumed by humans and animals. When the fruit is mature, a stage marked by increasing desiccation of vine, leaves, fruit-stem, and fruit itself, it begins its final gourd stage.
The fresh young gourd can be eaten like squash. When the fruit is mature its not edible anymore due to bitter compounds.
Starch is mainly located in the tap root which get formed after the first year of growth. The starch content in the dried root is between 47.5 and 56 percent. The central tap root can weight up to 72 kg. A four-year-old root grown under cultivation can reach a fresh weight of 45 kg and a length of 2.5 meters.
Fresh leafs or the whole plants can be used as animal food.
Biodiesel can be produced from the oil in the seeds. But the main interest to produce renewable fuels is to produce biofuel with the carbohydrates who are located in the tap root.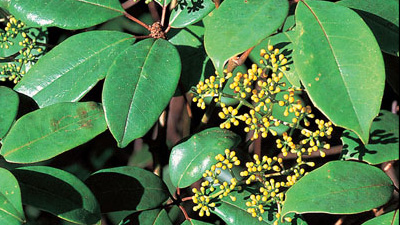 3331 Jungle Grape Cissus hypoglauca
Also known as Water Vine or Five leaf Water Vine, is a common Australian Vine. It is one of the better known climbing plants of the genus Cissus in the grape family. A very common climber in moist areas of eastern Australia, it often colonises large areas after forest damage due to storms, fire or logging.
The name water-vine comes from the fact that the woody sections of the vine may be cut into sections and the sap that drips from the sections may be drunk as water. The leaves are palmate, and are usually arranged in a group of five.
The young leaves are reddish and hairy. Tendrils appear opposite the leaf stalk. Yellow flowers occur on terminal umbels, mostly in spring and summer.
A purple globose fruit matures in the middle of the year. Five leaf Water Vine provides abundant food and shelter for birds and small animals. The stunning blue berries may be eaten raw and provide a delicious watery snack but do leave an acrid aftertaste ( somewhat like the opossom grape ).
It also makes an attractive container plant while young, like it's cousin the Kangaroo Ivy Vine.
Should be grown as a patio plant for zones cooler than zone 8.
Perennial Vines