Holiday Savings!
Now is the time to buy the perfect gift for the gardeners in your family. All of our items ( including Gift Certificates ) are discounted 20% from now to Christmas Day.
Our Gift Certificates never expire, and they make a wonderful quick gift that can be E-mailed to someone who loves gardening.
Simply type in XMAS2016 ( case sensitive, no spaces ) into the coupon field of the shopping cart when you check out, and the discount will be applied. ( You must use the code in the coupon field to get the discount )
Water Lily Seeds
Note: Germination instructions are not on seed packets, visit the sites linked below for germination instructions.
---
Visit this site for germination instructions for Nelumbo Water Lily Seeds
---
---
Visit this site for germination instructions for Nymphaea Water Lily Seeds
---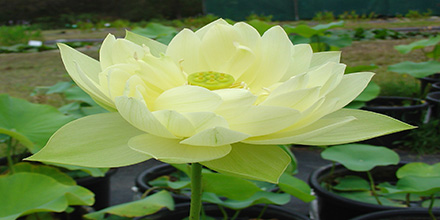 Z1955 Sacred Water Lily Nelumbo nucifera
This giant tropical lily produces pads up to 3 ft. in diameter and large, fragrant white ( and sometimes pink ) flowers. The seed and rhizome are edible. Can be grown in cooler climates if covered/protected from freezing. The hard seed coat must be filed or nicked, then soaked in warm water for about 15 days until the seed begins to sprout. The sprouting seed then must be anchored to the bottom of the pool. As a novelty, the sprouting seed can be left in a glass of common tap water, and it will begin to grow roots and pads.