Variegated Winter Cress Seeds
Useful gardening information
Sow seeds in good quality compost or seed raising mix at any time . Lightly cover with fine river sand or compost to their own depth. Seeds are best sown in winter early spring to benefit from cold dormancy.
If seeds do not come up within 6 to 12 weeks the damp seed tray can be put in a plastic bag and given cold treatment in the fridge at 40 degrees for four weeks. They still may take many months to appear, so please do not discard.
---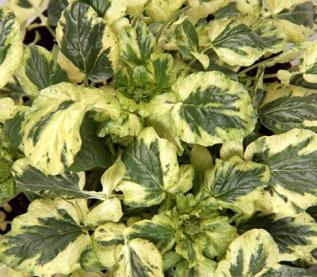 SF160 Winter Cream ( Barbarea vulgaris variegata )
Variegated winter cress. Shiny evergreen winter rosettes are marbled and blotched with cream. Branching sprays of bright yellow flowers appear in spring.
Popular for winter salads it has the same pungent nip as watercress. Enjoys full sun to part shade (part shade in hotter regions). Happily produces edible leaves 7 weeks after sowing. Humus rich moist soil for best results.
---
Share a growing tip or recipe and help other gardeners!

Click on the Contact Form link, place "Tip" in the name line and fill in your information. If we accept your Winter Cress growing tip or recipe, we will post it on this page.