Are you tired of lifting heavy bags of potting soil, and trying to find places to store what's left over after a project? Your problems are solved with a tube of Wonder Soil Wafers. Just a cup of water, and one soil wafer expands to 14 times its original volume.
Great for seed starting, one wafer fills a 4-inch pot. Or add water to all 18 in the 1-pound tube and you'll have the equivalent of a 10-pound bag of regular potting soil. This lightweight, soilless medium is made of coconut coir, peat moss and water-absorbing polymers.
An excellent potting mix for all types of plants, including houseplants, palms, cacti and container vegetables.
Allows you to mix only the amount of potting soil you need when you need it, extra wafers store away until you need them again.
View Expanding Soil Wafers video.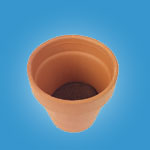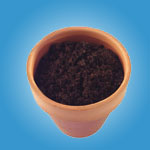 Wonder Soil is fertilizer-rich dehydrated peat which expands when you add water. One 14 oz. container is equivalent to 10 lbs. of regular soil. Its coir-peat mixture with polymers and nutrients allows it to absorb, store and release water so that you have to water your plants much less often than you would with normal potting soil.