Wormwood Seeds
Wormwood herb plants have a long history as a medicinal herb with use dating all the way back to the ancient Egyptians. They used Wormwood to rid the body of worms. It is still used to stimulate and aid in digestion. Other uses include being used as a moth repellent and a general pesticide.
Useful gardening information
Start seeds indoors 10 to 12 weeks before time to transplant outdoors. The seeds can be pressed into the soil but not covered. Place the starter tray in plastic to help seal the moisture in and keep the tray in a will lit area but out of direct sunlight.
Watch for seedlings to emerge and remove them from under the plastic. Grow the seedlings in a sunny window, harden the seedlings for 10 to 14 days before transplanting.
Harvesting Wormwood is usually done in mid-summer. When the plants are fully flowering, pick the upper portions of the stalks. Tie the stalks together and hang them upside down in a dark well-ventilated place. When the stalks are dried, store in an air-tight container in a dark place.
Links to useful information on the web:
Wormwood benefits
---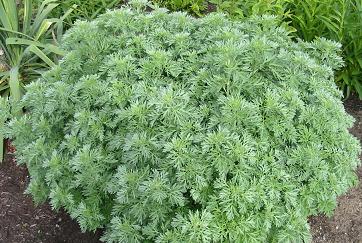 HR245 Wormwood ( Artemisia absinthium )
Chances are, many readers know that wormwood is the key ingredient in the famous European beverage Absinthe. Almost as many know little else about this fascinating and beneficial herb. Wormwood belongs to the genus Artemisia, named for the goddess Artemis. The members of this genus belong to the family Compositae, along with daisies, tarragon, and a whole host of other plants we find in the field, the garden, and the kitchen.
Wormwood has finely-divided foliage that is gray-green in color and aromatic. In mid-summer, it produces many yellow flowers.
Widely used as an insect repellent, it is mostly noted for its ingredients used to make Absinthe.
A perennial for zones 3-8. Cannot ship to ND, SD, MN
---
Share a growing tip or recipe and help other gardeners!

Click on the Contact Form link, place "Tip" in the name line and fill in your information. If we accept your Wormwood growing tip or recipe, we will post it on this page.