Soapwort Seeds
A hardy spreading perennial ( zones 3-9 ) with hairy bright green leaves and profuse pink flowers in open clusters in early summer. Good trailing over walls, slopes and embankments, in Container or use as a groundcover in the border. Drought tolerant once established.
Useful gardening information
For indoor sowing, the seeds germinate better after a cold treatment. Dampen a paper towel, place the seed on the towel and roll it up. Place the damp towel with the seeds into a ziploc bag and place it in the refrigerator for 4 weeks.
After the cold treatment, sow the seeds on the surface of starter mix in small pots or trays. Only lightly cover the seeds as they need light for germination.
For outdoor sowing, prepare soil by loosening and weeding and place 2 - 3 seeds in groups spaced 18 inches apart. Press seed into soil and lightly cover. Keep seeds moist until germination.
Outdoor sowing can be done either in fall or spring. Water regularly to help it establish and lightly fertilize it a couple of times during the growing season.
Temperature: 65F
Average Germ Time: 14 - 28 days
Light Required: Yes
Depth: 1/8 inch
Sowing Rate: 2 - 3 seeds per plant
Moisture: Keep seeds moist until germination
Plant Spacing: 18 inches

Links to useful information on the web:
How to Make Organic Soap Using Soapwort
Homemade Soapwort Shampoo recipe
---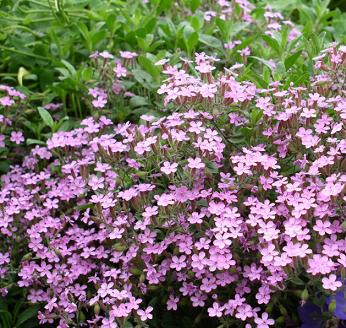 HR199 Soapwort ( Saponaria ocymoides )
A beautiful trailing plant with lovely rose-pink blooms in the Spring. Also a source of homemade soap for generations. The plant grows about 12" tall and makes a very nice deer and rabbit resistant groundcover.
A perennial for zones 3-9, can also be container grown.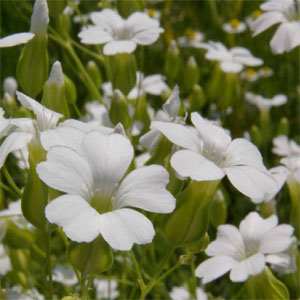 SF098 White Annual Soapwort ( Saponaria Vaccaria Alba )
This is a charming annual growing about 24" tall that gardeners will want in their cutting gardens.
It is readily grown from flower seeds, and its branching stems produce a cloud of five-petaled, white, single flowers. Flowers are well suited to cutting and are an excellent as a filler in arrangements similar to the way baby's breath is used.
White Soapwort liberally re-seeds itself, so the plant will easily come back each season from its own seeds

---
Share a growing tip or recipe and help other gardeners!

Click on the Contact Form link, place "Tip" in the name line and fill in your information. If we accept your Soapwort growing tip or recipe, we will post it on this page.