Gourd Seed
---
Grow your own fall decorations and craft items from the seeds below.
Click here to learn how to Hand Pollinate your Gourds

New! Check out our Decorative Squash Page for some really interesting fall decorations.

---
A little Gourd info
Ornamental gourds can be divided into two major botanical groups. They all belong to the Cucurbitaceae (Cucurbit) family, which includes many types of squash and pumpkins. The bright, multi-colored, thick-shelled, sometimes warty types are of the Cucurbita genus (C. pepo). Cucurbita gourds include such colorful types as the 'Shenot Crown of Thorns,' smooth and warted pear, egg types, and winged gourds. As a group, Cucurbita gourds have hard angular stems, but a few winter squash types used as ornamentals have soft corky stems, such as the 'Turks Turban' variety, and belong to the Cucurbita maxima species. In general, the types with hard stems tend to keep longer. The Cucurbita have prickly leaves and stems, and yellow flowers.
The second group includes the hard, thin-shelled "utility" bottle/birdhouse gourds belonging to the Lagenaria genus. The Lagenarias have smooth stems; soft, large leaves; and white flowers. The Lagenaria gourds are tan to brown when mature with long, narrow hard stems and have many distinct shapes and sizes. This includes such unique types as the caveman's club, calabash, dolphin (maranka), swan gourd, Corsican flat, apple, drum, bottle, and small and large dipper types.
Days to maturity will vary by species and variety, ranging from 90 days from seed for the small Cucubita gourds to over 120 days for Lagenaria types. As the weather cools in the fall, additional time in the field may be needed.
The Cucurbitaceae family is tropical and sub-tropical in origin, and does not tolerate cold soils or cool growing temperatures. Even a light frost will significantly damage foliage and impede crop development. Planting should be delayed until the late spring when soils have warmed. When making planting date decisions, average fall frost date and marketing period should be considered along with varietal days to maturity. Proper timing of the planting to allow the crop to mature before frost is of particular importance. These factors should also be considered when making decisions to direct seed or transplant the crop in the field.
Both species have sprawling growth habits and require room to spread. Lagenaria types readily climb by long twining tendrils, and are often grown supported by a trellis. All cucurbits are monecious (separate male and female flowers on the same plant), and require insects (bees) to transfer pollen and to set fruit. Night-flying moths are also known to pollinate Lagenaria.
Lagenarias have a long growing season and need early planting to mature by the end of the season. Otherwise a large percentage of fruit will be green at first frost. In comparison to Cucurbita types, Lagenarias are more sensitive to cold, and more adapted to consistent warm weather conditions. Soils should be at least 65°F prior to planting. To speed growth and development, use transplants instead of direct seeding.
Lagenarias are vigorous growers and develop large plants. Vines may reach 20 to 30 feet in length. Rows should be 10 to 15 feet apart, with plants set five to six feet apart in the row. Because of the price of seed and their vigor, multi-plant hills are not recommended. The above spacing will require 500 to 700 plants or seeds per acre. For the bottle and dipper types, trellising will allow fruit to hang, resulting in a straight neck. If allowed to grow on the ground, the fruit will curve in various directions.
The ideal soil pH is in the range of 6.5 to 7.0. A soil test should be conducted to determine available phosphorous (P), potassium (K), and magnesium (Mg) levels. Low P and K soils require amendment to increase levels of these nutrients to moderate levels per soil test standards. As a starter fertilizer, at least 50 pounds of P and 100 pounds of K per acre should be applied in most soils. Gourds are sensitive to low levels of Mg, and soils should test to 100 to 125 pounds per acre of this nutrient. If not, Mg should also be supplemented preplant. Because of significant vine and leaf growth, gourds respond to fertile soils and applied nitrogen (N). At planting apply 50 to 60 pounds of N per acre along with P, K, and Mg amendments. Vines will begin to run or spread in three to five weeks after planting. An additional side dressing of 30 to 40 pounds of N per acre should be applied to keep plants vigorous. With drip irrigation, supplemental N can be injected and split-applied at two- to three-week intervals. By late summer, nutrients and water should be reduced. This will permit plants to slow growth and recently set fruits to mature and harden off.
We have found that our Gourd Growth Stimulator is very good for allowing quicker uptakes of nutrients, and can in most cases the days to harvest period to be reduced as much as 10 days.
Supplemental irrigation on both tilled and no-till fields can be beneficial during dry periods and increases yields. Irrigation should supplement rainfall with an average of one to two inches per week. Water should be withheld during the end of the season to hasten maturity.
For small-scale plantings, Lagenaria gourds will respond to vine pruning by increasing the number lateral shoots (runners) and of female flowers that develop into fruit. Vines should be tipped back once with a mower or by hand when they reach eight to ten feet in length.
Average yields for the small Cucurbita gourds will be from 20,000 to 30,000 fruit per acre. For the Lagenarias, expect a range of 2,000 to 5,000 gourds per acre.
To assure quality, timely harvest and proper handling and curing are necessary. Cucurbita gourds are frost sensitive when mature, and should be harvested before the first predicted frost event in the fall. Full-color development, and the drying and hardening of the stem and outer skin are harvest indicators. Immature gourds willnot cure well, and are best left in the field. Harvested fruit with spots of decay or damage or that are too immature should be sorted and discarded. Depending on planting date, a range of fruit maturity is typical, as plants will continually set new fruit over the season. Where days to maturity are observed, a large percentage of fruit should be mature on the vine before frost; a few may have passed ideal harvest stages.
At maturity, Lagenaria gourds will begin to change from bright green to pale green and eventually to tan. The stem will also become more rigid and dry. In contrast to the Cucurbita types, once fruit has reached a mature- or firm-green stage, with proper curing they will usually dry without decay or shrinkage. Some of the Lagenaria types, such as the speckled swan gourds are harvested green and are marketed in a timely manner similar to Cucurbitas. If the season allows, it is best to leave them in the field until they are as near to maturity as possible. Frost may affect the final tan color, surface pattern, and seed viability, but not the shell integrity of a mature Lagenaria.
Harvest all gourds with one to two inches of stem intact. An intact stem enhances value. Care should be taken not to bruise or scrape them, and always clip, not tear the fruit from the vine. Freshly harvested gourds can be washed in warm, soapy water, using a soft brush to clean warty types. A light pressure rinse may suffice, followed by a dip in clean water with a household disinfectant, rubbing alcohol, or a light bleach solution (1 percent to 2 percent). This step is important to reduce fungi and bacteria on the surface that can find entry through surface injuries.
Both types are cured under similar conditions; however, the Lagenaria group requires several months to cure before it can be utilized while the Cucurbita group needs only a few weeks to properly cure for use. When cured properly, Lagenarias will last for many years; the Cucurbita types six to nine months before the colors begin to fade.
Curing is a two-step process, involving a short period for surface drying, and a second, longer internal curing period. Surface drying hardens the outer skin and sets the colors for the Cucurbita types. Spread out cleaned gourds on a screen or newspapers in a well-ventilated, partially sunny area, and turn them regularly. Discard any that shrivel or develop soft spots. Surface drying can take from a few days to a week.
Gourds can also be cut from plants and initially left to dry in the field. This is often done with Lagenaria types. Uncleaned, field-dried gourds should be rinsed and wiped down with a disinfectant solution before continuing with internal curing. Harvest bins, packing boxes and shipping crates are not advisable places for curing, as lack of air movement will result in rotted gourds.
Internal curing requires a warm (80°F), low-light, and dry location. Warmth encourages rapid drying, darkness prevents color fading, and dry conditions discourage mold. Artificial heat can be used, but without ventilation it can lead to faster mold development. A well-placed fan can help speed the process. Cucurbita gourds will need an additional two to four weeks to final cure, while Lagenaria species may take up to three months to fully cure; longer if they were green at harvest. Seeds rattling inside indicate the gourd is fully dry. Prior to shipping or display in the market, sort cured Cucurbita gourds one last time for decay, as potentially immature fruit may have been harvested in the rush to beat frost or get them to market.
During curing of Lagenaria, it is common to see mold growing across the surface. The mold can leave desirable, unique patterns as it breaks down the waxes and upper skin layers, yet the fruit wall integrity is not diminished. Lagenaria gourds are highly resistant to decay and to an extent can be exposed to the elements and variable temperatures.
Long-term winter exposure can result in cracking and weaken gourds and is not advised. At a minimum, these gourds should be stored in a barn or well-ventilated shed. Regular wiping with alcohol or a light bleach solution can discourage mold growth if a solid tan color is desired for these types.
Following curing, gourds can be waxed, lacquered, or painted to extend their life and improve appearance. For colored cucurbita types, well-cured gourds may last three to four months without this treatment while coating with wax or varnish will extend storage life and color retention to six to eight months. Paste wax will provide a soft luster to the gourd, while varnish or lacquer adds a hard, glossy shine. Dip waxes used for fruit such as apples and oranges can also be used on gourds to extend life, and some commercial buyers require this treatment.
Gourds can be sanded smooth and painted as well, which can greatly extend the life of the Lagenaria types used outdoors, such as for a birdhouse. Often they are painted gold or silver for table displays.
Lagenaria types have many utilitarian uses. The crook-necked types can be cut into dippers and scoops; the larger drum gourds used as storage vessels. For birdhouses, drill a small hole through the top for a hanging cord. On the side, cut a hole large enough to accommodate wrens, barn swallows, or other small birds. Shake out the dried seeds. A small hole drilled in the bottom will help drain any rainwater that finds its way into the house. These natural-gourd birdhouses can last for many years.
You can save seeds from grourds, but they do cross pollinated very easily, to ensure that seed is true, isolation or blocking of the planting by variety should be practiced to limit crosspollination potential. One of the best methods to ensure true seed is to directly hand-pollinate selected flowers as they open, with a known pollen source.
Use a ribbon, flag, or other marker to keep track of these fruit through the harvest period. Fruits should be fully mature before seeds are extracted. Separate seeds from the pulp and spread in a thin layer on cloth or newspaper until dry. Store seed in a cool, dry place. Under ideal conditions seed may remain viable for three to five years.
---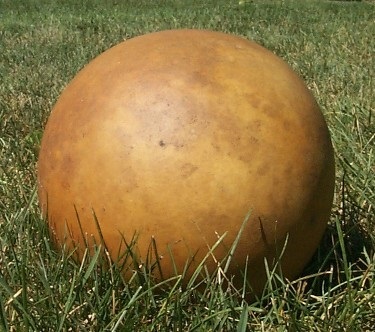 RGS165 Cannon Ball Gourd ( Lagenaria siceraria )
This is a very useful gourd that has become very popular for crafting. It matures to about 4-6 inches in diameter, perfectly round, and has a tough, thick shell.
Very popular with artisans. For most crafters, they are a more manageable three-dimensional medium than the much larger Basketball Gourd or Kettle Gourd.
Cannonball gourds can be crafted into small bowls, lidded containers, or stacked like real "cannon balls", and many other craft projects.
New!
RGS163 Hopi Rattle Gourd ( Lagenaria siceraria )
We have been trying to find these for years, the problem was getting true seeds. We have a small amount this year, so order early! Flat-bulbed ceremonial dance rattle of the Hopi. Large ones may also be used to make women's rasp instruments for Home Dance.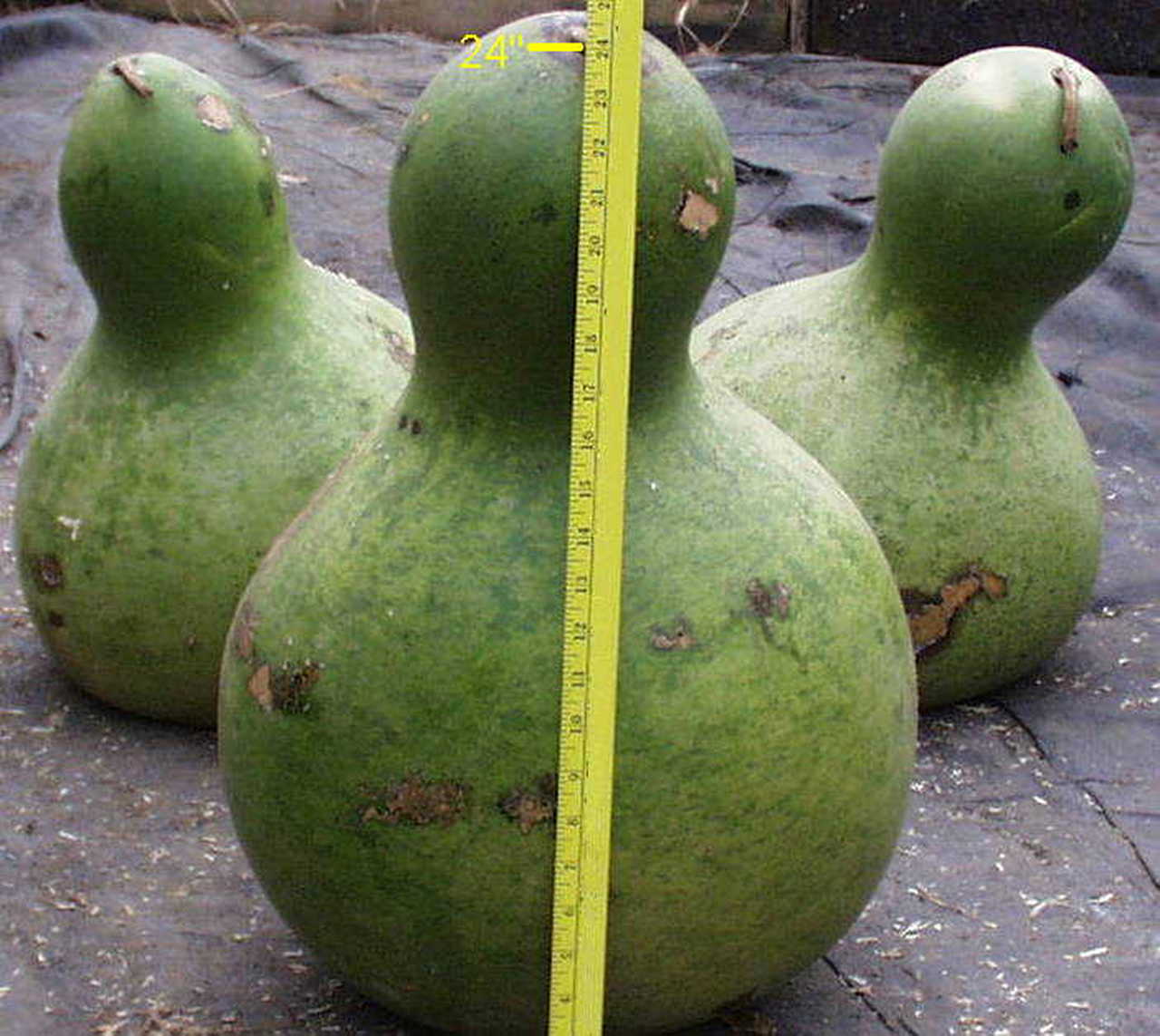 RGS164 Giant African Wine Kettle ( Lagenaria siceraria )
Wow, this is a big kettle gourd! We have had requests for these for a long time, and have finally secured a source for true, viable seed. We have a very small amount this year, so order early.
The Giant African Wine Kettle will produce a huge gourd measuring sometimes 24" or more across the bottom of the gourd. Normal size is about 18" across and about 15" tall in our experience.
A very popular gourd when dried. Musicians covet them for large drums. Requires a longer growing season than other gourds, about 110 days.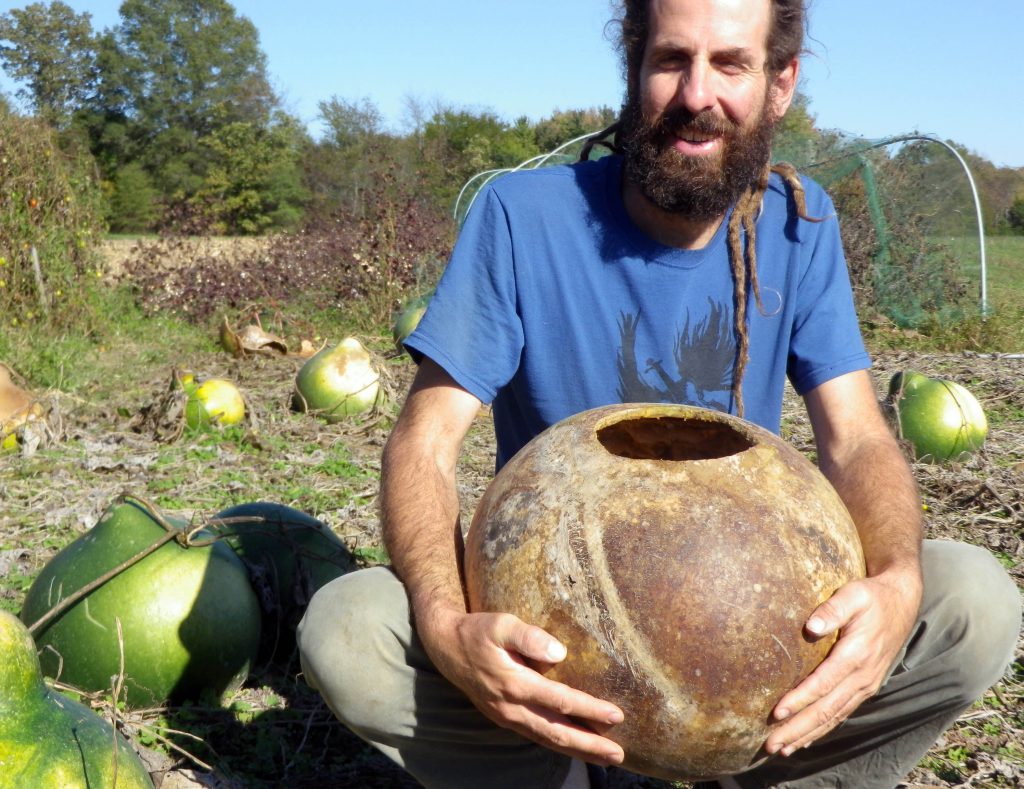 New!
RGS171 African Drum ( Lagenaria siceraria )
Very large 20 to 24 inch gourds with thick walls when grown in optimal conditions (up to 3/4 inch). Shape is round to slightly teardrop. In Common Wealth Seed Growers' 2015 gourd trial of 29 varieties, this is one of only six that held up to the heavy Downy Mildew pressure and grew well into October. Original seedstock came from Suzanne Ashworth through Seed Savers Exchange. Requires a longer growing season than other gourds, about 150 days.
Special Mixes

Many large seed companies have their own unique mix of gourd seeds, we have picked out some of our favorites:

Snake Gourds

The snake gourd is really a quick developing vine that, a long time before being grown, was ingested by the residents of the regions exactly where it grew untamed. Today it's a relatively well-known veggie utilized in numerous standard recipes. They are often simple to find in Asian grocery shops while in season. It is really an annual climber with increased or even much less palmate, 2 or 3 lobed or even somewhat wavy leaflets along with serrated edges.
Its flowers have got lengthy fringes on the petals, and although male flowers usually are carried in cluster, female flowers are individual. The bear delicious, strangely shaped fruit that appear to be just like coiled up snakes, or can be grown on a trellis to be long and straight. They're plain green or even grey-green becoming orange or red whenever ripe. Their rind is thin and also the flesh thick as well as juicy. Just like cucumbers, they include several little, flat, ovoid, as well as soft seeds that, once the fruit is ripe, turn out to be big and hard. They've got a fragile, fairly sweet flavor.

Snake gourd includes a large amount of water as well as fiber, only a number of calories. It really is abundant with proteins, vitamins A, B and C in addition to minerals (manganese, potassium, iron and iodine). It is just a diuretic that can help the organism by reducing its harmful particles. It features a relaxing impact on the bodily tissue; therefore calming inflammations.
Additionally, it features a positive as well as calming impact on the nervous system. It encourages the circulation of blood as well as contribution to cleaning the blood of toxins. Much like green beans, snake gourd is cut into pieces as well as cooked in boiling salted water for 5 to 10 minutes.
It may be served with a curry sauce, salads, vegetable soups, ragouts, or couscous. It may also be included with various other veggie, cooked along with tomatoes and onions, or combined with chopped meat or even chopped fish. The young shoots and leaves may also be consumed in salads or even stews.

Snake Gourd Seeds




Loofah Sponges

The Loofah Gourd is a member of the Cucurbitaceae ( Gourd ) family. The Loofah is spelled several different ways, i.e., Lofah, Luffa or Lufa. It's commonly known as the Washrag Gourd. It is the only plant known that can be raised and used as a sponge.
The sponges are very versatile in that they can be used for bathing, washing dishes or scrubbing. The Loofah is widely used for bathing to invigorate the skin as well as gift giving and crafts.
It is a very fast growing annual that produce vines up to twelve feet or more. I have seen them grow over 20 ft. high in trees and produce dozens of gourds per plant.
When fully matured, you can peel off the dried and crisp outer shell to expose the fibrous sponge. To clean your Loofah you wash it in clean water and then soak it in a solution of bleach and water and allow to dry in the sun. Loofah sponges will last a long time if washed and allowed to dry after each use.

Luffa Seeds



---
Edible Gourd Varieties
---
Hairy Gourds ( Fuzzy Gourd, Mao Qwa )
Mao Qwa is a smaller version of Tong Qwa and is often called Little Winter Melon. Fruits are in cylinder shape of about 2-3 inches in diameter, with hairy green skin, and are picked for vegetable use when young. The white flesh is firm and mildly flavored. Plants are trained up along supports and should be well watered during hot summer.
---
Unique, Rare Gourd Types
---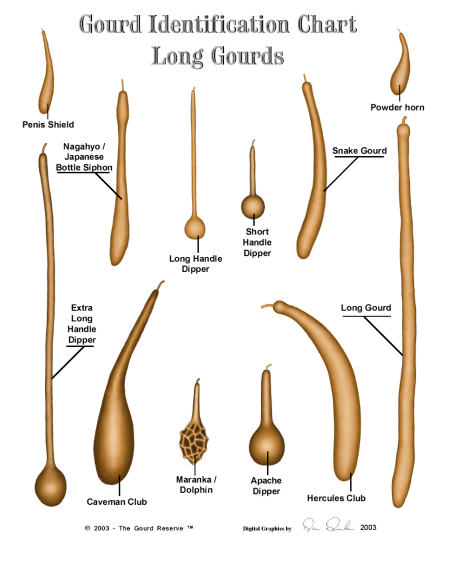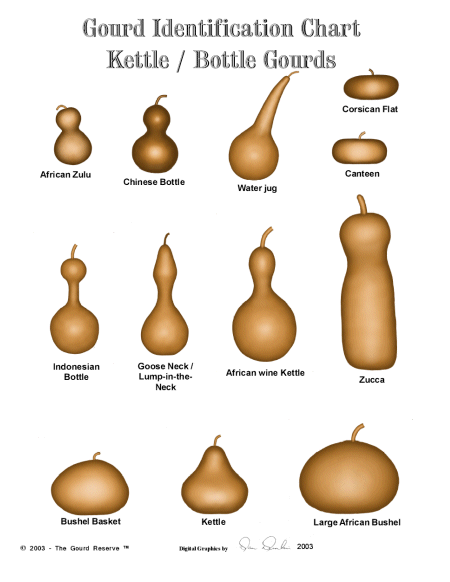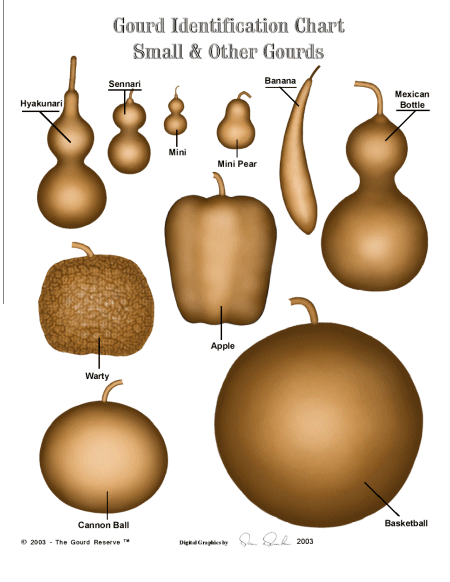 Digital Gourds chart © Dan Dunkin 2003
This chart is used courtesy The Gourd Reserve