SBE Gardening Products
Note: We only ship these products to addresses inside the USA.
New! VG07 Seedcover for tiny and pelleted seeds.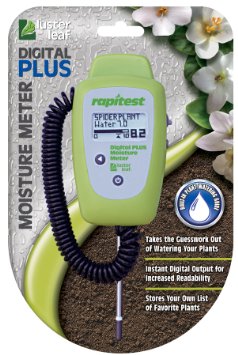 CLL1700 Digital Plus Moisture Meter
Never before has so much information been made available to the home gardener in a hand-held moisture meter! Plant moisture requirements and preferences are BUILT IN to the meter's database; no more referring to separate lists and booklets for recommendations and information. Results are displayed on the easy to read digital LCD screen.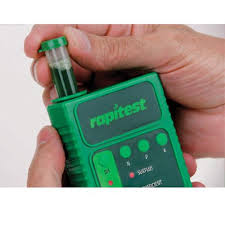 C002 Digital Soil Test Kit
Utilizes advanced LED digital technology and patent pending optical calibration.
Performs 25 tests: 10 for pH and 5 each for Nitrogen, Phosphorus and Potash.
Complete instructions, fertilization guidelines and pH preferences for over 450 plants
CLL1601 Rapitest Soil Test Kit
Contains forty tests for four key soil elements: pH, N, P and K; with separate comparators for each test. Includes complete instructions for adjusting soil conditions and fertilization. Very user friendly.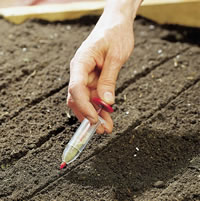 A01 Mini-Seedmaster
Eases planting of small and tiny seeds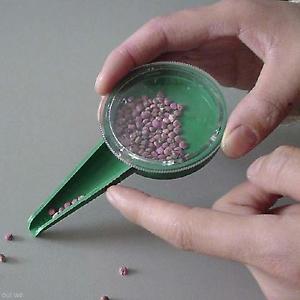 C003 Dial Seed Sower
Sows seeds evenly and quickly.
This practical and inexpensive device lets you sow small seeds evenly and quickly. An adjustable outlet controls the flow, placing seeds exactly where you want them along the row. The transparent cover allows you to see the seeds inside.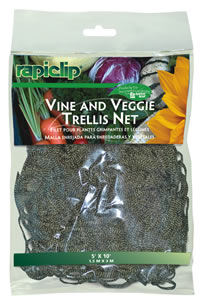 TR02 Vine and Veggie Trellis Net
5' x 10' lovely green textile trellis for garden and yard use. Excellent for beans, gourds, cucumbers and vining flowers.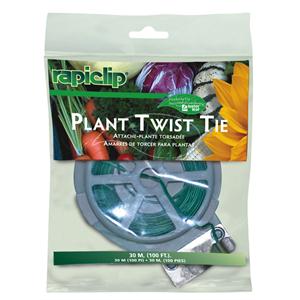 G28 Plant Twist Tie
Plastic coated wire with cutter, 30 M. (100 ft.).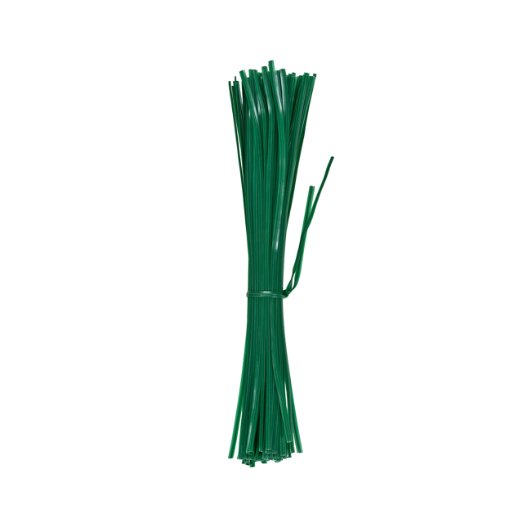 G30 Precut 8 Inch Twist Ties
Super handy! Just grab and tie. Plastic coated wire. 100 per pack.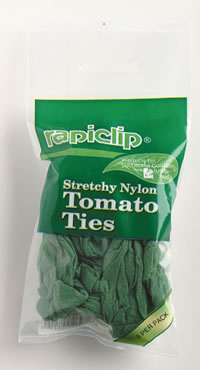 G24 Nylon Tomato Ties
Soft, stretchy nylon ties for delicate plants. 8 per pack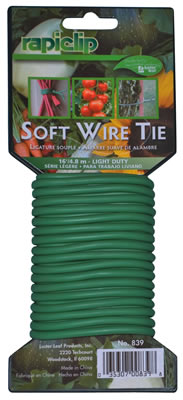 TR01 Soft Wire Tie
Light Duty, 16', multipurpose cushioned wire. This has so many uses, from securing fragile plant limbs to tying up cords and hoses, a must have around the garden and workshop.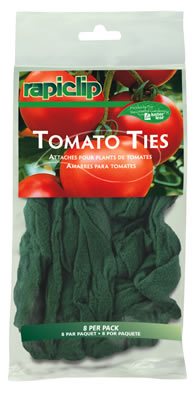 TR05 Tomato Ties
Soft, stretchy nylon ties for delicate plants. 8 per pack.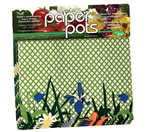 F28 Paper Pot ( Floral Design )
Water-saving super-strong disposable containers for patios, decks and landscapes. Three 5 gallon pots measuring 21" x 10.75" per bag.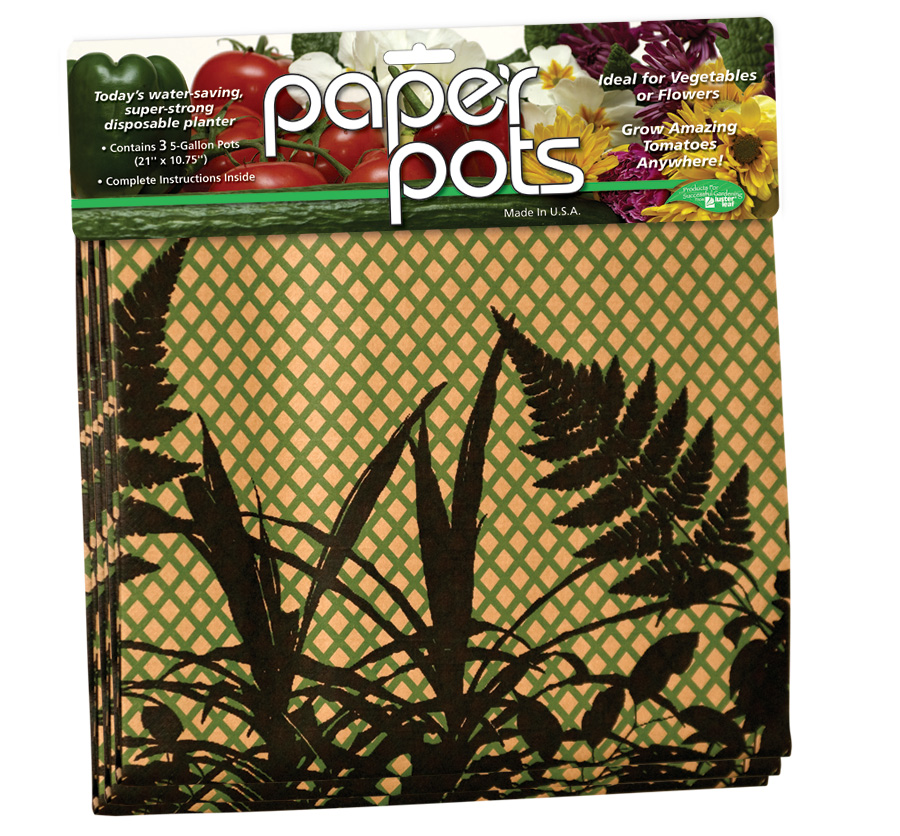 F29 Paper Pot ( Fern Design )
Water-saving super-strong disposable containers for patios, decks and landscapes. Three 5 gallon pots measuring 21" x 10.75" per bag.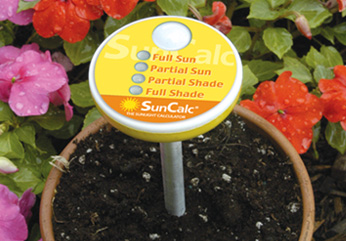 M33 SunCalc - The Sunlight Calculator
Measures the amount of accumulated sunlight in a specific garden location. NO CONSUMABLES! Meter may be used repeatedly at no additional cost.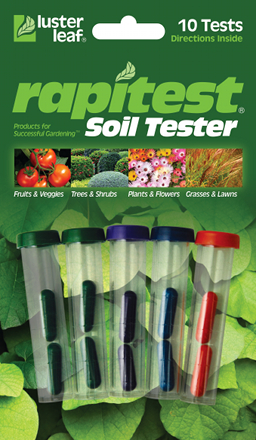 G33 Rapitest Soil Tester
Plants use Nitrogen, Phosphorus and Potash ( N, P and K for short ) for healthy growth. Nitrogen is directly responsible for healthy green leaves. Phosphorus is vital for a healthy root system and Potash is essential for flower and fruit developement. The correct pH level is important for healthy growth and fertilize uptake.
This kit contains 10 tests, 4 each for pH, 2 each for N, P, and K.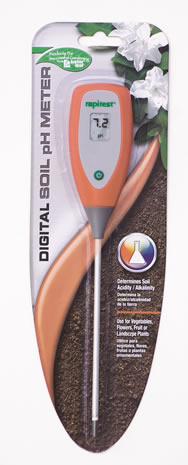 TR03 Digital pH Soil Tester
New digital results from 3.5 to 9.0. Printed instructions and plant pH preference list packed with the meter.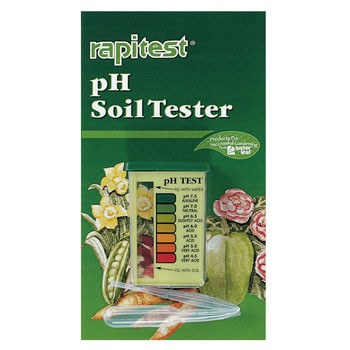 G34 Rapitest pH Soil Tester
The new Rapitest pH Soil Tester is designed for simplicity of use with accurate results. For gardeners already familiar with soil testing, you'll appreciate the unique specially designed "color comparator" and capsule system, that make quick work of testing. For those of you new to soil testing, you'll appreciate this easy, fast and fun way to achieve better growing results from your gardening efforts. All you do is put a sample of soil into the comparator, pour in powder from capsule, add water, shake and watch the color develop. Fast, easy and it only takes a few minutes! Included in the kit are: 10 tests for pH; 1 color comparator; complete instructions for adjusting pH and a pH preference list for over 400 plants.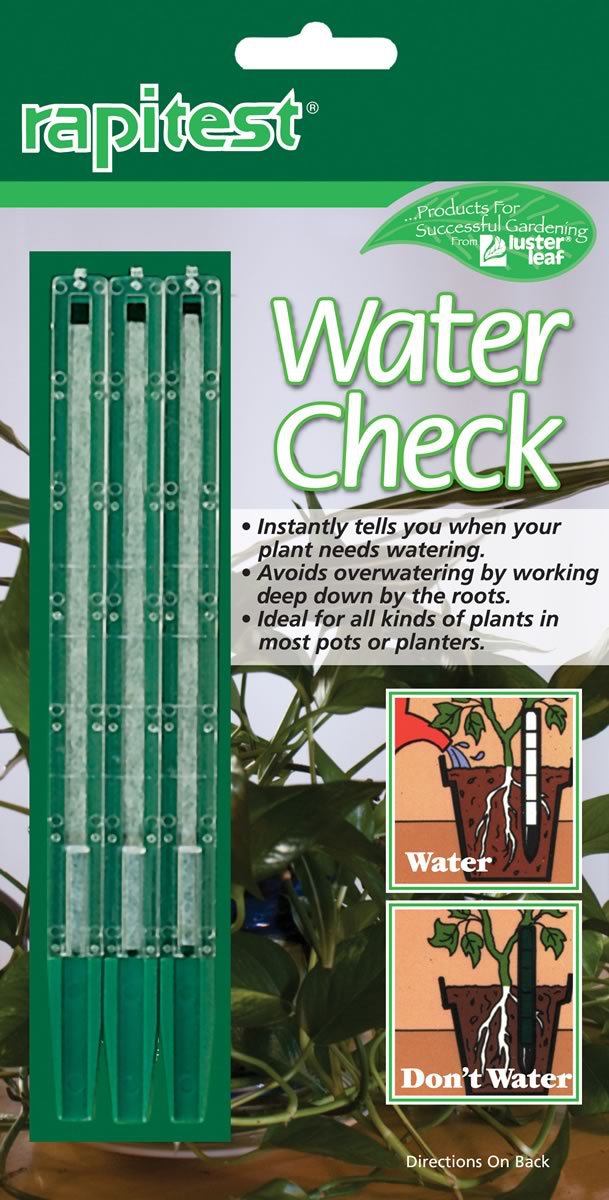 G35 Rapitest Water Check
Simply stick the Water Check probe into the soil and leave it in to check water requirements with a glance. Instantly tells you when your plant needs watering. Avoids overwatering by working deep down by the roots. Ideal for all kinds of plants in any size of pot planter. Purchase a probe for each of your important plants.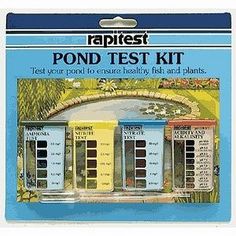 G37 Pond Test Kit
The simple secret to troublfree pond keeping. Test your pond to ensure healthy fish and plants. Clear, sparkling water is not always the sign of a healthy pond. Despite its appearance, your pond may contain hidden compounds which are particularly damaging to fish and plant life. Without care and maintenance, toxins may build up unnoticed.
Testing for Ammonia, Nitrites, Nitrates and pH is essential not only before fish are introduced but afterwards as well, so that any changes in water conditions are quickly identified and remedied. Contains 40 capsules. 10 tests each for Ammonia, Nitrite, Nitrate, and pH. The rapitest Pond Test Kit also includes useful information about fish keeping, improving water quality and ways to create a healthy environment for your fish and plants.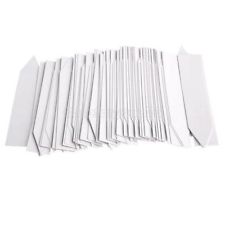 G19 5" Blank Nursery Labels.
This is the label we use in our greenhouses and include with our seed packets. Economical labels for planters, flower beds, herb gardens, etc.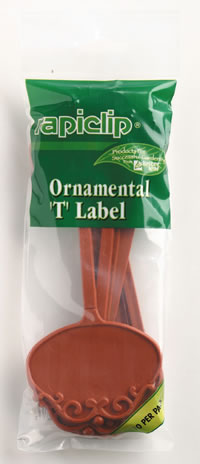 D09 Ornamental "T" Labels Decorative name plate. Ideal for planters, herb gardens, etc. 10 per pack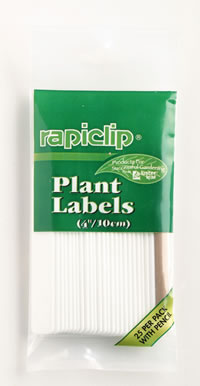 G21 Plant Labels, 4" white plastic. 25 per pack, with pencil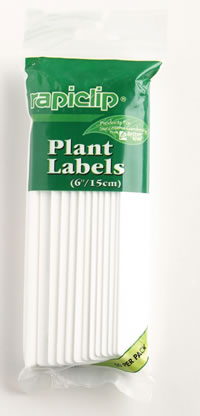 G27 Plant Labels, 6" white plastic, 50 per pack
This item is currently sold out.

G29 Plant Labels, 8" white plastic, 30 per pack

G40MT01 Aluminum Marking Tags
Heavy aluminum stock wrapped around a stiff cardboard backing allowing for easy marking with a pen, pencil, or any pointed object. Will last for years and years, even under harsh environments. 3/4" x 3 1/2" tag, pre-wired with a reinforced eyelet to save labor.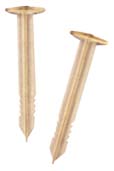 D27MT02 Biodegradable Row Cover Stakes
6" T-stakes are made from a corn-based polymer that breaks down in 1 year, and completely degrades in about 3 years (depending on conditions). Strong and rigid enough to drive into hard ground. 1.25" head.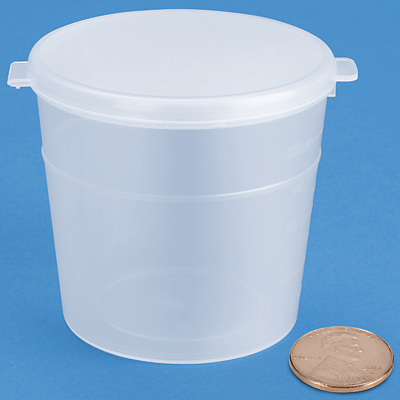 JFP022 Eight Ounce Poly Plastic Vial with Hinged Lid
This is a wonderful way to store seeds as this allows you to inspect the seeds without opening the container. Guaranteed leakproof storage. Hinged lid snaps shut. Easy one-handed opening and closing. Translucent, moisture-resistant polypropylene.
Saltpeter for Seed Germination
Most species of seeds have hard casings to protect the seed "embryo". For most of these "hard" seeds, the outer shell must be scarred, scratched or softened in some way. Some species take up to a year to germinate and will need help in the beginning to get the shell softened. Most varieties of slow germinating seeds will turn black and rot if there is not sufficient heat in the soil (75 to 90 degrees F. for most species) or if the soil dries out or is allowed to remain too wet, which will encourage the growth of one or another of the varieties of fungus or mold. It is important to speed up germination and to get the plants growing as soon as possible in order to avoid potential problems.
Anyone who has soaked dried beans before cooking is familiar with the process of softening up the shell. When the outer shell is softened it allows the contents to expand. Potassium Nitrate (Saltpeter) can help in softening up these outer shells. It is available in many drug stores, but for those who have difficulty obtaining a small amount, we offer 1 tablespoon packets for $1.95.
Soak the seeds in a solution of ¼ tablespoon of the Saltpeter to one pint of warm water for at least 24 hours. Do not allow the seeds to dry out but sow them immediately using the remaining solution to water the soil or other growing medium. Soak several species of seeds at once in smaller containers of the same solution and have the containers of growing medium or soil ready for planting as soon as the soaking period is complete.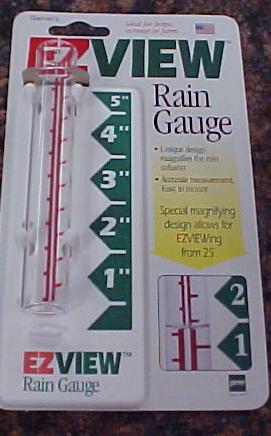 CRGA01 EZView Rain Gauge
Unique design magnifies the rain column.
Accurate measurement, easy to mount.
Ideal for home, acreage, or farm.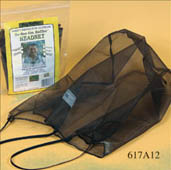 A04 Bug Baffler Headnet
Just place the headnet over your head--it will fit over a hat--and protect your face and head from bugs (mosquitoes, black flies, even no-see-ums!). An elastic band goes under your arms to hold it in place. It's a comfortable synthetic mesh, and does not interfere with vision. Great for all outdoor activities. One size fits all.

A05 Plant Waterers
Water plants automatically when you aren't home. Just place one end of the wick into a container of water, the other into the soil of the plant. The water will 'wick' into the soil as needed. Each wick is 14-1/2" long. Pkg. of 5.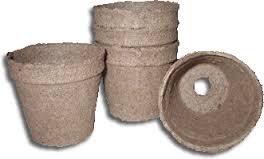 JP0T05 Five Inch Jiffy Peat Pots
The wide one! Jiffy's largest peat pot.
Can be used for annuals, perennial, hanging baskets and many more plants.
Pot Size: 5" round x 4" height.
Made from all-natural sphagnum peat and wood pulp, Jiffy-Pots are completely biodegradable and may be transplanted directly into the ground or larger containers.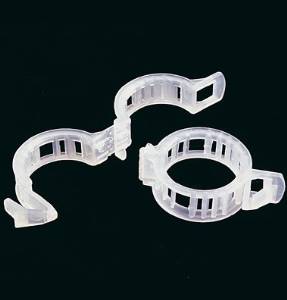 K28RTP625 Tomato Trellis Clips
A must for serious tomato growers, these white plastic clips form a 3/4 inch circle around stem and trellis line or tomato cage wire. Stems have side openings for ventilation and have a quick release feature that allows you to move them during the year as the plant grows. Use them year after year. Excellent for cucumber and other type vine crops too!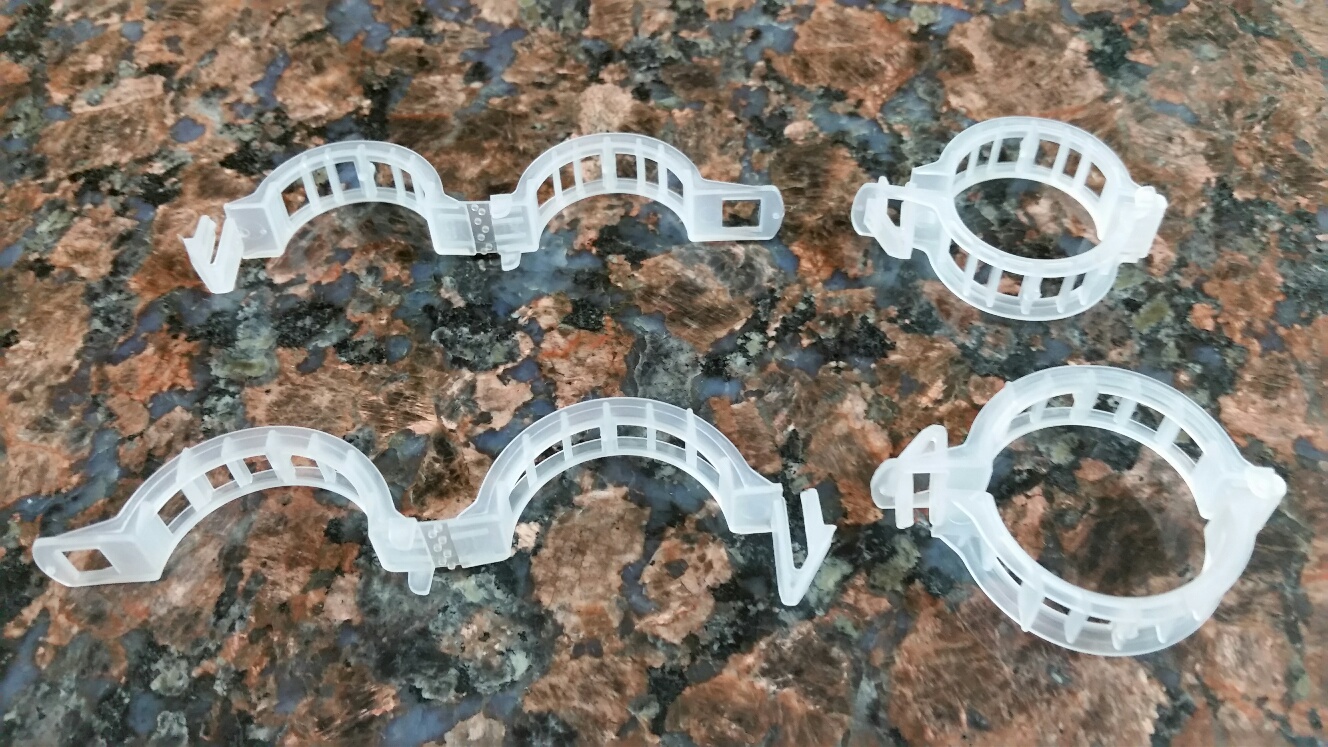 JCLIP Jumbo Trellis Clips
These jumbo white plastic clips are larger than our tomato trellis clips and form a 1 inch circle around stem and trellis line or cage wire compared to a ¾ circle on our tomato trellis clips ( as shown in photo ).
This is very handy when you are using bamboo stakes or clipping larger plant stems. Clips have side openings for ventilation and have a quick release feature that allows you to move them during the year as the plant grows. Use them year after year. Excellent for vine crops and staking any young plant.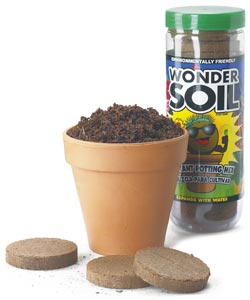 Are you tired of lifting heavy bags of potting soil, and trying to find places to store what's left over after a project? Your problems are solved with a tube of Wonder Soil™ Wafers. Just a cup of water, and one soil wafer expands to 14 times its original volume.
Great for seed starting, one wafer fills a 4-inch pot. Or add water to all 18 in the 1-pound tube and you'll have the equivalent of a 10-pound bag of regular potting soil. This lightweight, soilless medium is made of coconut coir, peat moss and water-absorbing polymers.
An excellent potting mix for all types of plants, including houseplants, palms, cacti and container vegetables.
Allows you to mix only the amount of potting soil you need when you need it, extra wafers store away until you need them again.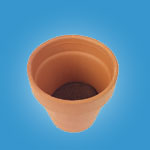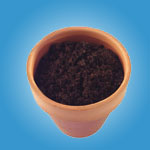 Wonder Soil is fertilizer-rich dehydrated peat which expands when you add water. One 14 oz. container is equivalent to 10 lbs. of regular soil. Its coir-peat mixture with polymers and nutrients allows it to absorb, store and release water so that you have to water your plants much less often than you would with normal potting soil.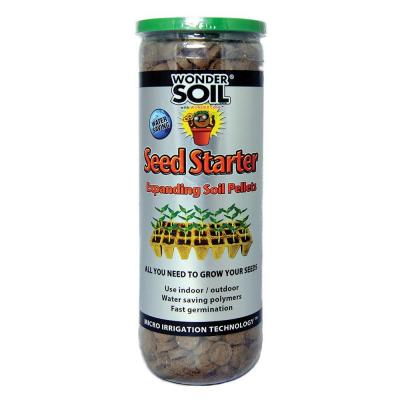 Seed Starter Expanding Soil Pellets (with Worm Castings!)
One half inch WONDER SOIL® wafers enriched with worm castings. Use in small seed starter cells, around roots and as a booster to the soil of existing plants. Promotes faster germination with more sprout success.
These small pellets are ideal for small containers or to sprinkle around your outside plantings. The addition of worm castings adds just the right amount of organic fertilizer and make this product perfect for soil enrichment and starting off seed and seedlings in containers. The 1lb container will make over ten pounds of enriched potting soil.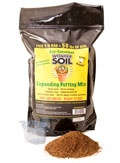 New! Improved and Enhanched Wonder Soil Reground®
Wonder Soil Reground is made from Wonder Soil wafers that have been reground into thousands of expanding granules. And then Mycorrhizae, biosol, lime, gypsum and kelp starter nutrients are added. Easy to pour and expand where needed. A one lb. bag expands to 10 lbs. when rehydrated with water. Wonder Soil Reground is easier to use and slightly more economical than wafers.

D01SST007 Silica Gel Desiccants
New! Perfect for protecting seeds, photos, and countless other items from moisture damage. Fast and extra adsorbent silica gel. Meets FDA specifications for food and drug products. Provides superior adsorption. Remains dry at maximum saturation.
Silica gel can adsorb 15% of its weight in water vapor in 2 hours.
1/2 Gram packets measure 5/8" x 1 9/32"
25 packets per bag.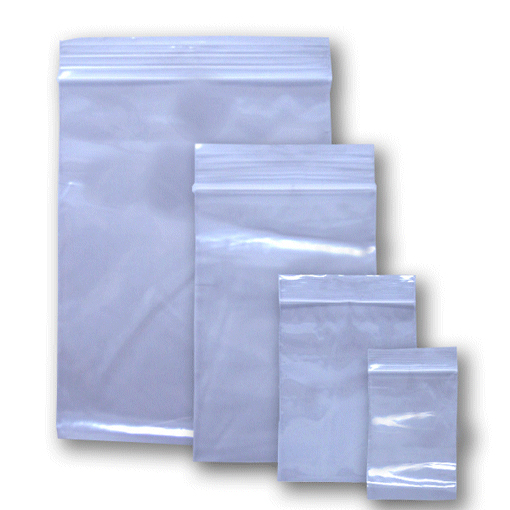 2 Mil Zip Lock Plastic Bags
These wonderful little pouches are handy for storing and organizing anything! Protect all of your precious things ( including seeds of course! ) with the easy to open and close bags. A huge assortment for almost any project.
---