Asparagus Seeds
Useful gardening information
Asparagus is a member of the Lily family.
Asparagus spears grow from a crown that is planted about a foot deep in sandy soils. Under ideal conditions, an asparagus spear can grow 10" in a 24-hour period.
Each crown will send spears up for about 6-7 weeks during the spring and early summer. The outdoor temperature determines how much time will be between each picking...early in the season, there may be 4-5 days between pickings and as the days and nights get warmer, a particular field may have to be picked every 24 hours.
After harvesting is done the spears grow into ferns, which produce red berries and the food and nutrients necessary for a healthy and productive crop the next season.
An asparagus planting is usually not harvested for the first 3 years after the crowns are planted allowing the crown to develop a strong fibrous root system.
A well cared for asparagus planting will generally produce for about 15 years without being replanted.
The larger the diameter, the better the quality!
Asparagus is a nutrient-dense food which in high in Folic Acid and is a good source of potassium, fiber, vitamin B6, vitamins A and C, and thiamin.
Asparagus has No Fat, contains No Cholesterol and is low in Sodium.
---
Sowing Instructions
Note: Most varieties of Asparagus start producing after third year.
Sow seeds outside in Fall or Spring. Seeds should be soaked overnight in warm water before sowing. If started inside, transplants should be planted 16 inches apart, in rows 3 ft. apart. Work mulch and humus into Asparagus bed each year.
Informative articles found on the web:
Asparagus Lovers.com
Asparagus Recipes
Recipezarr.com :More Asparagus Recipes
( They list 1,757 asparagus recipes }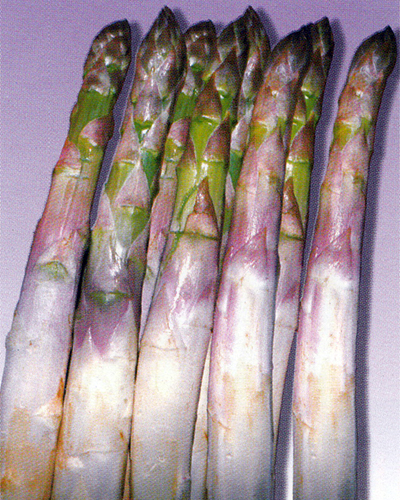 IP077 Argentuil
An heirloom French asparagus dating back to the 1700's that is quite early yet with very large spears. These have a wonderful round tip and purplish scales, also a fine selection for blanching with a sweet taste. Sometimes also called "White Asparagus of Argenteuil", 'Precoce d'argenteuil', or 'Purple Dutch'. Very good yields once established.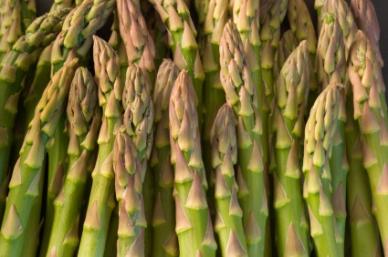 VG102 Asparagus: Mary Washington
Mary Washington Asparagus is a strong grower with large spears produced in spring. This asparagus is a favorite of gardeners that are looking for excellent taste. It is good for cooking and canning. Mary Washington is reliable and resistance to rust. The delicious asparagus shoots (called "spears") are tender, thick, heavy and straight and are of a rich dark green color with a purple tinge. They are uniform in size, about 10 inches in length. They have a delicate, delicious flavor when cooked. Asparagus is the earliest vegetable harvested fresh from the garden each spring. It is known for its flavor and nutrition. It's an excellent source of vitamin A, and contains significant amounts of vitamin C, riboflavin, phosphorus and calcium. One cup of cooked fresh asparagus contains only 30 calories! Asparagus is a perennial plant that comes back from the same root system each year. A productive bed of asparagus can last 15 years or longer. It needs well-drained, deep soil and plenty of sunlight; at least 8 hours daily.