Thanksgiving/Small Business Saturday/Cyber Monday Weekend Sale!
Save 25% on everything we offer from now to midnight Monday! Simply type in TK2017 ( case sensitive, no spaces ) into the coupon field of the shopping cart when you check out, and the discount will be applied. ( You must use the code in the coupon field to get the discount, we cannot apply discount after order is placed )
Burdock Seeds
---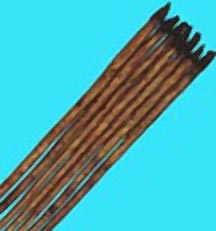 AW31 Takinogawa Burdock ( Arctium lappa )
Edible Burdock is often called Gobo in Japanese supermarket. Plants are cultivated mainly for the slender roots, that can grow to 4 feet long and 1 inch across. Burdock root is very crispy and has a sweet, mild pungent flavor, which is used as a delicacy in Japanese food. Burdock is a hardy biennial plant, but grow as an annual. Seed are sown in spring for havest in late summer or in fall for harvest in the next spring.