Chamomile Seeds
Useful gardening information
Season: Annual
USDA Zones: 4 - 8
Height: 18 - 24 inches
Bloom Season: Summer
Bloom Color: White
Environment: Full sun
Soil Type: Moist, well-drained, pH 6.1 - 7.5
Planting Directions
Temperature: 65 - 80F
Average Germ Time: 10 - 14 days
Light Required: Yes
Depth: Press into soil but do not cover
Sowing Rate: 1 seed per inch
Moisture: Keep moist until germination
Plant Spacing: Rows 18 inches a part; thin seedlings 10 inches
Links to useful information on the web:
How to grow chamomile in containers
How to grow, use and identify chamomile
---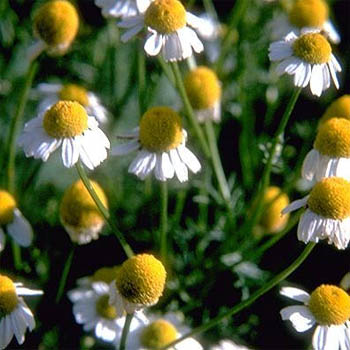 W206 German Chamomile ( Matricaria recutita )
An easy to grow annual with pretty daisy like flowers, the flowers are scented, and only the flowers are used for making tea.
If you want to harvest flowers for making Chamomile tea, it is best to collect flowers on a sunny day (ensuring that the flowers are fully open), then dry them in the sun. Discard the stems and leaves and store the chamomile flowers in an air tight container.
German Chamomile is most often used for medicinal purposes, and is usually administered as a tea. It can also be administered as a compress for external healing and as a bath for babies. Here are a few uses:
Soothes and relaxes at bedtime.
Relieves restlessness, teething problems, and colic in children.
Relieves allergies, much as an antihistamine would.
Aids digestion when taken as a tea after meals.
Relieves morning sickness during pregnancy.
Speeds healing of skin ulcers, wounds, or burns.
Treats gastritis and ulcerative colitis.
Other Uses
Makes a relaxing bath or footbath.
Lightens fair hair and conditions complexion. Make a rinse by simmering 2 teaspoons dried flowers in 8 ounces of water for 15 minutes.
Potpourri (dry flowers face down.)
Parts of plant to use for tea: Flowers only. Taste: A rather pleasant taste, made very nice with a little bit of honey.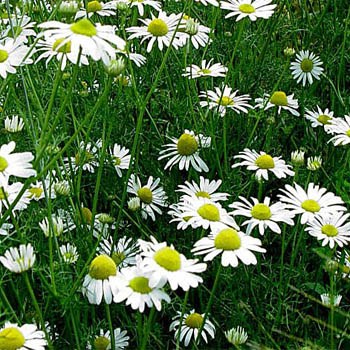 SF084 Roman Chamomile Chamaemelum nobile
A hardy perennial with aromatic, threadlike leaves that fill the air with a pleasing apple-pineapple scent. Walk on it for instant fragrance. White, daisylike blooms appear in summer. Spreads unevenly as a groundcover by self-sowing. Young leaves and flowers can be gathered to make a calming tea, both fresh and dried. The leaves can be used in potpourri. Thrives in moist, rich soil and grows to 12 inches tall. Cut back regularly to encourage dense, compact growth.
Grows well in zones 4-9.
---
Share a growing tip or recipe and help other gardeners!

Click on the Contact Form link, place "Tip" in the name line and fill in your information. If we accept your Chamomile growing tip or recipe, we will post it on this page.