---
Seeds for Deer Resistant Flower Garden Plants
---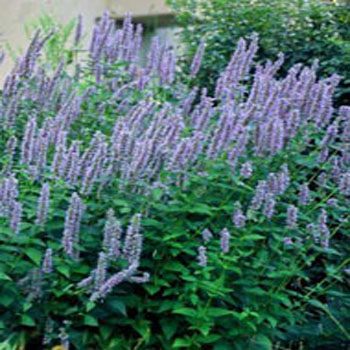 TPF173 Lavender Hyssop ( Agastache foeniculum )
Anise Hyssop has very showy flowers, fragrant foliage and seems to be of little interest to deer. It self seeds readily and often blooms the first year. New seedlings are hardy and can be transplanted easily. It's a bee, hummingbird, and butterfly magnet and makes an excellent addition to herb gardens, borders, perennial gardens, and prairies. When the leaves of the Anise Hyssop are crushed they smell like licorice and have been used to make tea and cold remedies. Other common names in use: Lavender Hyssop or Blue Giant Hyssop. A perennial for zones 3-8.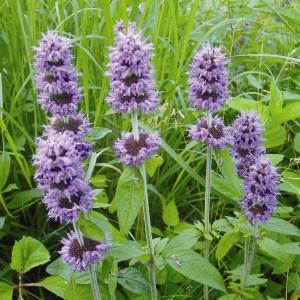 TRN409 Downy Wood Mint ( Blephilia ciliata )
Downy Wood Mint has a distinctive appeal with its tight clusters of pink-purple flowers stacked to resemble a pagoda. Strongly supported by downy-haired stems reaching just 1', the flowers too are hairy and twin-lipped with three lobes and reddish spots on the lower lip.
Reminiscent of much-loved Monardas, this Blephelia will spread by rhizomes slowly from a central tap root to form clumps. Deer will not bother this member of the Mint family but important pollinators will frequent it during its approximate 1 month early summer bloom time. Downy Wood Mint can thrive in almost any medium to dry-soil garden that receives a few hours or more sun per summer day making it a sure-fit for most gardens.
Originally native to the Great Lakes and Mid-Atlantic states it will flourish in any zones 4-8.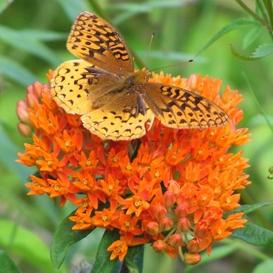 3221 Orange Buttterfly Milkweed ( Asclepias tuberosa )
Cannot ship to HI Fair to good resistance. A hardy, long lived perennial with magnificent bright orange flowers in compact clusters that attracts butterflies throughout the season.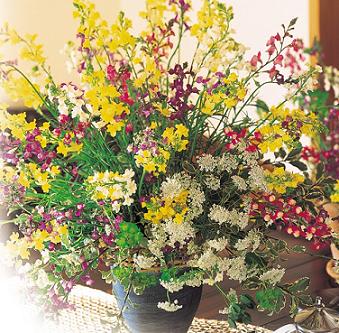 TPF079 Heavenly Mix ( Linaria maroccana )
Good resistance. Also known as Spurred Snapdragon, a hardy annual growing to 24" tall with pink/yellow/violet flowers.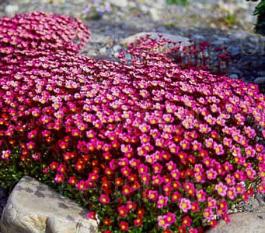 3497 Purple Robe ( Saxifraga Arendsii )
An excellent groundcover that is compact, free-flowering, and easily raised from seed. These charming perennials quickly form an evergreen verdant mat. The surface-spreading mossy leaves are evergreen for year-round effect. When your spring bloomers are starting to fade, the dense mats become covered with small carmine red, cup-shaped flowers held upright on ankle-high, strong stems.
Also, known as Mossy Saxifrage or Purple Robe ground cover, Saxifrages grow well in containers, beds, rock gardens, and anywhere a low-growing, spreading ground cover plant is desired. Mossy Saxifrage plants prefer well-drained soil and full sun to partial shade conditions. Purple Robe does not do well in the hot humid areas. It is both deer and rabbit resistant.
Grows about 6 inches tall, a perennial hardy for zones 4-9.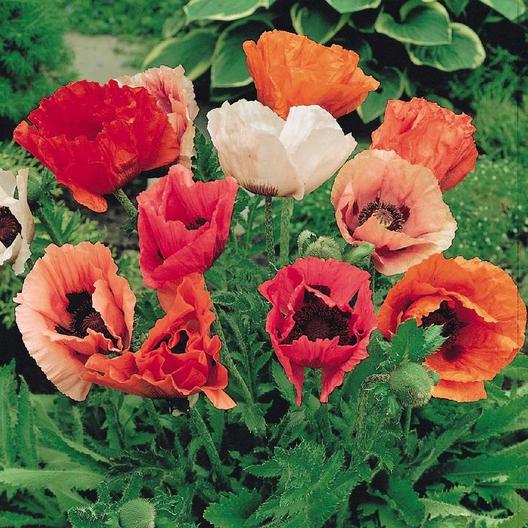 D9828 Orientale Poppy/Mixed Colors ( Papaver orientale )
Vivid shades of scarlet, orange and pink.
Zones 4-9.
---
Seeds for Deer Resistant Bushes, Shrubs and Trees
---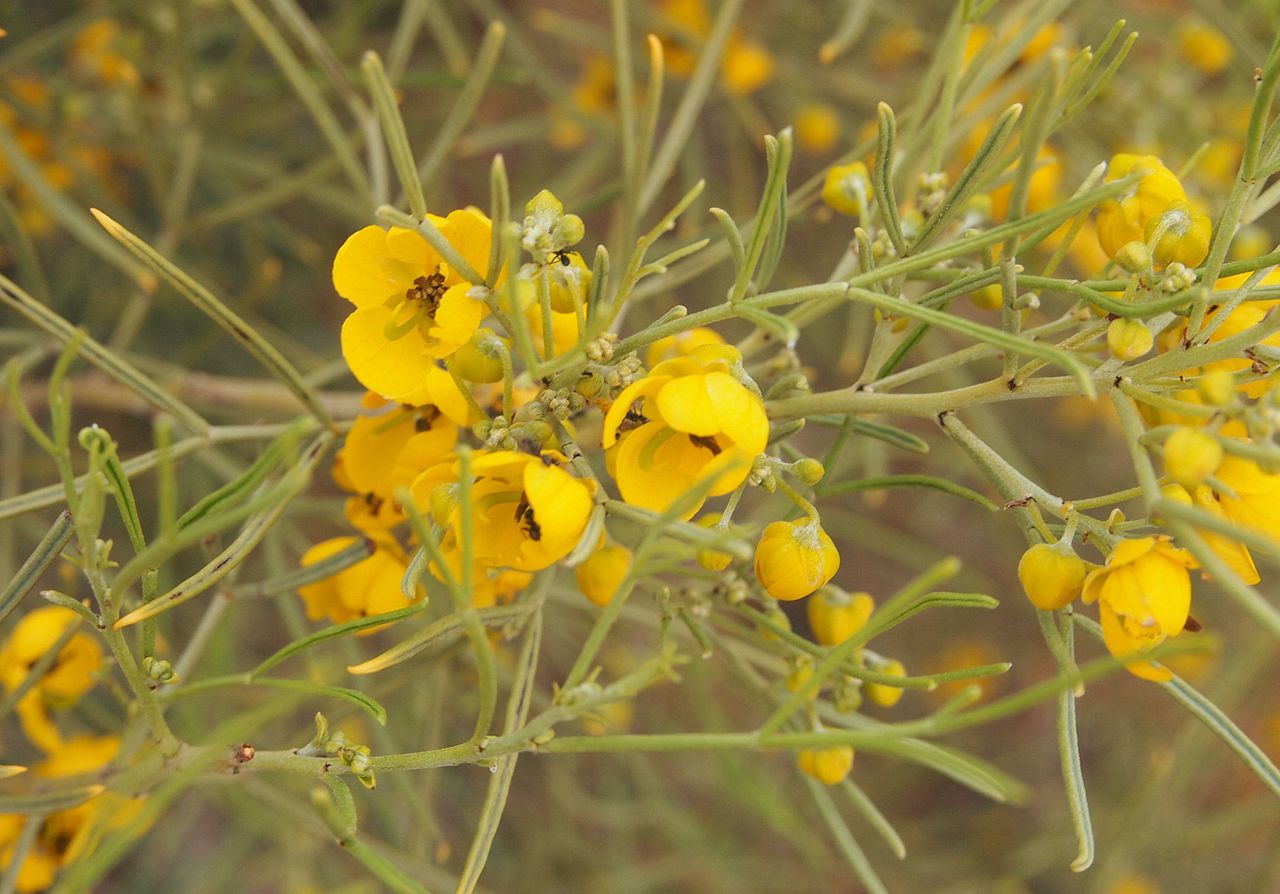 TRN304 Silver Cassia ( Senna artemisioides )
Also known as Feathery Cassia, it has feathery, light gray-green leaves and grows about 6 feet tall when mature, but can be pruned to a smaller size if preferred.
This is an evergreen shrub that has a rounded form that features clusters of fragrant yellow pea like flowers that bloom almost year round with a peak from the late winter through spring.
Flowers are followed by flattened pea pods that are lime green then dry to dark brown. It should be planted in full sun in a well draining soil and watered occasionally, but very little, as it is a drought tolerant plant and prone to yellowing if overwatered.
It is tolerant of near coastal conditions, as well as inland heat and is resistant to deer.
Hardy to about 20 degrees, it does well in zone 8 and above.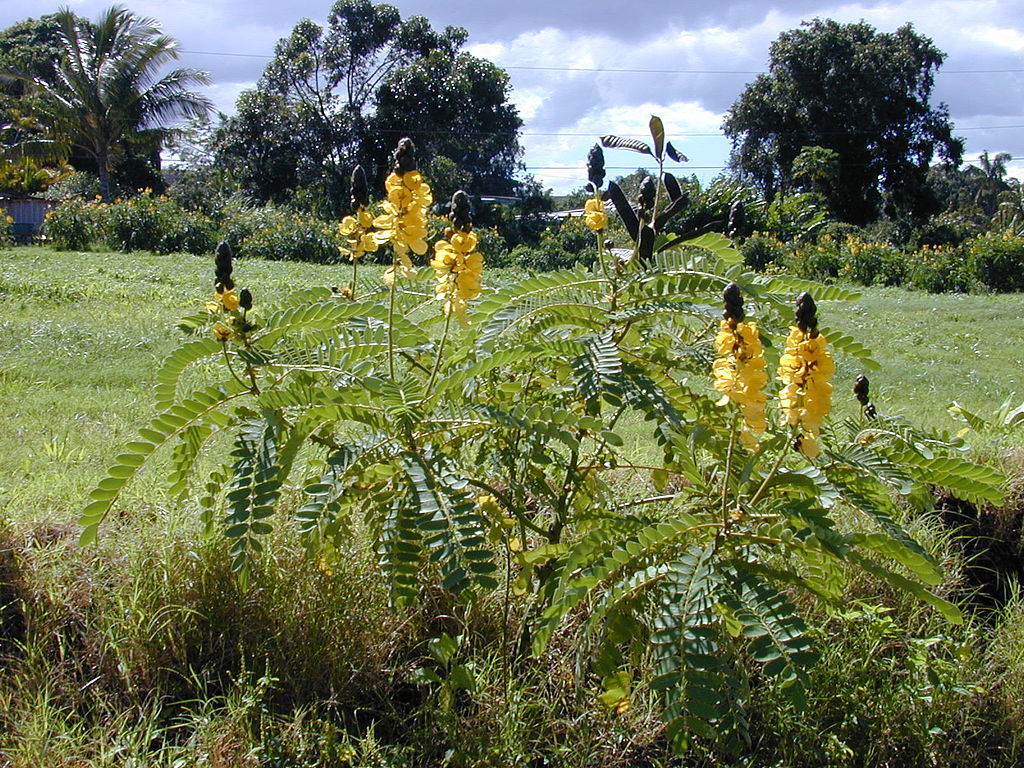 Forest & Kim Starr
TRN305 Popcorn Cassia ( Senna didymobotrya )
This is a wonderful plant for warmer zones as it featurs lush tropical like foliage with a constant series of bright golden yellow blooms emerging from dramatically contrasting plump black buds that rise well above the leaves over a long season. Why the name Popcorn Plant? Well if you rub the leaves of the plant, you get a wonderful fragrance reminicent of buttered popcorn.
This is a perennial legume from Africa that does well as an annual when started inside in cooler zones. We have had it bloom from a twelve inch container before, but it does best in the ground.
Besides being a wonderful accent plant for the garden, it is also deer resistant, is not affected by hardly any pests that we know of and it attracts bees and butterflies like crazy.
It will grow up to six feet tall in warm zones, but much smaller when grown as an annual or container plant.
Does well in zone 9 and above.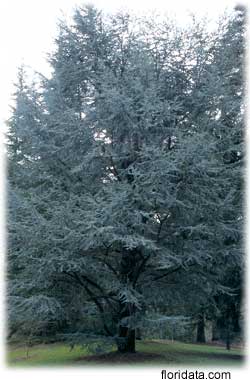 D7886 Western Red Cedar ( Cedrus atlantica )
Atlas cedar is a large and majestic evergreen conifer that can get as tall as 120' and have a spread of 100'. More commonly, and especially in the US, it is 40-60' tall and 20-40' wide. The tree is neatly cone shaped in youth, becoming more open and spreading with a flat top as it ages. The bark is silvery gray and fissured. The stiff, needlelike leaves are bluish green, less than an inch long, and clustered in tufts on short lateral spurs. The egg shaped cones are 3" long, green while developing and brown when mature. When ripe they shatter to release papery winged seeds.
Location: Atlas cedar is native to the Atlas Mountains of Morocco and Algeria in northern Africa.
Atlas cedar does well in sandy to clayey, and acidic to alkaline soils. It grows fast and upward for the first 10-20 years, then as the central leader loses dominance, growth slows and the crown spreads. In young trees, lateral branches may have to be pruned back to keep them from breaking under their own weight. Never prune the central leader, though.
Light: Full sun or partial shade.
Moisture: Drought tolerant once established.
Hardiness: USDA Zones 6 - 9.
Atlas cedar is an imperial and picturesque specimen tree with massive, horizontal-spreading branches. It is long lived and needs lots of space and should never be used as anything but a specimen. (That is, except for the peculiar 'Glauca Pendula' which is not treelike and is grown as a curiosity.) Atlas cedar is tolerant of hot, humid weather and may be a better choice in the south than deodar cedar (C. deodara) which sometimes dies back from the top.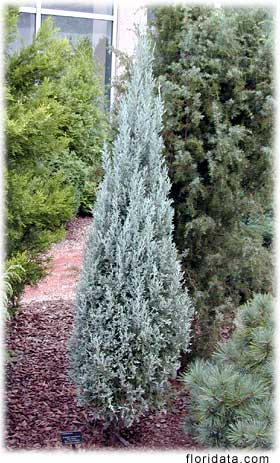 D7880 Rocky Mountain Junifer ( Juniperus scopulorun )
Rocky Mountain juniper is an evergreen large shrub or small tree to 50' tall, but usually much smaller. Specimens are variable in habit, sometimes squat and shrubby, but usually narrowly cone shaped. The trunk is short and stout, often dividing near the ground. The branches are rather thick and spreading to partly erect. Rocky Mountain juniper has reddish bark that is stringy in narrow strips but does not exfoliate. Most of the leaves are like overlapping scales, closely pressed to the twigs. Juvenile leaves, usually only found on young seedlings, are more like needles, and they spread away from the twigs. The foliage is dense and pleasantly aromatic.
Trees may have male or female cones, but not both. The fruits are fleshy berrylike spherical cones, about one-third inch in diameter. They are bright blue with a whitish bloom and sweet tasting, with thin skins. Rocky Mountain juniper is closely related and quite similar to eastern redcedar, and was once believed to be the same species. But eastern redcedar has fruits that mature in a single season, whereas those of Rocky Mountain juniper take two year to ripen. Also, eastern redcedar had exfoliating bark. The two species hybridize where their ranges overlap.
Location: Rocky Mountain juniper occurs in isolated and scattered localities within a wide band from British Columbia to North Dakota, and south to Arizona and New Mexico. It grows from near sea level in the northern part of its range to more than 8000' above sea level in the south. Rocky Mountain juniper grows in alkaline soils on ridges, cliffs and rocky slopes, sometimes in pure stands, but more often in association with other mountain loving evergreens such as ponderosa pine, pinyon pine and Douglas-fir.
Culture: Rocky Mountain juniper is a slow growing tree (6-12" per year), but one that can live more than 300 years. In cultivation it tolerates acidic to alkaline soils, and does best in those that are loose and well drained. It is best adapted to culture in western and northern North America.
Light: Seedlings and saplings can tolerate rather dense shade, but Rocky Mountain junipers, even the smaller cultivars, need full sun to grow to their full potentials.
Moisture: Rocky Mountain juniper is tolerant of drought, but perhaps less so than the other junipers. It should be watered before the soil becomes completely dry. This juniper does poorly in humid climates, but does fine in hot, dry climates.
Hardiness: USDA Zones 4 - 7.
Usage: Use any of the cultivars of Rocky Mountain juniper for attractive foliage effects in all seasons. This evergreen is useful as a screen, hedge or foundation plant. They make great anchors or focal points for the ends of hedges or mixed borders. Rocky Mountain juniper is a tidy, formal accent shrub alone or in small groups.
Features: Although most cultivars are probably too formal for naturalistic gardens, Rocky Mountain juniper is ideal for neat, well-organized landscapes. Most cultivars require little or no pruning and are relatively free of cultural problems, insects and diseases. They tolerate heat and drought well.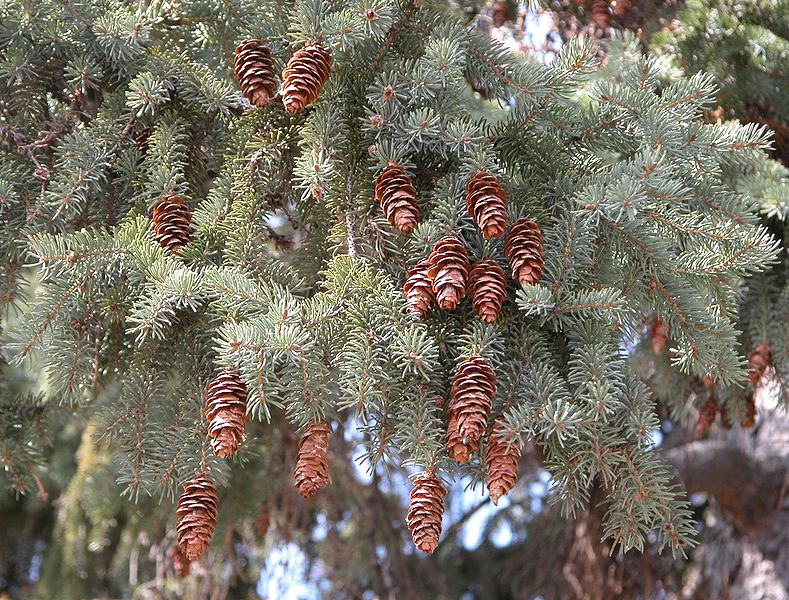 D7882 Black Hills Spruce ( Picea glauca )
This tall, straight conifer grows over 80' tall and reaches diameters of 1'-2'. It has very stiff green and blue-green evergreen needles. Cultivars have been developed which accentuate a powder blue cast to the needles for ornamental purposes.
Location: Now widely planted for landscaping, the blue spruce is native to a fairly narrow geographic range in the central Rocky Mountains in the United States. In nature, it generally occurs along stream bottoms and on moist sites at 6,000' to 11,000' elevation.
Light: Tolerant of some shade.
Moisture: Average.
Hardiness: USDA Zones 4 to 5.
Usage: Blue spruce is most commonly used as an individual specimen tree but would be an attractive grove or windbreak tree.
Features: The striking blue colored foliage has made the blue spruce a popular landscape tree in the United States.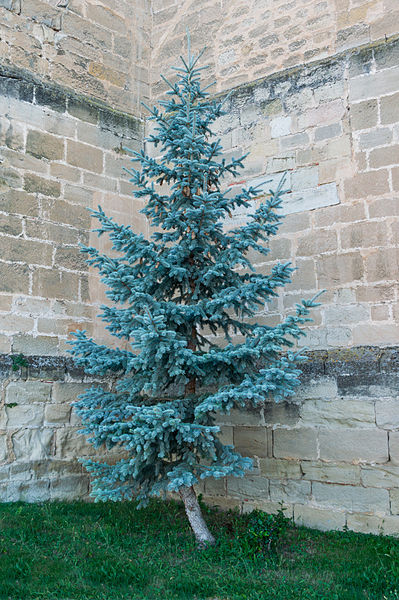 D7884 Colorado Blue Spruce ( Picea pungens )
Native to southwestern United States and hardy to zone 3. It is an evergreen tree with horizontal, stiff branches that tend to go to the ground. Has a narrow, dense, conical shape and can grow to 60' tall and spread up to 20'. Young cones are a stricking viloet color when young, mature cones are cylindrical and pointed at each end, up to 5" long and about 1" wide turning to a medium brown at maturity.
Bark is a gray brown color. Very similar to the Black Hills Spruce. One of the most famous spruces. Often used as a Christmas tree as well because of its shape and fragrance. You must see one in the wild to appreciate its full beauty.
---
Seeds for Deer Resistant Herb Plants
---
HR145 Hyssop ( Hyssopus officinalis )
Similar to mint flavor, use small amount in salads and other dishes.
HR154 Lavender Lady ( Lavandula angustifolia ) Perennial
Plants flower in first season. Use for bedding plants, borders in containers or in rock gardens. Delightful lavender fragrance.
HR163 Lavender Vera ( Lavendula vera )
Also called English Lavender, the dried flowers of this beautiful perennial plant have long been used to perfume linens.
HR167 Lemon Mint ( Monarda citriodora )
Lemon scented foliage and blooms attracts bees and butterflies. The oils of the plant have been used to dress wounds.
HR119 Lemon Catmint ( Nepeta mussini )
Bushy plant used for rock garden. Lovely blue flowers. Likes hot, dry weather. Used medicinally.
HR209 Spearmint ( Mentha spicata )
A very sweet, minty flavor. Use to flavor candies, iced drinks and tea.
HR141 Horehound ( Marrubium vulgare )
Leaves are used for flavoring juices and teas. Juice used for medicinal candies.
H811 Oregano, True Greek ( Origanum heracleoticum )
1-2' tall. Hardy to zone 5. This is the strongest flavored of all the oregano varieties with a strong, earthy aroma. A rapid spreader with white flowers. Used in Italian dishes, tomato sauce, pizza, fish and salad dressing. Sow in spring, summer or early fall. Hardy and easy to transplant.
HR180 Pennyroyal ( Mentha pulegium )
A strong but pleasantly scented plant used to repel insects and protect linens. Makes a beautiful ground cover .
HR183 Rosemary ( Rosmarinus officinalis )
Aromatic leaves and stems used to flavor meats and sauces. Excellent for potpourri.
HR187 Rue ( Ruta graveolens )
Much used in salads and as flavoring in cheese dishes.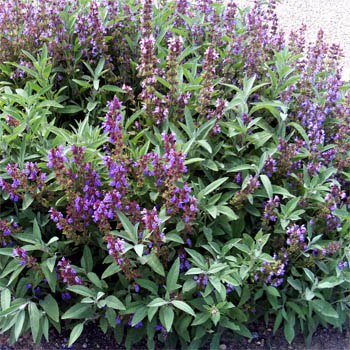 HR195 Sage ( Salvia officinalis )
Use fresh or dried leaves to flavor pork, poultry, dressings, sausages and just about anything!
The Sage herb has fragrant gray-green leaves and attractive mauve flower spikes in early summer. It's highly attractive to birds, bees and butterflies.
Containing naturally-occurring vitamins and minerals, the herb sage is best known as a culinary spice that adds flavor to poultry dishes. However, sage has been used for hundreds of years in folk medicine to treat a variety of different ailments. Most commonly drunk as a tea, sage herb is good for the nerves, digestive system and for balancing estrogen levels in women.
HR123 Catnip ( Nepeta cataria )
Cats love this plant and it is used to flavor teas. Has attractive heart shaped foliage.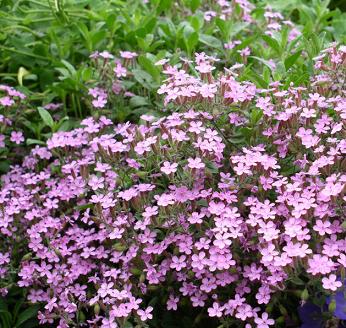 HR199 Soapwort ( Saponaria ocymoides )
A beautiful trailing plant with lovely rose-pink blooms in the Spring. Also a source of homemade soap for generations. The plant grows about 12" tall and makes a very nice deer and rabbit resistant groundcover.
A perennial for zones 3-9, can also be container grown.
HR250 Winter Savory ( Satureja montana )
An overlooked seasoning that is very versatile.
HR219 Tansy ( Tanacetum vulgare )
The leaves of this ornamental plant are widely used as an insect repellent. Also used to make dyes. Cannot ship to MN, WY
HR229 Thyme, English ( Thymus vulgaris )
Seasoning for poultry chowders, stews, sauces and pickles. Good honey plant for bees.
HR234 Thyme, Creeping, Mother of Thyme ( Thymus serphyllum )
Used in teas, salads, rice and fish dishes. Trailing, thick flat spreading plants. Good for rockgardens, has small pink flowers.