Foxgloves are easily grown from seeds but will not flower until the plant reaches one year of age.
The perennial foxglove ( zones 4-10 ) is an excellent addition to the shade garden that will add beauty and color for many years.
Where to grow: The plants prefer well draining acidic soil conditions. Choose a location that offers shade. When planting add abundant compost or organic matter to the soil. Mulching with oak leaves in the fall will help the plants overwinter.
Foxglove will grow best in rich, well draining soil with humus or sand mixed in, but any garden type soil will work fine as long as it is on the acidic side.
Space foxglove plants about a foot and a half apart to offer enough room for the light green foliage that forms a large rosette shaped mound. Foxgloves spread rapidly and it is advised that every three to four years the plants be divided and transplanted into a new location. Foxgloves easily naturalize an area and offer a wonderful meadow appearance when allowed to grow wild with other wildflowers.
Foxgloves are adored by bees and hummingbirds so plant in a location where you can enjoy watching the activity. Locating them outside a window is often a wonderful way to enjoy the plants.
Apply 3 to 4 inches of mulch around the base of the foxglove plants. The mulch offers summertime protection for the plants root system against the intense heat, the mulch also offers wintertime protection, it helps soil retain water and keeps weeds down. Peat moss or bark chips are ideal mulch for use around foxgloves.
Water foxgloves weekly to keep the soil moist. The foxglove does not tolerate dry soil conditions well. Use a drip irrigation system or a soaker hose so the plants flowers and foliage does not become wet. The large flower spikes will easily be weighed down with water and often bend or break under the weight.
Clip spent flower heads to encourage side shoots to develop and flower. Leave the flower heads on the plant if you wish the plant to produce ample seeds and spread.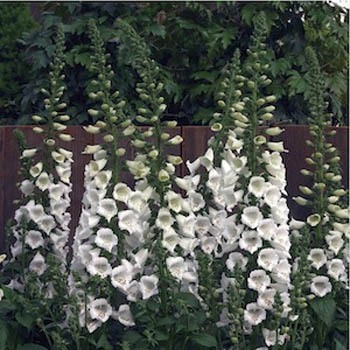 IP060 Soft White Foxglove ( Digitalis purpurea alba )
Soft white flowered foxglove, quick to flower, mid summer bloom, growing about 50" tall. Hardy to zone 5.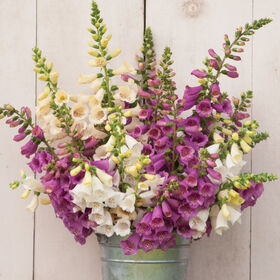 TRN714 Camelot Mix ( Digitalis purpurea camelot )
Pelleted seeds for easy germination. Uniform plants grow 24 to 30 inches across, with more reliable first-year flowering and heavy second- year blooms. Tubular florets display speckled throats on strong stems in a mix of cream, lavender, rose and white. Height: 42-48". Spread: 24-30". Zones: 4-8.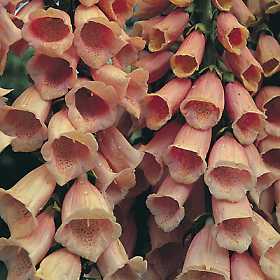 IP048 Apricot Beauty Foxglove ( Digitalis purpurea )
Unusual apricot orange color distinguishes this specimen plant. Apricot Beauty with its pastel shades of apricot to orange is lightly spotted and the best choice for a Digitalis for the south. The blooms on tall stalks make a majestic appearance in the perennial garden.
This is a wonderful perennial plant for several reasons: It does good in containers, it is deer resistant, it attracts hummingbirds and bees, it is good for cut flowers, does well in both sun and partial shade.
Grows about 50" tall, good for zones 5-9.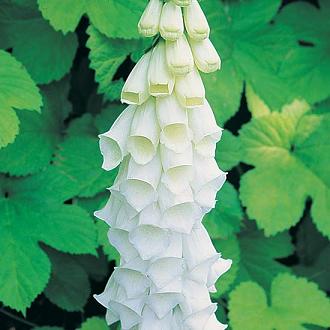 IP049 Dwarf Vanilla Foxglove ( Digitalis purpurea )
Dense spikes of cream-colored gloves bloom May-July. As with most foxgloves, it does good in containers, it is deer resistant, it attracts hummingbirds and bees, it is good for cut flowers, does well in both sun and partial shade.
Grows about 30" tall, good for zones 5-9.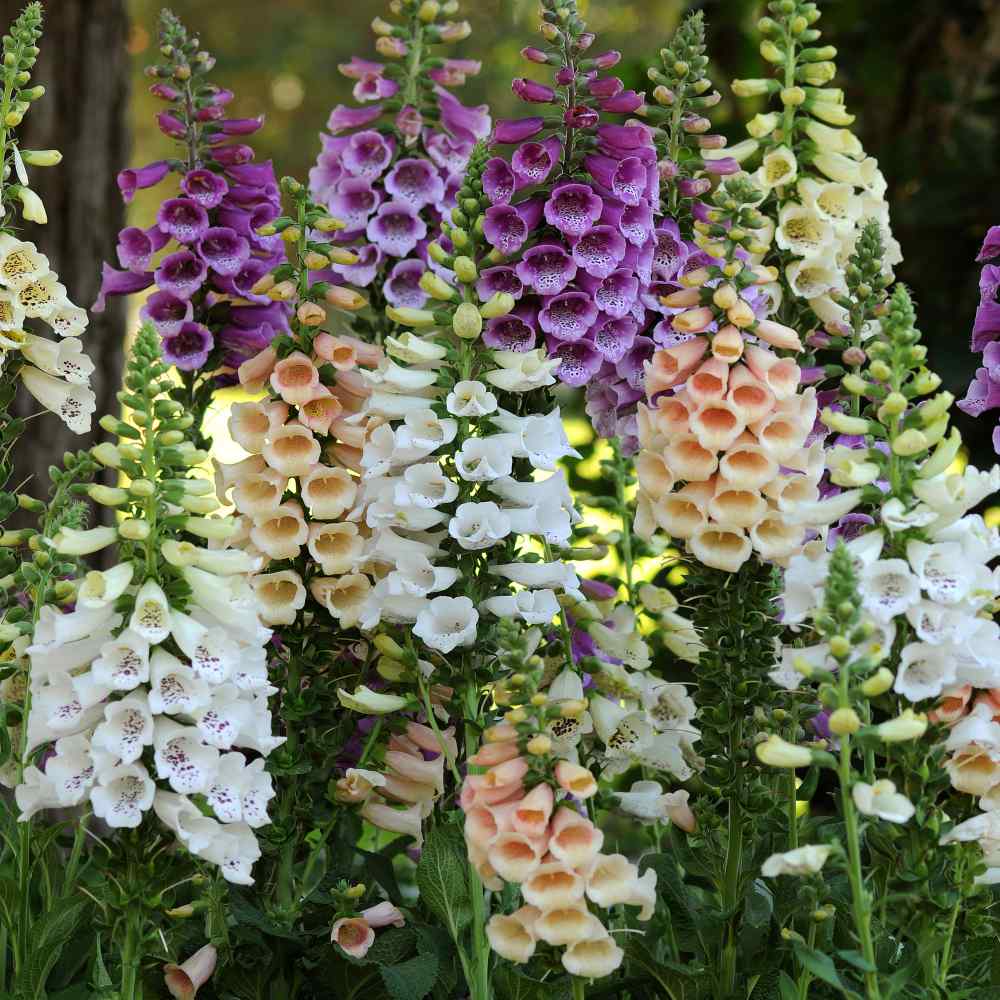 1A410 Foxglove ( Digitalis purpurea )
One of the loveliest, most important plant species that has been introduced from Europe and naturalized in various parts of North America. The flowers are numerous, on a spike, and range from a deep purple to lilac with conspicuous spots interlining the throat of the tubular flower.
As a biennial, the leaves form a rosette the first year followed by the flower spike the next year. Prefers a nitrogen rich sandy loam soil, in partial sun to full shade. Does well in shaded areas, wild flower mixes, adds color to unsightly places. Foxglove is a source of digitalis prescribed by doctors to strengthen the heart and regulate its beat. Extremely poisonous! Enjoy, but do not eat!
Seedman Basic Info:
Grows about 24 to 48 inches tall, will germinate in about 20-40 days depending on soil and weather conditions, germinates best if soil temperature is in the 50-60°F range.
Surface sow,do not cover seeds, blooms from June to September.