Fava Bean Seeds
---
A note from Jim:
Fava beans (Vicia faba) are not in the same genus as other garden beans (Phaseolus). Their origin is reportedly the Mediterranean region and their history dates back to at least Biblical times. Favas are commonly used in Middle Eastern, Greek and Italian cooking.
Fava bean plants grow upright on 2'-3' tall (or even taller in ideal conditions), non-branching stems. They may require staking as they grow. Plants are very cold tolerant and can withstand temperatures as low as 20-25 degrees.
The young fava bean pods can be sliced and eaten like snap beans. Foliage tips can be pinched and are one of spring's tastiest greens. But, the beans are the best of all. The 6"-8" long pods contain 5 to 7 beans. They can be shelled when still green and cooked.
In many places, if plants are covered with straw or mulch in winter, roots may survive to come back next spring. Fava beans are generally easy to grow. They enjoy the same conditions as peas.
Caution: A small percentage of people of Mediterranean descent may experience an hereditary allergic reaction to fava beans.
---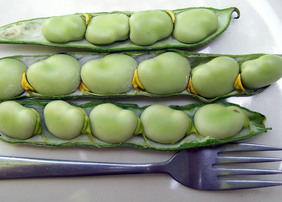 VUD002 Broad Windsor Fava Bean
80 days spring sown. 240 days fall sown. Popular in European gardens, Broad Windsor is one of the tastiest of all dried beans and one of the largest-the size of a quarter!
When eaten at the shelling stage, you'll discover why their mild flavor makes them perfect partners with many spices and herbs. Great for Falafels.
The sturdy bushes stand 4 feet tall, produce 4-5 inch pods, and are reliably hardy to 12°F. Buff colored seeds.
The favas are ready to harvest and cook as a green shelling bean when the pods drop from their erect habit on the stem and droop down. Days to maturity are for the fresh shell stage. For shelling beans, pick when the seeds are fully formed, but still soft and green. To use favas as a dry bean, maturity can take 3-4 more weeks depending on the weather. Harvest when 90% of the leaves have yellowed or fallen off. If rainy weather prevents field drying, pull up the plants and finish drying under cover. Pods may be shelled by hand. To thresh large amounts, hold plants by the roots and bang back and forth inside a barrel or beat small piles of plants with a flail.