Fennel Seeds
Useful gardening information
Fennel is a perennial that should be planted after the last frost of the winter. Seeds germinate when soil temperatures are between 50°F and 70°F. It takes up to 100 days to mature.
Fennel is relatively hardy and can be grown year round in zones 5-10. Grow as a perennial in colder zones.
Plant fennel in an area of the garden that receives full sun exposure and has loose, deep soil. Best to grow fennel away from other garden vegetables because it will cross pollinate, making for mixed flavor results, at best. Fennel grows back by itself each year, so dedicate a space in the garden to fennel if you plan to keep it going.
Fennel can be grown in large pots as well. It produces a long taproot and needs sufficient soil space to accommodate it, so containers are not always sufficient.
Links to useful information on the web:
How to grow fennel
---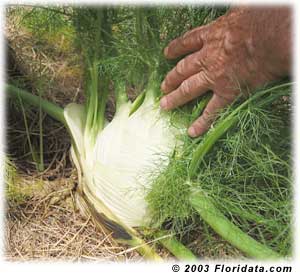 HR460 Florence Fennel ( Finocchio )
You've seen it before, in the supermarket or the farmers' market -- it's white, bulbous with green stems and has frilly dill-like fronds. It's fennel! Many people aren't that familiar with it, because it just looks so alien. But fennel is actually a wonderful vegetable with a sweet, anise or licorice flavor that's strongest when it's raw but much more mellow when it's cooked.
Most fennel recipes call for just the white bulb, which is typically cored and sliced or chopped, depending on the preparation. When thinly sliced, the fennel bulb is great in salads -- it's crunchy and slightly sweet and subtly licorice-like, but not as pungent as licorice root or black licorice candy.
But don't toss the stalks and fronds. The stalks can be used to make stock, or chopped and sauteed with other vegetables in a mirepoix (a typical French blend of onion, celery and carrot) for a soup or stew. The fronds can be added to salads or chopped and used to garnish dishes.
---
Share a growing tip or recipe and help other gardeners!

Click on the Contact Form link, place "Tip" in the name line and fill in your information. If we accept your Fennel growing tip or recipe, we will post it on this page.