Flax Seeds
Linum usitatissimum, or common flax, is a useful plant that has been cultivated for thousands of years. It is grown for both its fiber and its seeds. The fiber from its stems is used to make linen cloth, while linseed oil is derived from its seeds. Flax seeds are also edible and contain important nutrients. This annual plant grows to 3 feet tall before developing short-lived sky-blue flowers. Although flax is often grown as a large-scale production crop, it can also be grown in small garden plots.
Useful gardening information
Flax plants need full sun, so it is best to have a site that is not shadowed by surrounding buildings or trees. The soil must be fertile and drain well. Flax likes moist growing conditions, but it won't grow well in soggy soil. It helps to increase the nutrient content of the planting bed by working compost into the soil prior to planting. Although flax grows best in well-worked soil, it must also be firm, so tamp down the soil before planting seeds.
This cool-weather plant likes to start while the ground is still cold. Plant the seeds as soon as possible after the last frost of the season. Flax grows best when the plants are grown close together, about 40 plants per square foot. One tablespoon of flax seed is enough for 10 square feet of garden space. Sprinkle the seeds over the prepared seedbed; the small seeds will scatter more evenly if they are first dusted with flour. After the seeds are scattered, raking the soil lightly will bury the seeds about one-quarter to one-half inch deep. The soil requires moisture after burying the seeds and until germination. The seeds will germinate and begin sending up sprouts in about 10 days.
Links to useful information on the web:
Flax seed benefits
10 tasty ways to eat flax seed
---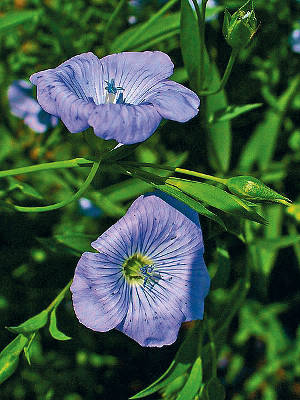 2267 Omega Flax ( Linum usitatissium )
Good source of Omega-3 fatty acids. Golden-yellow flax seeds are used whole, roasted and ground in cooking, and for medicinal use. Multibranching variety for high seed yield. Medicinal: Ground seeds are a great source of fiber. 95-100 days to harvest.
---
Share a growing tip or recipe and help other gardeners!

Click on the Contact Form link, place "Tip" in the name line and fill in your information. If we accept your Flax growing tip or recipe, we will post it on this page.