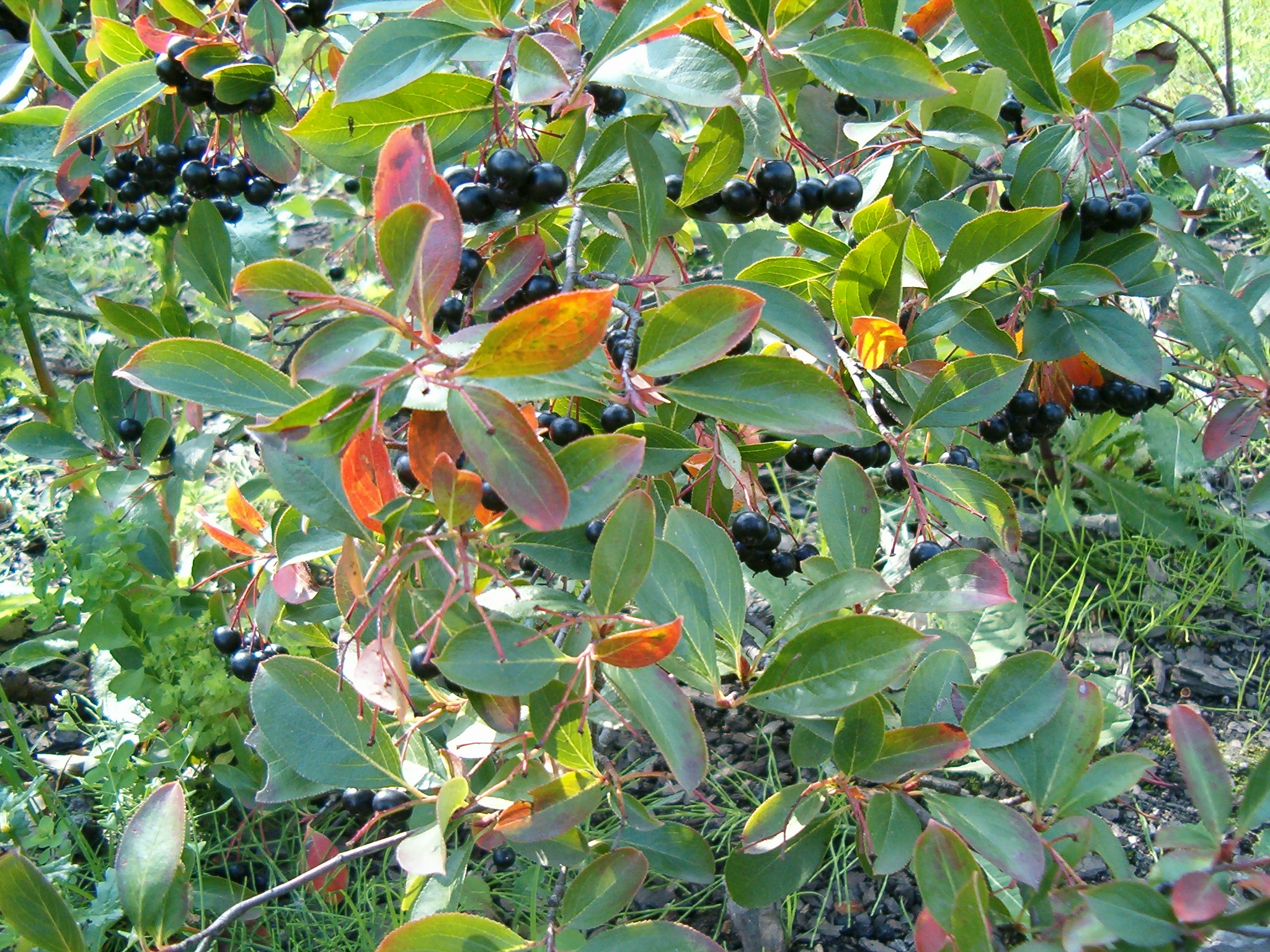 FB154 Black Chokeberry ( Aronia Melanocarpa )
Black chokeberry is a deciduous shrub that grows to about 6 feet tall in bogs, swamps, wet woods and occasionally in dry sandy soil of oak woods and pine barrens. It can tolerate partial shade, but produces the most flowers and fruit, and the brightest red fall color, in full sun. Best suited for zones 4-9.
The leaves are up to 8 cm long, with finely serrated edges. The flowers bloom in May and are white, rounded and with a short claw. The flowers are in loose clusters of 8 to 10 up to 5 cm across.
The fruit, which matures by late August, is round, up to 12 mm across, dark purple to black, and in drooping clusters on long red stalks. The fruit is technically a "pome", like an apple or pear, where the seeds are in a stiff core surrounded by fleshy tissue. The fruit is sour, even when ripe, so that it persists until midwinter as a "last resort" food source for songbirds, upland game birds and small mammals.
In northern Europe Aronia is commercially grown for bottled fruit juice. The fruit is valued for its juice which is very high in anthocyanins, blends well with other fruit juices and is reputed as a source of "phenols, leucoanthocyanins, catachines, flavonoles, and flavones" that are considered to be bioactive in humans. In the US it's growing in popularity as a landscape shrub since it tolerates both wet and dry soil, is attractive from spring through fall and resists most diseases and pests.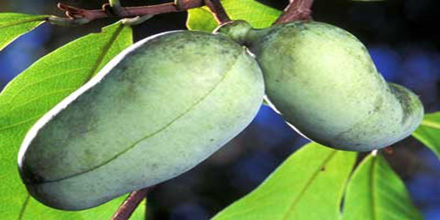 FDR95 Paw Paw Tree ( Asimia triloba )
Pawpaws are native to the Eastern half of the United States, from the Gulf Coastal plain to the Great Lakes. The fruit look like short, fat bananas. They have a fragrant aroma, a custardy texture, and a tropical taste. The best ones are rich, creamy and sweet, reminding some people of banana cream pie. Compared to apples, peaches and grapes, Pawpaw is higher in food energy, and has more than double the amount of vitamin C, and is much higher in minerals.
It is higher in protein, fiber, and carbohydrate. It has a much higher content of amino acids in a good balance. It has mainly unsaturated fatty acids, and is a good source of linoleic and linolenic acids. It is a small tree, seldom taller than 25 feet. Grown in full sun, the pawpaw tree develops a narrowly pyramidal shape with dense, drooping foliage down to the ground level. In the shade it has a more open branching habit with few lower limbs and horizontally held leaves. Pawpaw trees require warm to hot summers, mild to cold winters, and a minimum of 32 inches (81 cm) of rainfall spread rather evenly throughout the year, with the majority falling in spring and summer. It can be grown successfully in USDA plant hardiness zones 5 (-15 F/-26 C min. temp.) through 8 (15 F/-9 C min. temp.)
Shading for the first year, and sometimes the second, is normally required outside, and it is for this reason that pawpaws are almost always found in nature as an understory tree. Although the pawpaw is capable of fruiting in the shade, optimum fruit yields are obtained in open exposure, with some protection from wind (on account of the large leaves). Plant at least two trees for fruit production, to ensure cross-pollination. The soil should be slightly acid (pH 5.5-7), deep, fertile, and well-drained. Good drainage is essential to success. Pawpaws will not thrive in heavy soil or waterlogged soil. In its native habitat the pawpaw has few pests of any importance.
Note: These seeds need to be cold statified before sowing. We recommend using the Seedman's Cold Stratification Kits for cold stratification.
This item is currently out of stock, if you would like to be notified by E-mail when it becomes available again, simply enter your E-mail address in the field below and hit "Submit".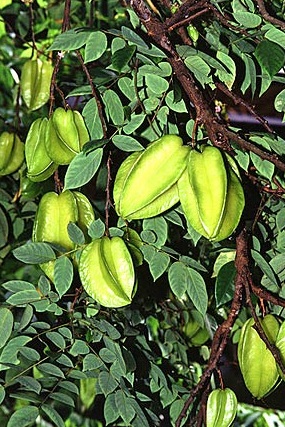 BN17 Star Fruit, Carambola ( Averrhoa carambola )
The Carambola is a beautiful evergreen tree with delicate small pinnate foliage that is sensitive to light-folding up in low light. Known for its increasingly popular yellow skinned "Star fruit" which is star like in appearance when it is sliced. This tree grows very well indoors with warmth and bright light.
Carambolas are best consumed when ripe, when they are yellow with a light shade of green. It will also have brown ridges at the five edges and feel firm. An overripe fruit will be yellow with brown spots. The fruit is entirely edible, including the slightly waxy skin. It is sweet without being overwhelming and extremely juicy. The taste is difficult to compare, but it has been likened to a mix of papaya, orange and grapefruit all at once.
Carambola is rich in antioxidants and vitamin C and low in sugar, sodium and acid. It is also a potent source of both primary and secondary polyphenolic antioxidants.
Best grown outside in zone 9A and above, although we have grown it in zone 8B. Also can be grown in warm greenhouses.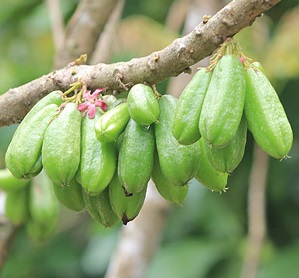 2936 Pickle Tree ( Averrhoa bilimbi )
This Carambola relative produces very small pickle-like fruits which are borne directly on the trunk of the tree and also on the branches. The fruitation is preceded by small red flowers on the trunk and branches. Delicate oval leaflets make this small tree very inviting as an indoor ornamental that would require warmth and bright light. Can be pruned to desired size; may be used as bonsai.
Its flowers, like its fruits, are found in hairy panicles that directly emerge from the trunk as well as from the oldest, most solid branches. The yellowish or purplish flowers are tiny, fragrant and have 5 petals. The bilimbi fruit's form ranges from ellipsoid to almost cylindrical. Its length is 4-10 cm. The bilimbi is 5-sided, but in a less marked way than the carambola. At the stem's end, the fruit is capped with a star-shape calyx. If unripe, it is bright green and crispy. It turns yellowish as it ripens. The flesh is juicy, green and acidic. Easily grown container plant, or zone 10 outside.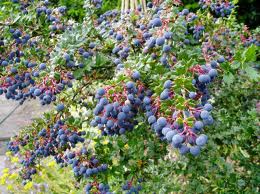 TRM102 Darwin's Barberry ( Berberis darwinii )
Small blue/purple edible berry growing on an ornamental bush. Berberis darwinii is an evergreen Shrub growing to 9 feet by 11 feet at a medium rate. It is hardy to zone 7 and is not frost tender. The flowers are hermaphrodite (have both male and female organs) and are pollinated by insects, self.The plant is self-fertile. It is noted for attracting wildlife.
Suitable for: light (sandy), medium (loamy) and heavy (clay) soils and can grow in heavy clay and nutritionally poor soils. Suitable pH: acid, neutral and basic (alkaline) soils and can grow in very acid soils.
It can grow in semi-shade (light woodland) or no shade. It prefers moist soil. The plant can tolerate maritime exposure.
This item is currently out of stock, if you would like to be notified by E-mail when it becomes available again, simply enter your E-mail address in the field below and hit "Submit".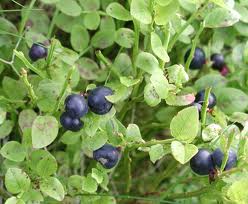 TRM001 Climbing Blueberry ( Billardiera longiflora )
A choice Tasmanian climber that sports thin twining stems that produce creamy-yellow purple-tipped waxy flowers in spring. In autumn, outstandingly lovely clusters of deepest violet grape-sized berries appear when this unusual color for autumn is appreciated. Hardy in zones 7-9, this variety grows 6-10 feet in full to part sun.
No shade of purple is lovelier than the fruit, it's a tasty treat, too. This evergreen climber twines up any available support.
This item is currently out of stock, if you would like to be notified by E-mail when it becomes available again, simply enter your E-mail address in the field below and hit "Submit".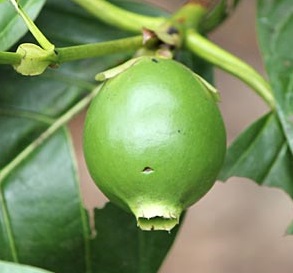 3500 Borojo Fruit Tree ( Borojoa patinoi )
It is a native of the rainforests of Colombia, Ecuador and Panama. In its natural habitat, the Borojo Tree lives with 85% humidity in the air. The tree reaches 3-5 meters high.
The Borojo Tree is cultivated for its fruits rich in calcium. They have 7-12 cm in diameter and their color is green. The pulp of these fruits is acid and very dense. It is also brown. Each fruit contains hundreds of seeds. They are ready to consume when they fall off the branches. The uses of the Borojo fruits vary from juice, ice cream, capsules and jelly.
The trunk of the tree is small and sometimes separated in two or three smaller trunks. The trunk is grey-brown and harsh. The tree is an evergreen. The foliage is dark green and the leaves have a smooth texture.
Hardiness zones 10-11. The Borojo Tree can resist small periods of frost and even floods. It needs an average temperature of 28°C. Easily grown in warm greenhouses in cooler climates.
The tree enjoys moderate light. It requires good watering, don't let the soil dry out. You may fertilize monthly with a balanced fertilizer.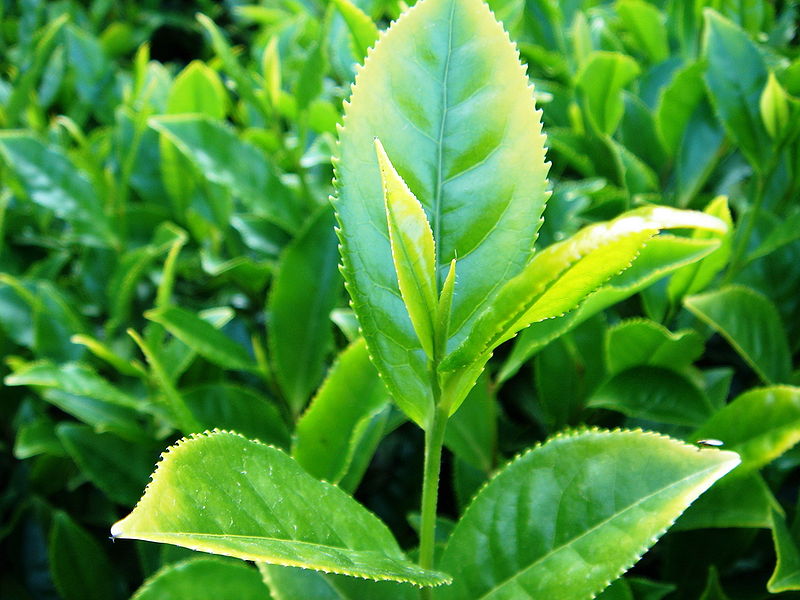 Z2600 Tea Plant ( Camellia sinensis )
This is the tea produced commercially around the world. The tender, young leaves are used in the process of tea production. Can be grown in tubs inside, or in cool greenhouses, outdoors in warm climates. Prefers moist, well drained, humus rich, slightly acidic ( 5.5-6.5 )soil. We recommend maintaining a 2-3 inch deep mulch of shredded bark or leaves around base of plant.
Hardy to zone 7. To make green tea, pick only the top 3 leaves from new growing tips, spread and dry in the shade for 6-8 hours, then in an open pot, heat ( simmer ) the leaves, stirring frequently for about an hour.
For black tea, you must ferment the leaves. USDA Zones 8 to 11.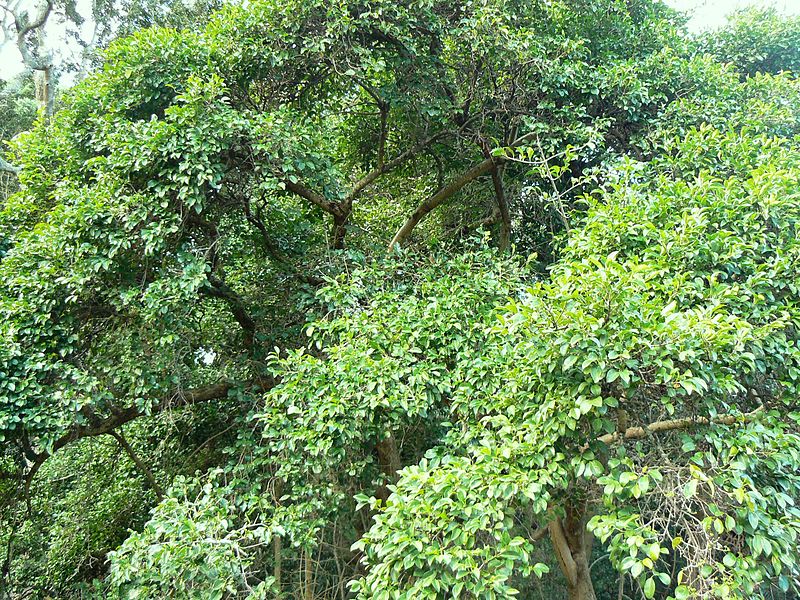 TRN627 Turkey Berry ( Canthium inerme )
Turkey Berry is a tough, adaptable medium-sized tree from South Africa. It bears small edible fruits that are loved by birds ( thus the common name ) and has a variety of uses in traditional medicine.
[Ref]
It is a beautiful and charming tree and greatly recommended for the garden setting where its low-growing and compact habit makes it ideal where space is slightly limited. Its evergreen nature ensures that its attractive foliage is present throughout the year and its presence is bound to attract numerous fruit-eating and insectivorous birds. The thorns, though stout and strong and worthy of respect, are generally not as menacing as some gardeners are led to believe and in fact give the tree a lovely visual quality. Plant in a large hole with plenty of compost and ensure watering is carried out until established. It is fairly hardy and because of its ability to tolerate a range of conditions, can be used in a variety of garden habitats to great effect.
Canthium inerme, like so many tree species in southern Africa, is utilized for medicinal purposes, the leaves being used in the treatment of stomach ailments (Coates Palgrave 2002) As mentioned previously, the fruits are eaten by people. The tree has been much used as shelter for stock, while the wood, which is hard, heavy and tough, is handsome and has been used in wagon-making and for furniture (Palmer & Pitman 1972). The species, with its horticultural potential becoming increasingly recognized, is now commonly encountered in the South African nursery trade.
We estimate zone 9b and higher.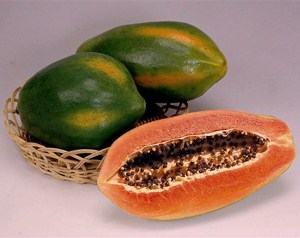 IP041 Red Lady Papaya ( Carica papaya )
An early and productive fruiter, Red Lady is an excellent papaya for southern gardens or as a tropical container fruiting plant in the north. The dwarf tree starts to flower and set fruit during its second year when the plant reaches 4' tall. It can fruit the first year, if grown in high light with an extended growing season. Red Lady is a self-fertile hybrid whose fruits often weigh 3-5 pounds. Two-pound fruits are more common for container grown plants. The oblong papaya is orange-red, sweet and juicy when ripe. Rich in vitamins A, C and other nutrients, it also contains papain, an enzyme that aids in the digestion of protein. Harvest the fruit when the skin yields slightly to the touch and changes from green to yellow. You'll notice a sweet, delicious aroma when it's fully ripe. Green papayas are sometimes shredded and used in salads or stews. Grow in full sun and well-drained soil.
Hardy to Zone 10 and higher for outdoors.
Full sun, grows to 8' in container, minimum temperature 50°, blooms in spring.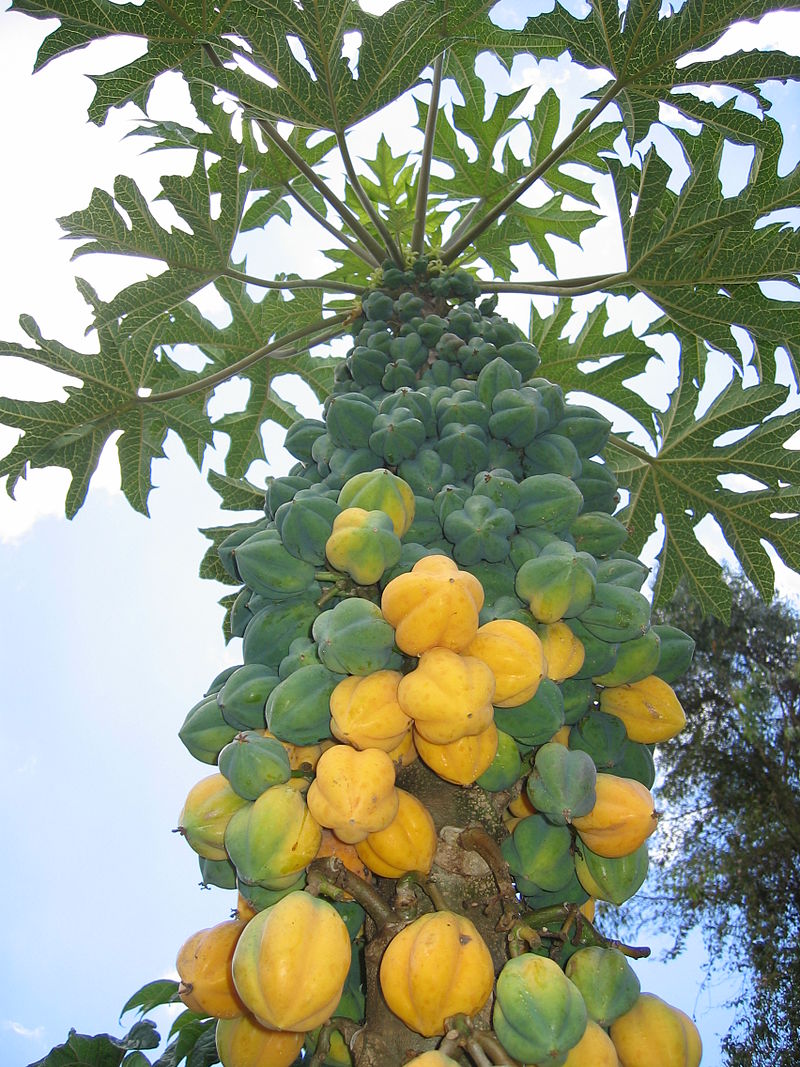 D2205 Mountain Papaya ( Carica pubescens )
A hardy papaya from the mountains that will stand cold and disease better than Golden Papaya. Very attractive foliage.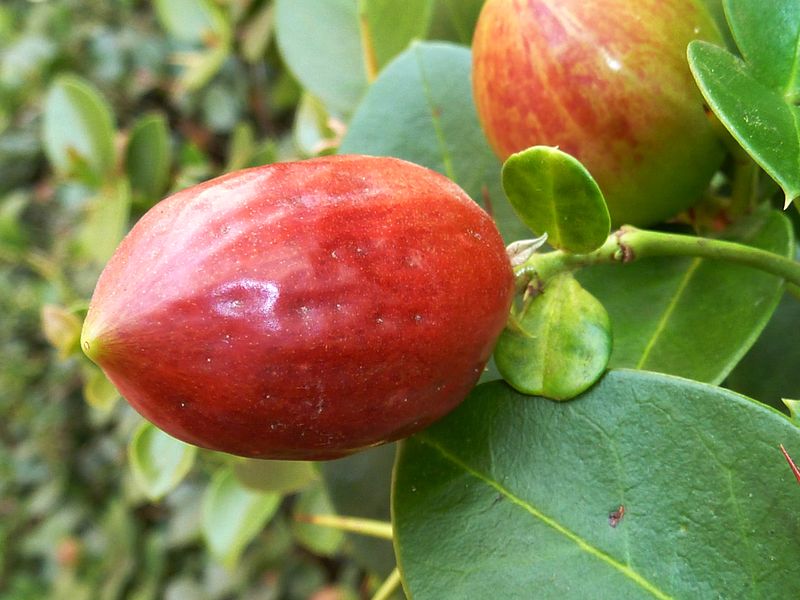 IP155 Natal Plum ( Carissa macrocarpa)
Natal Plum is a shrub native to South Africa, where it is commonly called the Large Num-Num. In Zulu, as well as in the Bantu tribes of Uganda, it is called amatungulu. In Afrikaans the fruit is called Noem-Noem.
It deals well with salt-laden winds, making it a good choice for coastal areas. It is commonly found in the coastal bush of the Eastern Cape and Natal. It produces shiny, deep green leaves and snowy white flowers whose perfumed scent intensifies at night. It is a spiny, evergreen shrub containing latex.
The flowers are about 2 inches across and sweetly fragrant, like orange blossoms, especially at night. The edible fruit is a pretty plum shaped red berry abut 2 inches long which tastes like sweet cranberries. Natal plum blooms almost all year long and most of the time both flowers and fruit are present. The fruit can be eaten out of hand or made into pies, jams, jellies, and sauces.
A traditional food plant in Africa, this little-known fruit has potential to improve nutrition, boost food security, foster rural development and support sustainable landcare.
Natal plum are among the best ocean front foundation, hedge, container and groundcover plants for tropical and subtropical regions. They are very popular in South Florida. Natal plums are often grown in containers on ocean front condominium balconies. Their thick leathery leaves are not torn by wind nor bothered by salt spray.
Zones 9-11 outdoors, but easily grown as a container plant and brought inside during winter.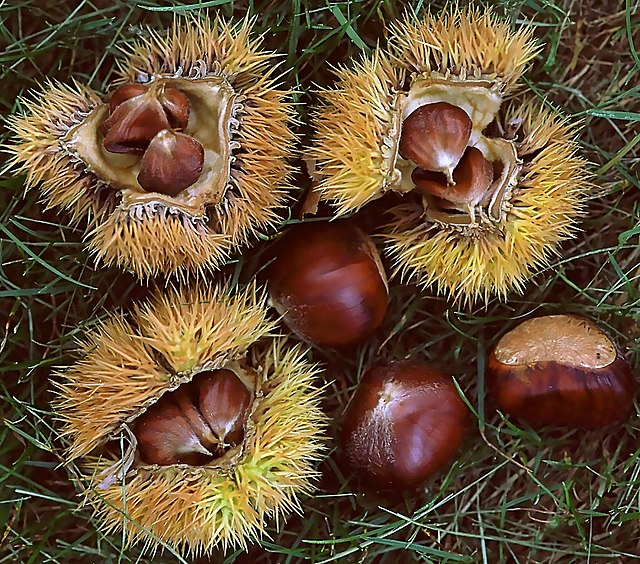 FDR76 Chinese Chestnut ( Castanea mollissima )
Chinese Chestnut is a deciduous tree growing to about 60 feet tall with a broad crown. The nuts are edible, and the tree is widely cultivated in eastern Asia.
Chinese Chestnuts have evolved over a long period of time in coexistence with the bark fungal disease chestnut blight (Cryphonectria parasitica, formerly Endothia parasitica), and have evolved a very successful resistance to the blight, probably more so than any other species of chestnut, so that, although it is not immune, it typically sustains no more than minor damage when infected.
It is hardy to zone 4. It is in flower in July, and the seeds ripen in October. The flowers are monoecious (individual flowers are either male or female, but both sexes can be found on the same plant) and are pollinated by Insects. The plant prefers light (sandy), medium (loamy) and heavy (clay) soils, requires well-drained soil and can grow in nutritionally poor soil. The plant prefers acid and neutral soils. It can grow in semi-shade (light woodland) or no shade. It requires dry or moist soil and can tolerate drought.
This item is currently out of stock, if you would like to be notified by E-mail when it becomes available again, simply enter your E-mail address in the field below and hit "Submit".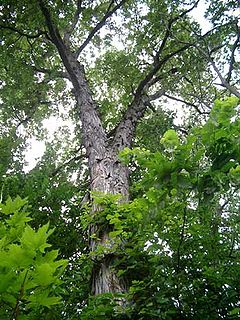 FDR11 Shagbark Hickory ( Carya ovata )
Shagbark hickory is probably the most distinctive of all the hickories because of its loose-plated bark. Common names include shellbark hickory, scalybark hickory, shagbark, and upland hickory. Shagbark hickory is evenly distributed throughout the Eastern States and, together with pignut hickory, furnishes the bulk of the commercial hickory. The tough resilient properties of the wood make it suitable for products subject to impact and stress. The sweet nuts, once a staple food for American Indians, provide food for wildlife. Zones 5-8A.