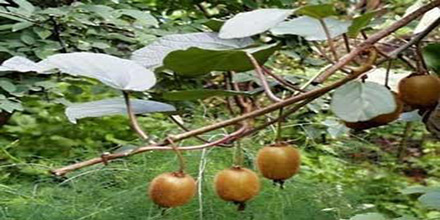 D8509 Kiwi Fruit ( Actindia chinensis )
Cold hardy to zone 4. Kiwis are vigorous vines. They cannot support their own weight and will spread up to 30 feet. They require strong support such as trellis, arbor, or fence. In nature, they grow up into trees. Training to the south side of a building is excellent for the small planting. Kiwi vines are heavy feeders and like their roots to be in warm soil. A mature kiwi vine can produce 200 pounds of fruit.
Kiwis require special training and pruning to produce good crops. When planted, the vines should be pruned back to 4 or 5 buds. From these a main stem should be selected and staked to grow to the top of the arbor or trellis, usually 6-7' high. The trellis should be strong to support the heavy future fruit loads.
Kiwis are beautiful vines. Their vigorous spring growth is a spectacular sight. Excellent for a privacy screen, they will rapidly cover a fence and with support will cover a wall or steep slope. Kiwis grow in a manner similar to grapes but more rapidly. They are very high in Vitamin C. (Ten times as much as lemons.) They are excellent for eating fresh and are a tasty addition to salads and desserts. Ice cream, pies, jam and wine are other ways to use kiwis.