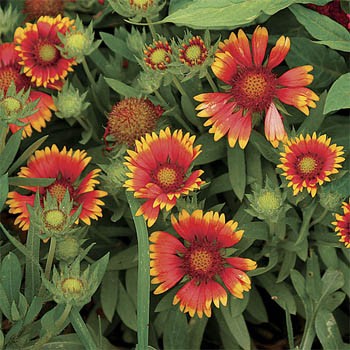 3378 Blanketflower/Firewheel Gaillardia aristata
The famous red and yellow "pinwheel". Returns each spring from same roots, forming expanding clump. Blooms second spring from seed.
A hardy, drought tolerant perennial found throughout much of the United States. Easily established from seed, it frequently forms dense colonies of brilliant red flowers with yellow rims. Thrives in full sun in well-drained areas. Occasional watering will extend the blooming period. This will aid in reseeding for the following year. For zones 3-9.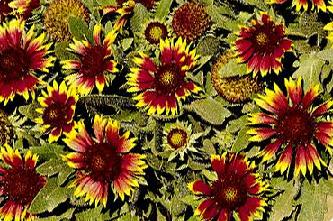 2709 Bijou Gaillardia
This is a more uniform and compact form of 'Goblin' -- what one might call an improved 'Goblin.' Plants grow 9 inches tall and have good sized reddish orange flowers with yellow tips (the flowers are about three inches wide). The center of the flowers start off green and turn red as the flowers mature. Will bloom the first year from an early sowing. Grow in full sun in well drained soils were they will bloom from April to Frost with occasional deadheading. Hardy to zone 4.