Great Burdock Seeds
Burdock plants grow along roadsides, in open fields, at the edges of woods, and anywhere ground has been disturbed just as most thistles would. Because it is a biennial, the first year Burdock only forms a cluster of large leaves.
The large leaves grow from a carrot-like root that can penetrate over two feet into the ground.
It is this Burdock root that is most often used in herbal medicine. After a year of growth, Burdock puts forth a branched stalk with smaller leaves and, in the late summer, purple-pink flowers.
In autumn, these flowers are replaced by round brown burrs that persist into the winter. The herb seeds contained in these burrs are also used medicinally.
Useful gardening information
Temperature: Sow at Max 41F, germination irregular often several months
Average Germ Time: 30 - 90 days
Light Required: Yes
Depth: 1/4 inch
Sowing Rate: 2 - 3 seeds per plant
Moisture: Keep seeds moist until germination
Plant Spacing: 36 - 48 inches
Links to useful information on the web:
Burdock root health benefits
---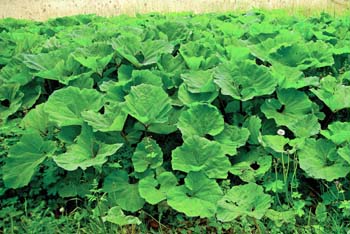 SF097 Great Burdock ( Arctium Lappa )

A biennial herb plant for zones 2-10. The Great Burdock herb is a nutritious vegetable and medicinal herb used as a remedy for measles, arthritis, tonsillitis, viruses like colds, throat pain, and as a diuretic. In modern times, Great Burdock is also used in oncology and to treat many other serious health problems.
Great Burdock plant stalks are cooked like celery. The Burdock root is eaten raw or cooked like parsnips. Great Burdock herb seeds can be sprouted.
---
Share a growing tip or recipe and help other gardeners!

Click on the Contact Form link, place "Tip" in the name line and fill in your information. If we accept your Great Burdock growing tip or recipe, we will post it on this page.