Seeds for Hibiscus Plants
In order to obtain the best results from your hibiscus, the selection of planting site is important.
Ensure you choose an open sunny position preferably sheltered from the prevailing winds.
Full sun is suggested, although hibiscus will tolerate part shade, excessive shade will reduce flower production.
Hibiscus have a vigorous but non-invasive root system. Hibiscus look spectacular as a feature or in a special bed on their own, with a minimum of two to three feet spacing, they also give a touch of class around pool gardens snuggled between palms and rain forest plants.
Some hibiscus are suitable for cultivation in patio tubs and are known to thrive for many years in containers.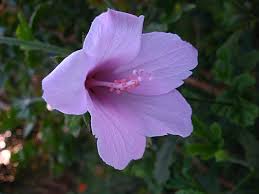 TRM233 Forest Pink Hibiscus Hibiscus pedunculatus
Hibiscus pedunculatus is an attractive, long-flowering garden subject which can be planted in groups using 3-5 plants together, or as an informal border. Planted to the middle or back of a mixed shrub or perennial bed it shows itself off best, as its long slender branches allow the flowers to peep out from around and behind other shrubs, thus nicely concealing its sparse woody base from view. It can also be used as a container plant. It does best, planted in full sun but can also tolerate light shade quite well. It needs a moderate amount of water on a regular basis and should be kept well-watered during summer. This plant grows fairly fast and will flower repeatedly even though each flower only lasts a day. The flowering time is often all year round.
The pollen in the large flowers attracts insect pollinators such as butterflies, which in turn lure insectivorous birds to the garden.
Hibiscus pedunculatus prefers moist, hot summers. In a cold, frosty garden, it might do well a warmer, sheltered spot. It is a relatively fast-growing plant, provided it is planted in fertile, rich and well-drained soil. Enrich the soil with a considerable amount of compost and organic material. Prune the shrub lightly to hard, depending on how straggly it has got, towards the end of summer. It can also be pruned into a small standard.