Lemon Mint Seeds
Flowers are attractive to bees, butterflies and hummingbirds, particularly when massed. Leaves have a distinctive lemony aroma when rubbed. Some monardas are commonly called beebalm in reference to a prior use of the leaves as a balm for bee stings. Genus name honors Nicholas Monardes, 16th century Spanish physician from Seville. Specific epithet comes from Latin and means having a citrus aroma.
This plant has many uses including: Bedding plant, cottage gardens, herb gardens, native plant areas, prairies, roadsides or waste areas. Also effective in hummingbird or butterfly gardens. Leaves may be used to make herbal teas or may be added to pot-pourris.
Useful gardening information
Sow seeds directly in prepared areas in the spring when temperatures begin to warm.
Spread the herb seeds evenly and rake into loose topsoil. Supplemental watering is suggested if spring rains are poor. Provide additional water until the plants reach 10 - 12 inches tall. Once established, Lemon Mint should re-seed itself. Allow flower seeds to mature completely before mowing or cutting down. Since it's an annual, it is essential that the plant is allowed to re-seed itself for the following year.
Links to useful information on the web:
Growing and using Lemon Mint
---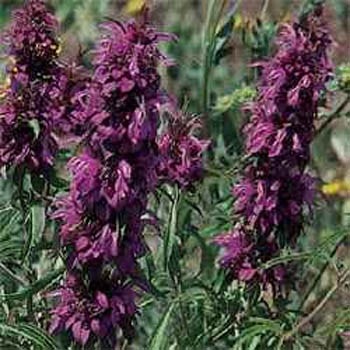 HR167 Lemon Mint ( Monarda citriodora )
A wonderful annual that attracts beneficial insects. Monarda Citriodora is commonly called Lemon Bee Balm, Lemon Mint, and Purple Horsemint. As the name suggests, it is an herb in the mint family. Lavender-to-pink, tuft-like, whorled flower heads attract hummingbirds, bees and butterflies. The Lemon Mint herb plant blooms from spring into late summer. Often late in the season the scent is described as resembling oregano more than lemon. Plants will grow about 36" tall.
---
Share a growing tip or recipe and help other gardeners!

Click on the Contact Form link, place "Tip" in the name line and fill in your information. If we accept your Lemon Mint growing tip or recipe, we will post it on this page.