Palm Trees from around the World

Important Note: Most of the seeds on this page will benefit greatly from using the CAPE Smoke Seed Germination Primer that we use in our own greenhouses. We find we receive significantly better germination results when we use this primer on these types of seeds.
For years I have wondered why palms are not present in all homes where house plants are enjoyed. I have about come to the conclusion that price and a general misunderstanding about these wonderful plants are the main culprits. The price for a developed palm plant can be quite staggering. Even the smallest palm in a five gallon container can cost around twenty-five to fifty bucks. A mature tree palm delivered to your home can cost from several hundred to several thousand dollars.
A misconception about palms is that they will only grow in the tropics and deserts. While it is true that many of the over three thousand species of palms do thrive in these hot humid areas, it is also true that some are quite cold hardy and with some degree of protection can be raised in areas where it freezes. And it is very true that almost every palm makes a good houseplant although some of the tree types will eventually out grow their limited surroundings.
Another unknown about palms it that they can be easily raised from seed at a cost of less than a dollar each. They require little maintenance and add beauty and value to your home.
Here is a selection of my favorite palms. I hope you will try a few.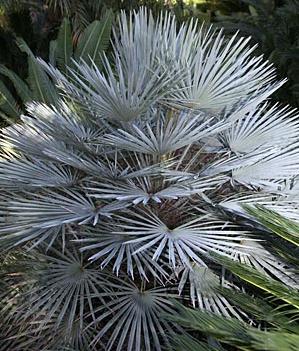 TPF228 Blue Mediterranean Fan Palm ( Chamaerops humilis var. cerifera )
This is a great palm for hot and cold areas. It is tolerant of most extreme conditions. It would be a good plant for those who have more extreme weather. This is a small clumping palm that grows to a maximum height of between 8-10 feet tall. Could reach 20 feet outdoors in prime conditions. The overall height often depends on the growing zone. This palm is rated from USDA zone 7b to past 11.
Absolute minimum temperatures are about -15C (5F) but it may prove to be hardier. The lower the zone, the lower the final height of the palm (as a general rule for all species).
It is a great palm for a Mediterranean type climate as the name suggests. Full sun is best as well good drainage. In a climate like Vancouver, the crown may need to be protected in the winter to prevent any risk of rot. This is as simple as a bit of plastic over the top of the plant. Don't wrap too tightly as it needs room to breathe. A tent-like structure may be best. In the summer it is drought tolerant and a great plant for xeriscaping.
It is as robust and adaptable as its regular green relative and happy in a wide range of conditions, tolerating extremes of cold and damp as well as heat and drought or full sun to shade. However, its main attraction is the colour of its leaves: an intense blue-silver (and here we don't mean the silvery colour as seen on the undersides of the leaves of many Chamaerops) on the upper as well as the lower surface of the leafblade. Indeed it is as blue as Brahea armata.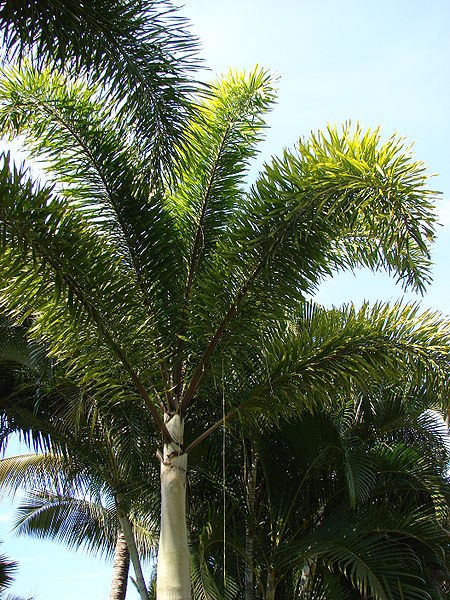 TRM020 Foxtail Palm ( Wodyetia bifurcata )
Wodyetia bifurcata - a beautiful solitary palm with a canopy of eight to ten leaves. The leaflets encircle the rachis and are full, thus creating the appearance of fox's tail.
The trunk is self-cleaning, slender, gray in color, tightly ringed and slightly swollen at the base. It's crown shaft is a creamy green and very smooth.
The Foxtail Palm is very durable and adaptable to many environments. Discovered growing in an open woodland rainforest, on eroded granite slopes reaching as high as 1300 feet. With a very deep root system the Foxtail can withstand a great variance in water and temperature.
It is moderately salt tolerant and grows well in a variety of soils but good drainage is a must. It loves sun, even at an early age. It can tolerate light frost and does well in temperate to tropical climates. Prolonged hot dry winds can cause damage to the fronds. The root system allows planting near walkways or structures. A fast grower - the Foxtail can grow as much as three feet per year. There are no major pest problems. Hardy to about 30 degress.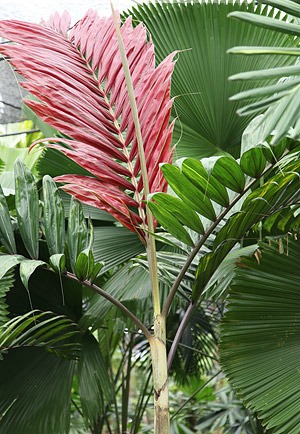 TRZ040 Red Leaf Palm ( Chambeyronia macrocarpa )
Famous for the incredible color of the newly opened leaf, this exciting and comparatively new-to-cultivation palm is easy to look after, performs well as an interior palm, and adds special something to the garden with its bright red, new leaves.
Germination of the large seeds is quite fast and easy, and it is a robust, adaptable and steady grower. Mature plants sport a slender, ringed trunk and elegantly recurved, very thick and leathery leaves.
Warm temperate to tropical climates suit it best and it can even take an occasional light frost.
This item is currently out of stock, if you would like to be notified by E-mail when it becomes available again, simply enter your E-mail address in the field below and hit "Submit".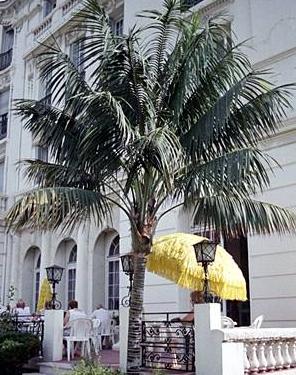 TPF219 Kentia Palm ( Howea forsteriana )
Kentia palm is highly prized for its elegant fronds and slender trunk. Kentia palm has a canopy of about three dozen gracefully drooping leaves which produce an airy and poised look. The leaves are pinnate (featherlike) and grow up to 12 ft (3.7 m) long with thornless 4-5 ft (1.2-1.5 m) petioles (leaf stems).
Kentia palms tolerate and adapt to a wide variety of soils including those that are neutral, acidic, clayey and slightly alkaline, but they perform best in rich loamy soil with excellent drainage. Kentia palms are traditionally slow growers, however regular fertilization with palm-grade fertilizer promotes maximum growth. A balanced (e.g., 18-18-18) slow-release palm fertilizer with minor elements should be used during the growing season. Magnesium and potassium nutritional deficiencies have been noted, particularly in older kentias. Mineral supplements should be administered in recommended amounts to prevent or treat such deficiencies. Kentia palms in pots or tubs can be left in the same container for many years due to their slow growth.
USDA Zones 9B - 11. Considered cold hardy in frostfree locations. Mature and established specimens can tolerate occasional temperatures down to 25ºF (-4ºC) without incurring significant damage to foliage.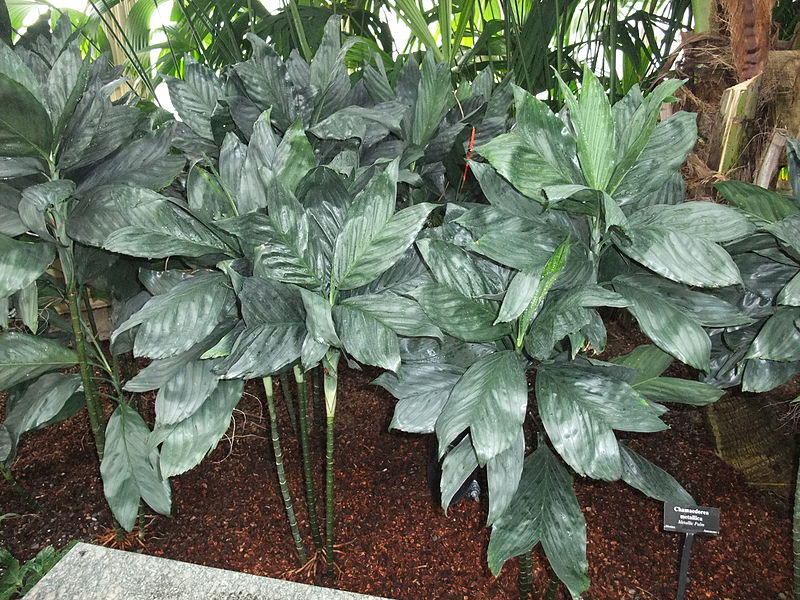 FB142 Metallic Palm ( Chamaedorea metallica )
The popular and much loved metallic palm is the only palm we know that has foliage with a dark metallic blue green sheen like the color of gunmetal. This single stemmed palm has leaves in the shape of a chalice or fish's tail being simple, undivided and notched at the tip. Other forms of this palms have leaves that are pinnately compound (feather shaped) with 4-7 linear or S-shaped leaflets. The erect leaves grow almost straight up to as much as 30 in (76 cm) long and 10-16 in (25.4-40.6 cm) wide. The stems of the metallic palm are 12-18 in (30.5-45.7 cm) long and up to 1 in (2.5 cm) in diameter. Metallic palm has attractive red, purple or orange flowers that yield small black fruits.
The elliptical fruits are about a 0.5 in (1.3 cm) long and 0.3 in (0.8 cm) in diameter.
Metallic palm occurs naturally in thick wet forests along the Atlantic slope and lowland rainforests of Mexico. Metallic palm often grows in limestone soils up to 2000 ft (610 m) above sea level.
Metallic palm thrives in moist, humus rich soil and is tolerant of alkaline limestone soils. Naturally undemanding for nutrients, metallic palm responds very well to regular applications of palm fertilizer. Metallic palm grows naturally in the understory of dense forests, and is tolerant of deep shade and low light conditions.
Metallic palm grows well outdoors in deep shade or medium-bright light. As a houseplant, it thrives with 10-12 hours/day of artificial light.
Metallic palm prefers uniformly moist, not wet, soil that has good drainage. It grows best in moderate to high humidity and indoor specimens benefit greatly from daily misting.
Hardiness: USDA Zones 9 - 12. Mature and established plants have been reported to tolerate temperatures down to 28°F (-2.2°C) for four days with no leaf damage. They will not survive temperatures below about 20°F (-6.7°C), though.
Metallic palm's black fruits make snazzy contrast to the bright orange stalk. Usage Naturally tolerant of low light conditions, metallic palms are perfect for understory plantings and ideal as houseplants. Metallic palm stands out as a small accent plant due to its remarkable metallic evergreen foliage that provides spectacular backdrop for flowering plants in shade gardens. The metallic palm also will grow beautifully on the eastern side of a house where it will get little or no sunlight.
This well-known and much loved palm is an endangered species and the only known palm with leaves having a blue-green metallic sheen. The metallic luster shows up particularly well when the leaves are moist. This small unique palm is one of the easiest to care for and makes one of the most ideal and durable house or shade palms known! The genus name Chamaedorea comes from the Greek words that mean 'near-the-ground gifts', and refers to the easy-to-reach fruits (pronounce it "kam-ah-DOOR-e-ah").
WARNING: The fruits are NOT edible and the sap and juices may irritate sensitive skin.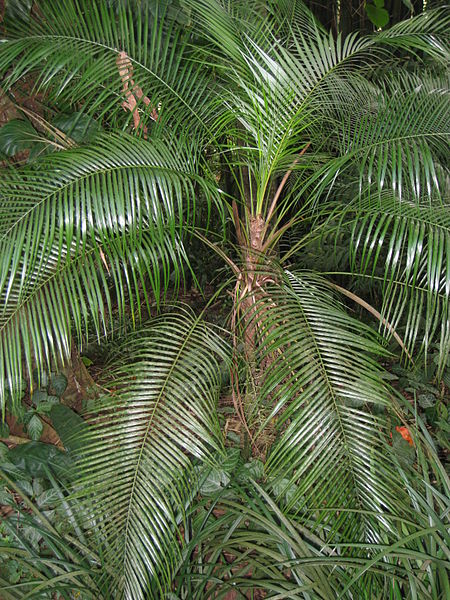 1A458 Miniature Coconut Palm ( Lytocaryum weddellianum )
Formerly known as Microcoelum weddellianum or Cocos weddelliana, this small palm originates from high altitudes in Brazil's Coastal Cloud Forest. Now rare in the wild due not to over exploitation by seed collectors as is popularly and routinely supposed, but by forest destruction that is eating up the tiny remaining areas where it clings to life. Just one more palm that may have to survive in cultivation if it is to survive at all. It is not the easiest of palms to cultivate but certainly unsurpassed for its beautiful, finely pinnate, arching leaves. Lytocaryum is suited to a wide range of climates from cool temperate to cool tropical and will tolerate light frosts. It grows best in a humus rich, acidic soil.
1A445 Silver Queen Palm ( Syagrus romanzoffiana Litoralis )
A robust cultivar of the Queen Palm from Argentina, Uruguay and Southern Brazil, where it is found to over 3300 ft. altitude, with a thicker, sturdier trunk that supports a compact crown of arching leaves with particularly thick and wide leaflets. It is very hardy to cold and is said to survive temperatures down to 15°F undamaged. Apparently this palm has already been in cultivation in the U.S. for a while, most popularly under the name Silver Queen. Reportedly, the palm received that name in Florida not because its leaves or any other of its parts are silver, but rather because after a hard freeze that killed all the more tender Queen Palms, the ones that survived, the Silver Queens, had leaflets that appeared in a strange, translucent silver tone in sunlight, the result of a light frost damage.