Palm Trees from around the World

Important Note: Most of the seeds on this page will benefit greatly from using the CAPE Smoke Seed Germination Primer that we use in our own greenhouses. We find we receive significantly better germination results when we use this primer on these types of seeds.
For years I have wondered why palms are not present in all homes where house plants are enjoyed. I have about come to the conclusion that price and a general misunderstanding about these wonderful plants are the main culprits. The price for a developed palm plant can be quite staggering. Even the smallest palm in a five gallon container can cost around twenty-five to fifty bucks. A mature tree palm delivered to your home can cost from several hundred to several thousand dollars.
A misconception about palms is that they will only grow in the tropics and deserts. While it is true that many of the over three thousand species of palms do thrive in these hot humid areas, it is also true that some are quite cold hardy and with some degree of protection can be raised in areas where it freezes. And it is very true that almost every palm makes a good houseplant although some of the tree types will eventually out grow their limited surroundings.
Another unknown about palms it that they can be easily raised from seed at a cost of less than a dollar each. They require little maintenance and add beauty and value to your home.
Here is a selection of my favorite palms. I hope you will try a few.
1A445 Silver Queen Palm ( Syagrus romanzoffiana Litoralis )
A robust cultivar of the Queen Palm from Argentina, Uruguay and Southern Brazil, where it is found to over 3300 ft. altitude, with a thicker, sturdier trunk that supports a compact crown of arching leaves with particularly thick and wide leaflets. It is very hardy to cold and is said to survive temperatures down to 15°F undamaged. Apparently this palm has already been in cultivation in the U.S. for a while, most popularly under the name Silver Queen. Reportedly, the palm received that name in Florida not because its leaves or any other of its parts are silver, but rather because after a hard freeze that killed all the more tender Queen Palms, the ones that survived, the Silver Queens, had leaflets that appeared in a strange, translucent silver tone in sunlight, the result of a light frost damage.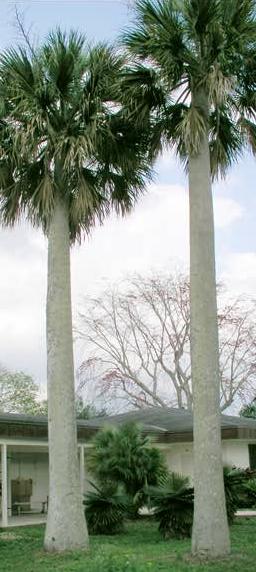 RLP171 Puerto Rican Hat Palm ( Sabal causiarum )
One of the most striking Sabal species is Sabal causiarum, the Puerto Rican hat palm. This palm is distinguished from other Sabals by its massive smooth gray trunk which can grow up to a massive 4 feet in diameter.
This beautiful palm not only tolerates dry areas, making it useful in xeriscapes, but is hardy to zone 8B. The massive leaves and striking trunk combine to make an assertive tropical statement in the landscape. As a bonus, the Puerto Rican hat palm requires little maintenance since its leaves are self pruning.
The Puerto Rican hat palm gets its name from its land of origin, and from the fact that young leaves are collected from the canopy, boiled, dried and indeed woven into hats.
The leaves of Puerto Rican hat palm are large, usually about 6 feet long and just as wide. They are costapalmate, which means the petiole, or leaf stem, extends into the leaf. The leaves are deep green in color and are deeply divided to about half their length into several segments which may droop at the ends.
The Puerto Rican hat palm forms a dense canopy of about 40 leaves. As the older leaves droop to 45-90 degree angles from the trunk, they turn brown, die and fall off.
Native to Puerto Rico, the island of Hispaniola (Dominican Republic and Haiti) and adjacent Caribbean islands.
Hardiness: USDA Zones 8B - 11.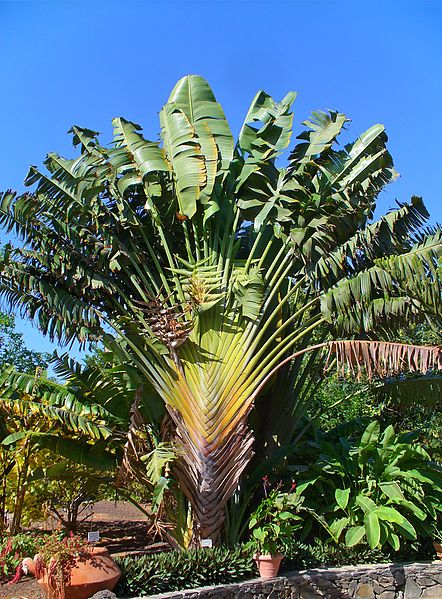 P18 Traveller's Palm ( Ravenala madagascariensis )
An extremely popular tub plant for patios decks.
This famous Banana relative is a popular ornamental in tropical regions throughout the world. Its most conspicuous characteristic is the distichous leaf arrangement, which gives the entire plant the appearance of a huge fan. Easily produced from seed, it is Very fast growing.
A very large plant with large leathery leaves that reach 60 ft. tall or more when mature outside. Rather easy to raise inside or out, makes a wonderful patio or tub plant for cooler areas.
It has now been planted in frost free areas around the world, including far southern Florida into the Keys, southern Texas, southern California and Hawaii. This plant features an unbranched trunk (to 12" diameter) which is topped by a fan-shaped single plane of enormous, long-stalked, banana-like, deep green leaves (20-30 per trunk). Each leaf blade is 5-10' long by 2-3' wide and appears at the end of a thick, grooved leaf stalk (petiole) which is as long or longer than the leaf blade.
Leaf margins are sometimes split as is the case with some bananas. Up to one quart of rain water will accumulate in the expanded and cupped base of each leaf stalk, thus giving rise to the common names for this plant which suggests an emergency drinking water source for travellers in need.
For zones 9b and above outside.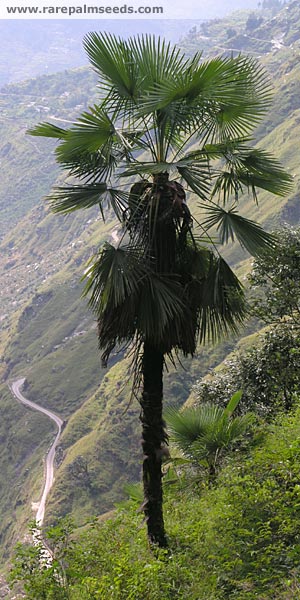 1A444 Takil Palm ( Trachycarpus takil )
Also known as Kumaon Palm. This fast-growing palm, quite possibly the most cold-hardy of all the Trachycarpus palms, is native to a mountainous area of India where it is found at high elevations of 8000 feet. It is relatively new selectin, so is not often seen in cultivation, and is often confused with T. wagnerianus, with which it bears little resemblance. The leaves are much larger and the trunk is often bare. The Kumaon palm regularly endures cold, snowy winters and is reportedly hardy to -5°F.
It receives considerable frost and snow every year coming from cool and moist oak forests in the Himalayas in Kumaon, northern India, with an altitude of over 8000 ft.The leaf of T. takil has a neater, more clipped and manicured appearance than the T. fortunei. It grows to 30-40 feet tall, with a rough trunk covered in fiber from old leaf bases. Likes a sunny, well drained position. Easy to grow but slow. Zones 6b-12.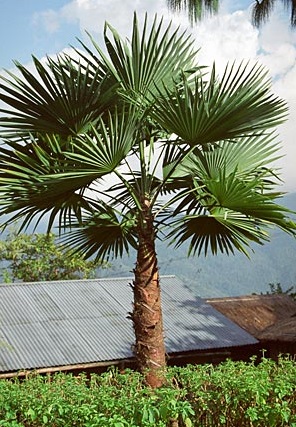 RLP019 Windamere Palm ( Trachycarpus latisectus )
Trachycarpus latisectus (formerly Trachycarpus sikkimensis) is an attractive palm tree with large leathery leaves with exceptionally wide segments and a thick, bare and ringed trunk. Its fan-shaped leaves resemble those of Livistona. It has a bare trunk and its seeds resemble those of T. martianus.
It is commonly known as Windamere palm, for the locality where its first botanical description was made, the garden of the famous Windamere Hotel in Darjeeling, India. It was formally photographed and collected for the first time only in 1992 during the Royal Botanic Garden Edinburgh Sikkim Expedition. It is considered a temperate palm, and has been reported to withstand a wide range of climates, from tropical, subtropical to cold and wet conditions. It is native to Sikkim in the Himalayas, where it has been reported from a range of elevation between 3500 to 7000 feet. It remains in the wild in just one tiny, heavily altered location which is immediately threatened by deforestation. Cold hardy to about 28 degrees.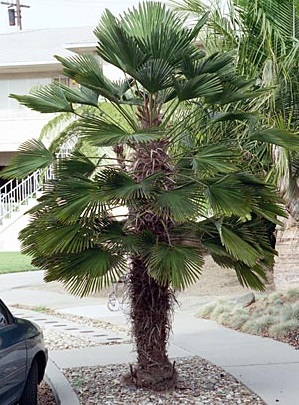 Z2824 Waggie Palm ( Trachycarpus wagnerianus )
The medium cold hardy Miniature Chusan Palm is more commonly known as the Waggie Palm or just plain Waggie. It is also known as the Dwarf Chusan Palm, however the Miniature Chusan Palm is not so miniature as this palm has been spotted reaching heights up to 30 ft. It's rare in the United States to see a waggie this tall, as they are extremely slow growers.
One of the slowest growing palms in the palmae family. Very similar to its brother the Windmill Palm (Trachycarpus fortunei), the Miniature Chusan Palm has distinctive characteristics that differentiates it from the Windmill Palm. The Windmill Palm (Trachycarpus fortunei) has and overall appearance of being more dainty and leggie.
The Miniature Chusan Palm (Trachycarpus wagnerianus) has and overall appearance of being more compact. It has smaller leaves that are much more stiff and deeply-cut. The leaves are green to dark green in color and are rounded in outline and held on shorter stems. Therefore having shorter stems they are more resilient and will not bend under the weight of snow or ice. The Waggie Palm is very cold hardy withstanding temperatures down to 0 degrees and below with little to no damage. It has shown no leaf damage in Zone 6 and will make it through anything this climate can throw at it.
The Miniature Chusan Palm is also disease free and worry free. This palm enjoys full sun to partial shade and will do best with well drained soils. It is adaptable for both containers or gardens, making it the ideal choice for the tropical look with no worries of freezing cold temperatures.
This palm tree will make a great addition to any home office or landscape. It will give a sense of the tropics with little cost.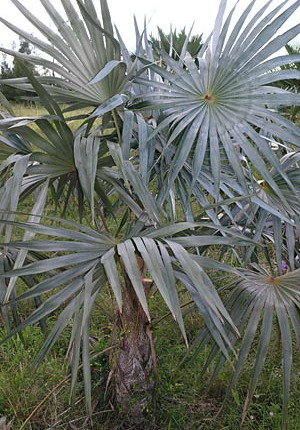 TRM451 Cuban Blue Silver Palm ( Coccothrinax macroglossa azul )
One of the most exciting novelties from Cubas extraordinary flora, a few populations of Coccothrinax macroglossa in Camagüey exhibit a most magnificent leaf color, a dense, shiny white silver below and a steely blue, waxy silver above.
It easily rivals the color of the great silver Bismarckia, and makes the palm one of the few with a silver/blue leaf that will grow well in the tropics. It can also manage warm temperate conditions as long as it is not exposed to more than an occasional light freeze.
It is quite resistant to drought and well drained soil is essential. A sunny spot is recommended. Like most Coccothrinax it is slow growing at first but speeds up considerably once a trunk is formed.
With a maximum of about 20 feet tall, its size of course is ultimately so much more manageable than that of Bismarckia. In Riffle and Craft's Encyclopedia of Cultivated Palms, this species is described and pictured as Coccothrinax "azul".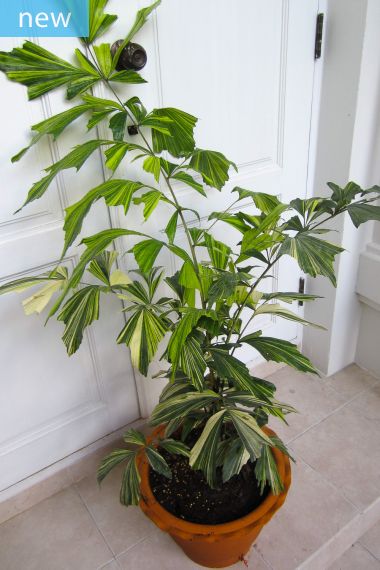 RLP139 Variegated Fishtail Palm ( Caryota mitis Variegata )
A stunning, variegated form of the fishtail palm from Thailand that comes true from seed. As easy in cultivation as the regular Caryota mitis.
The Fishtail Palm is the only palm with leaves that are subdivided twice. The shape of the leaflets give it its common name.
This palm is cold hardy down to 25F and can be grown in states like Alabama, Arizona, Arkansas, California, Georgia, Louisiana, Mississippi, Nevada, Oregon and Texas.
Expect one or two seedlings to have good variegation, the others only slightly, but the good ones will be so unique.
This item is currently out of stock, if you would like to be notified by E-mail when it becomes available again, simply enter your E-mail address in the field below and hit "Submit".