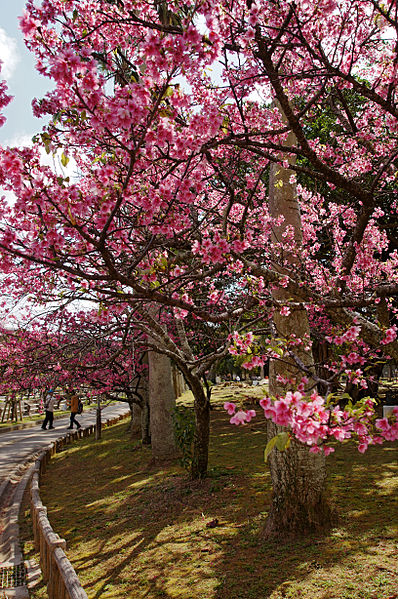 RLP057 Taiwan Cherry Prunus campanulata
A small, deciduous tree native to southern China, Vietnam, Taiwan and southern Japan with beautiful, deep pink, bell-shaped flowers in spring. It an outstanding ornamental flowering tree for the warm temperate garden in USDA Zones 8 to 10 and considered the best flowering cherry for warm regions.
This item is currently out of stock, if you would like to be notified by E-mail when it becomes available again, simply enter your E-mail address in the field below and hit "Submit".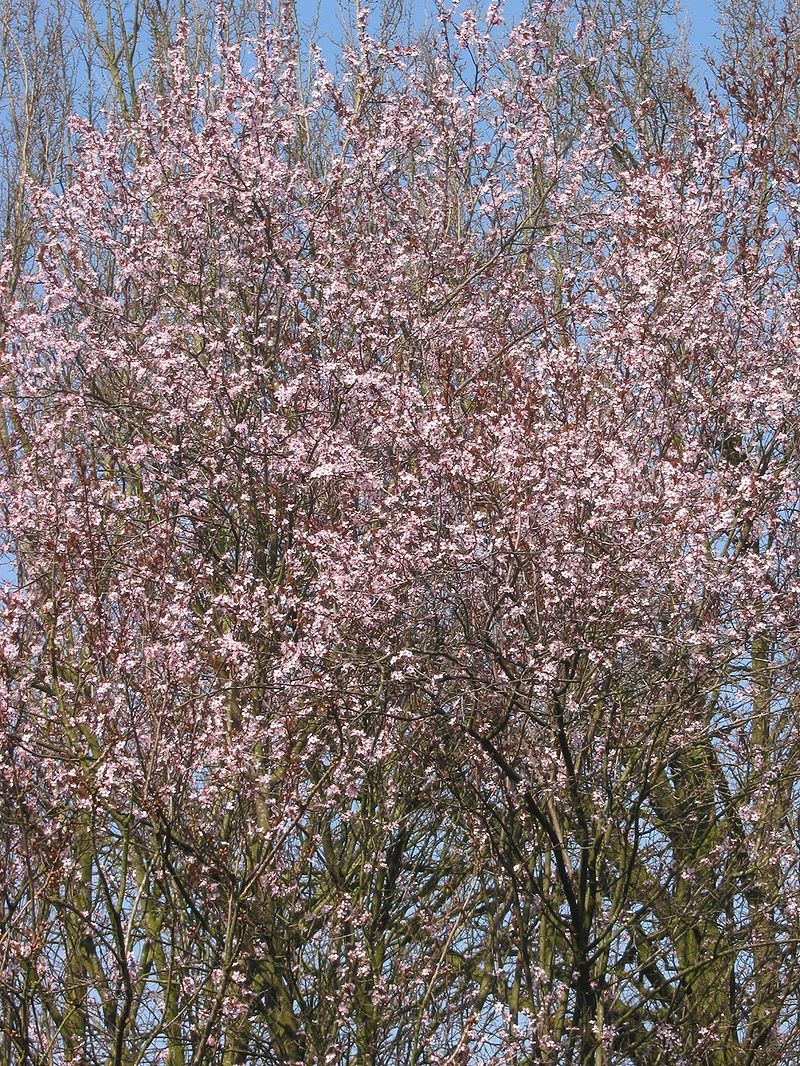 PR01 Myrobalan Cherry Plum Prunus Cerasifera
For zones 5-8. A fast growing, medium size cherry tree growing 15-25 feet tall and equal spread with a rounded crown. Covered with pinkish white, fragrant blooms in early spring, followed by dark green leaves and fruits that are about one inch in diameter and edible. Dark reddish brown bark.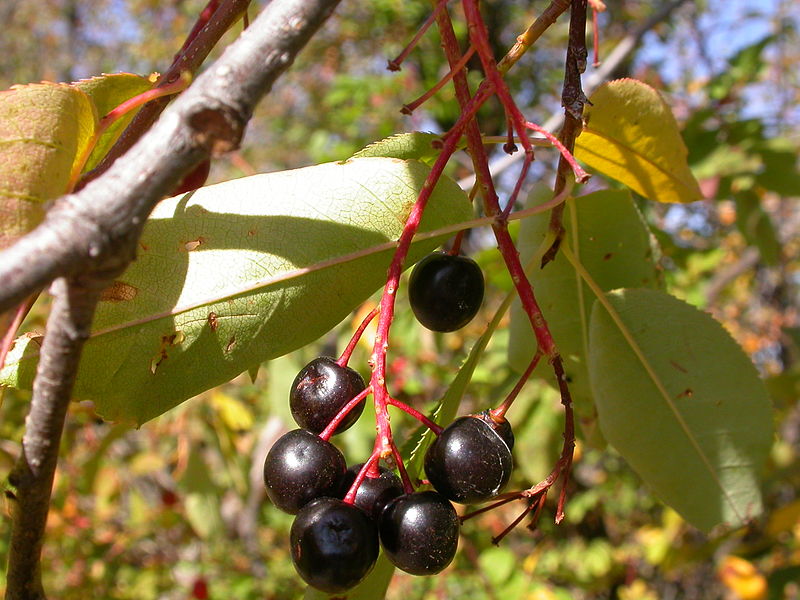 PR02 Wild Black Cherry Prunus Virginiana
For zones 2-6. A medium size cherry tree; height usually not over 20 to 25 feet, diameter 4 to 8 inches; with an irregular, rounded crown. Bright green, broadly oval leaves, paler underneath; length 3 to 4 inches, width 1 to 2 inches. Fruit is in dense clusters; reddish, turning nearly black when fully ripe; each berry containing a single seed, skin of fruit thick; flesh thin and dark; very astringent to the taste, but edible. Popular tree for birds. Most widely distributed tree in North America, extending from the Arctic Circle to Mexico and from the Atlantic to the Rockies.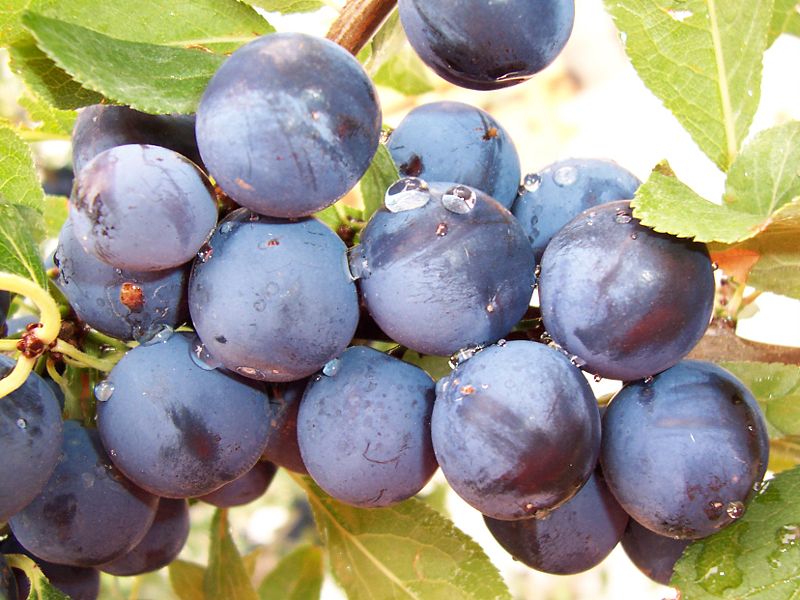 3394 Sloe Prunus spinosa
Prunus spinosa is a large deciduous shrub or small tree growing to 15 feet tall, with blackish bark and dense, stiff, spiny branches. It is hardy to zone 4. The leaves are oval, 2-4.5 cm long and 1.2-2 cm broad, with a serrated margin.
In late February and early March, the blackish branches are hidden underneath dense clouds of fluffy white flowers. The mid-sized, dark green, oval leaves emerge after the flowers and the fruit, called sloes or sloe berries, ripen in late autumn, with a bloom of pale blue powder over the dark purple skin.
The fruit, called a "sloe", is a drupe about half an inch in diameter, black with a purple-blue waxy bloom, ripening in autumn, and harvested—traditionally, at least in the UK, in October or November after the first frosts. Sloes are thin-fleshed, with a very strongly astringent flavour when fresh.
Blackthorn is much prized for walking sticks and only blackthorn or oak wood is used to make a real Irish sail eille (shillelagh in English). In Southern Ireland, County Kerry, there is a town called Killarney, which means "church of sloes".
It makes good firewood. Prunus spinosa is self-fertile and Sloe berries are traditionally used for infusing with gin, vodka and brandy, but they also make good jam. In colder parts of the country where frosts come early, you can try leaving ripe Sloes on the branch; a touch of frost will make them surprisingly sweet.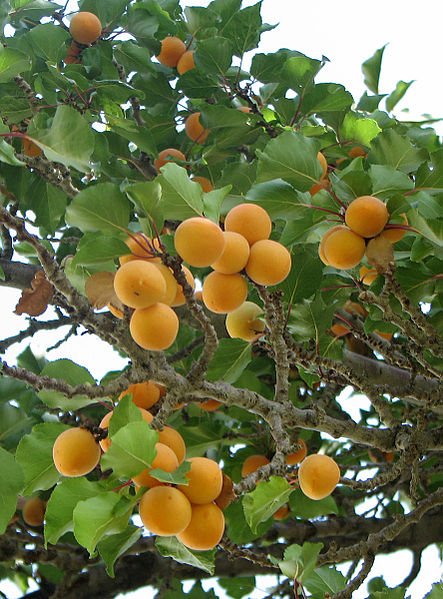 PR04 Apricot Prunus armeniaca
The apricot tree of commerce, a hardy tree, bearing stone fruit, closely related to the peach. Grows to about 35 feet. The leaves are broad and roundish, with pointed apex; smooth; margin, finely serrated; petiole 1/2 inch to an inch long, generally tinged with red. The flowers are pinkish white, with five regular sepals and petals and many stamens, and open very early in the spring. The fruit, which ripens end of July to mid-August, is a drupe, like the plum, with a thin outer, downy skin enclosing the yellow flesh (mesocarp), the inner layers becoming woody and forming the large, smooth, compressed stone, the ovule ripening into the kernel, or seed.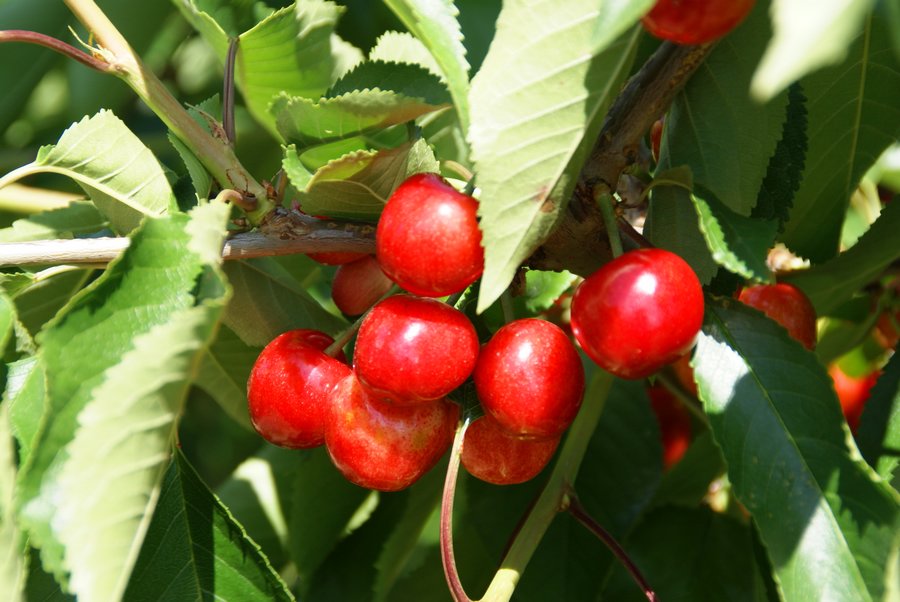 PR05 Bird Cherry Prunus Avium
For zones 3 to 8. Grows to about 40 ft, spread of about 35 ft. The white flowers appear in April or May. The fall color is bronze and red. Wild cherry, also known as bird cherry, or mazzard cherry is very attractive when in bloom and its autumn fruits - when you are able to gather them before the birds do - are good to eat. Of course as with most prunus types, the leaves, twigs and pits are considered poisonous.
Growing to a maximum height of around 25 meters, and with a preference for lime-rich soil, Prunus avium grows with a neat rounded crown and a straight trunk - altogether a very neat and tidy tree.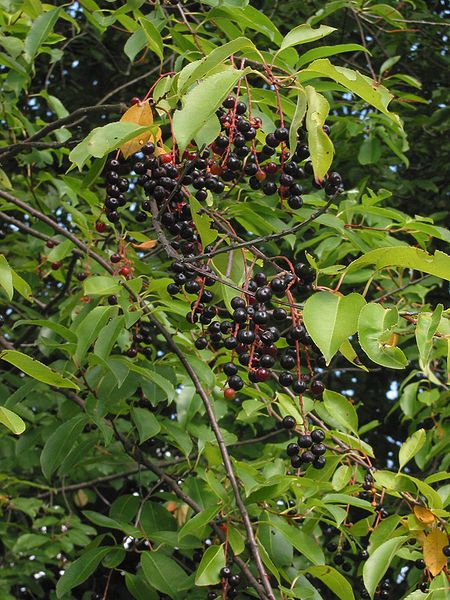 PR08 Wild Black Cherry Prunus serotina
A fast growing cherry for zones 2-8. Grows in pyramidal to conical shape 50-75 feet tall. Leaf: 2 to 5" alternate, simple leaves; yellow to red fall color. Flower/Fruit: 4 to 6" raceme of white flowers in early spring; small juicy reddish black edible berries in summer that attract birds.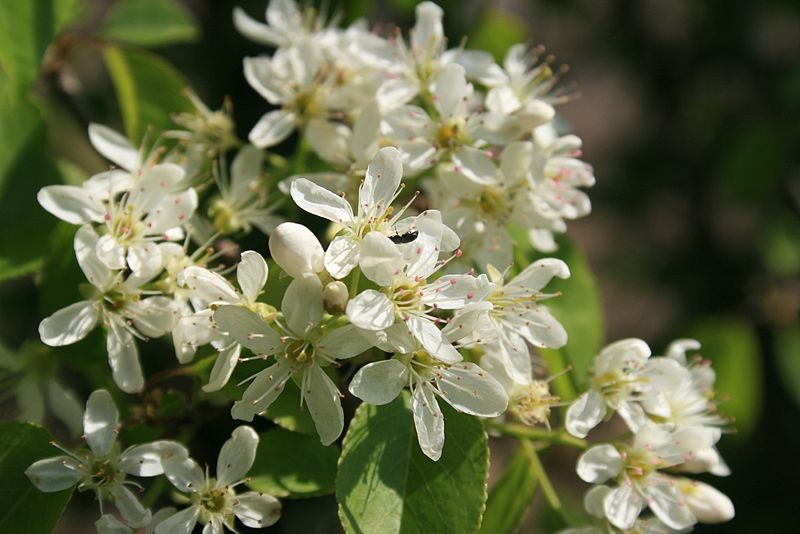 PR09 Perfumed Cherry, St. Lucie cherry Prunus Mahaleb
Best for zones 6-8. A cherry with interesting foliage, it has bright green heart-shaped leaves which turn yellow in autumn. Mature plants bear masses of fragrant cup-shaped white flowers. Fast growing to 30 ft.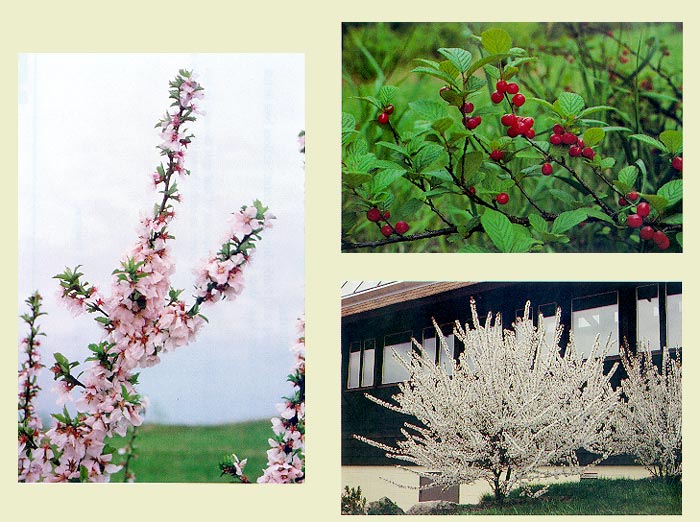 PR11 Nanking Cherry Prunus tomentosa
Best for zones 2 to 7, grows to 8 ft, spread 8 ft. Rounded, deciduous shrub with white flowers and red fruit. Nanking Cherry (Vis. 2) can be used in the shade, but it flowers better in sun or partial shade. The flowers (Vis. 1) are borne briefly in early spring and are pale pink, fading to white. The red fruits are sour and eaten by birds. The plant is often purchased by homeowners as a smaller substitute for tart cherry.
This item is currently out of stock, if you would like to be notified by E-mail when it becomes available again, simply enter your E-mail address in the field below and hit "Submit".