Sagina Seed ( Perennial )
Lush deep green moss-like carpet of foliage 1" tall. Tiny translucent star-shaped white flowers add to its beauty in spring. Irish Moss is just the ground cover you need for rock gardens and planting between stepping stones or pavers.
Useful gardening information
Sow seeds in starter flats, press the tiny seeds into soil but do not cover. Kept at 64 - 72F, germination is in 14 - 21 days.
Transplant into the garden 6 - 9 inches apart. Seeds can be direct sown into the garden ( but best started inside ) or in-between stones. The seeds must be kept moist continuously. It will be adaptable to mostly sunny locations in cooler climates or partial shade in warmer climates. Irish Moss ground cover needs moisture retentive, gritty, well-drained soil. The plants are hardy above -30F degrees.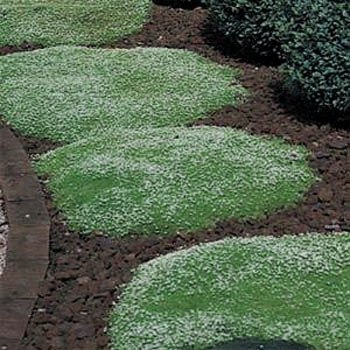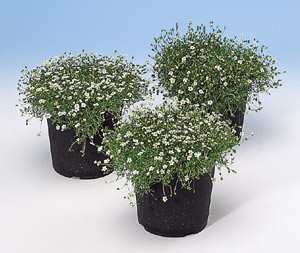 SF164 Irish Moss ( Sagina subulata )
Grow this luxurious, evergreen ground cover plant from seeds to ground cover in only 8 weeks. Mossy foliage grows just 1 to 2 inches tall, for lovely color between flagstones or spilling over rocks. Dense tufts of slender stems grow together to form a lush carpet of green. Small, star-shaped, white flowers cover this flowering ground cover plant from late spring until mid-summer.
The very tiny Irish Moss seeds create a moss-like, emerald-green foliage that forms a compact 1 to 2 inch tall carpet. This ground cover is excellent for planting between flagstones. Grown as a lawn substitute, it creates the effect of a moss-covered meadow. Irish Moss is very soft to walk on barefoot, and it has a slightly spongy feel to it. Hardy for zones 4-10.
Important Note: These are very tiny seeds, even smaller than tobacco or petunia seeds. They are easily germinated by following instructions above, but they must be started inside and transplanted outside as "plugs". These will not germinate well outside, except in some instances where they are sowed between flagstones.
New! 1A451 Irish Moss Pelleted Seeds
These pelleted seeds make for easy sowing and germination were smaller amounts of seeds are needed. Each pack contains over 150 pelleted seeds. Seeds are shipped in protective plastic vial.