This no-fuss winter squash variety boasts an early and prolific harvest, a long season, excellent disease and mildew resistance and perfect suitability for storing. The rich golden orange flesh has the dense texture of a potato.
The compact oval fruit grows to a convenient size and weight (roughly 2 lbs or 1.1 kg) and grows on a long vine with small leaves. The skin is a muted orange and variegated green alternating loosely in vertical stripes.
Very versatile, perfect for soups or pies or even stuffed. Roasted with olive oil and chestnuts, it complements other garden veggies in a yummy salad. Top with a ginger, garlic and sesame dressing. 90 days.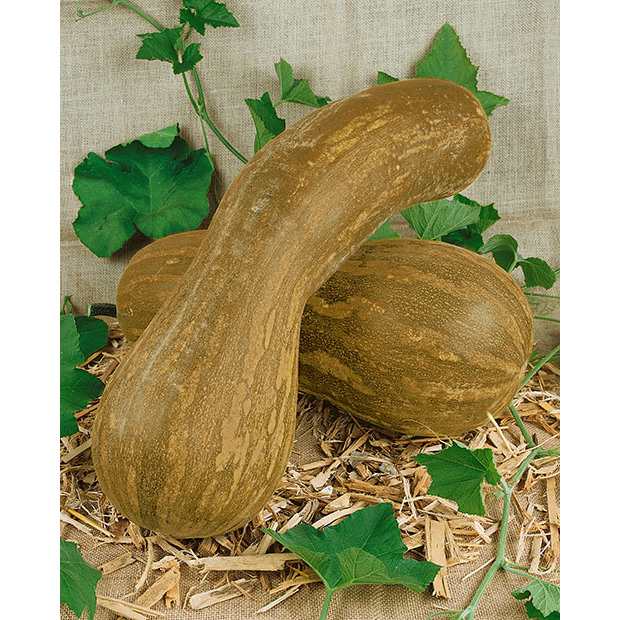 SF143 Lunga di Napoli Italian Winter Squash
A delicious long storage squash can easily reach 40 pounds or more! This butternut shaped squash is 2 feet long when mature. The fruit has green skin with grey streaks. The sweet orange flesh has few seeds and is delicious in soups or baked and served in slices. Fruit stores for a long time. 105-110 days.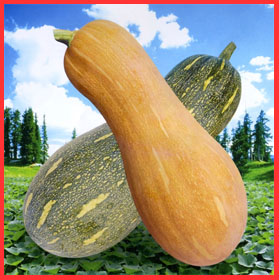 SF115 Taiwan Honey Hybrid Winter Squash
Taiwan Honey is a new hybrid variety developed from the well-known high quality squash in Taiwan. The plant is very vigorous and strong branching for setting lots of fruits in warm climates.
This variety starts to have female flowers in 12-15th notes. Young fruits are in light green color, then become deep green and later in golden skin with white stripes when matured. Thick flesh, in golden red color, is very sweet and tasty. First fruit can be harvested 60 days after transplanting.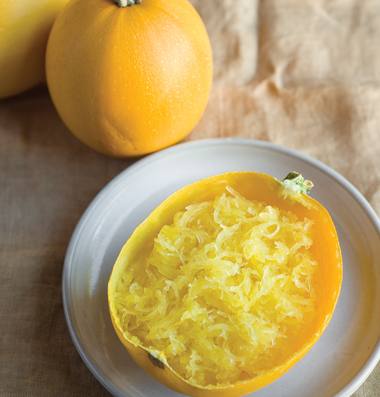 IP118 Angel Hair Personal Sized Spaghetti Squash
(1.5-2 lbs.) This is a personal size Spaghetti Squash weighing only 1-1/2 to 2 pounds and making only 1-2 servings. It is sweet and flavorful. The fruit are egg shaped with a sunshine yellow color when ripe. Produces prolific yields of fruits, tolerates powdery mildew race 2, and has a long storage life. 88 days.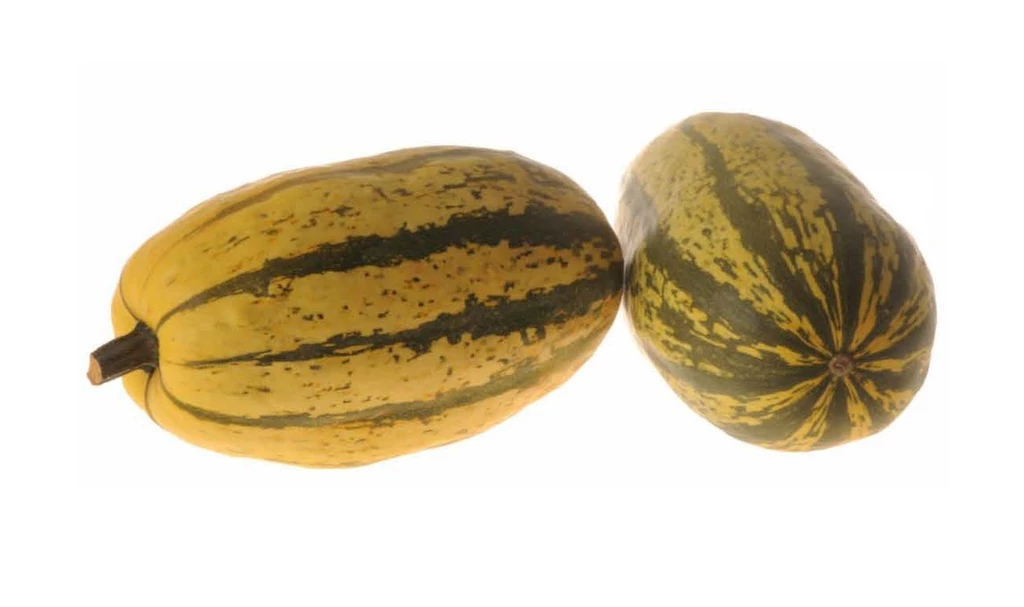 2007 Stripetti Striped Vegetable Spaghetti
A Striped Vegetable Spaghetti with better flavor! A cross between spaghetti squash and delicata, the threads in this squash are softer and more mild, with more corn-like flavor than the usual spaghetti variety. The skin color of Stripetti F1 changes to indicate ripeness. Fruit are very hard, giving long shelf life and good shipping. Good keeper. Cook whole in boiling water for 30 minutes or microwave. Good with pasta sauce.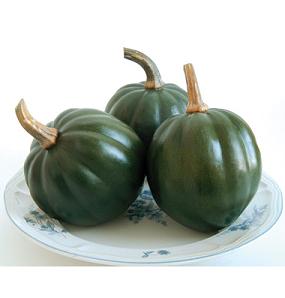 NB06 Honey Bear Acorn
Acorn, AAS, Personal size under 1 lb, round, green, ribbed, yummy taste, compact, resists mildew, fine for patio, 95 days.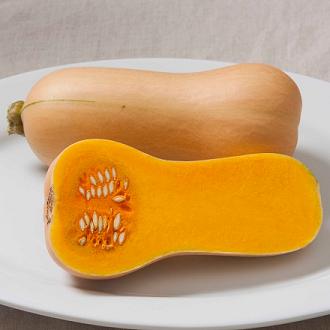 TRN509 Butterscotch
Unusually rich and sweet flavor due to higher sugar content than other butternut types. Small 1-2 lb. fruits mature early and can be consumed at maturity. This AAS F1 Mini butternut with it's rich sweet flavor and compact space saving vines also features resistance to mildew, 100 days.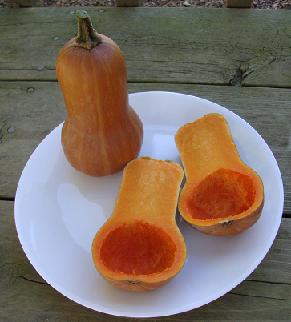 TRN510 Honey Nut
Adorable, serving size mini butternut with dark tan skin and great sweet flavor, simply cut in half and bake!
This specialty butternut squash comes from Cornell University's Breeding Institute. Honeynut produces mini butternut squash on a semi-vining type plant. The 5" long fruit weigh from 1 to 1-1/2 lbs. and have a sweet and rich flavored deep orange flesh.
The rind starts off a dark green, turns tan and then a rich burnt orange color at full maturity. Intermediate resistance to powdery mildew. Plant as early as possible due to long maturity. 110 days.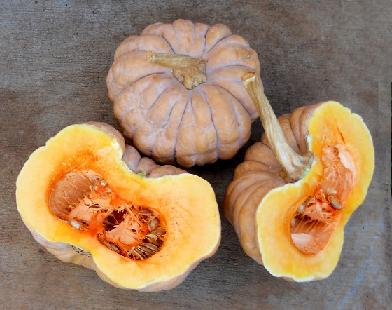 1A362 Japanese Kikuza
Japanese heirloom, light orange ribbed rind, thick juicy spicy, tender flesh, 5 lb, great baked or roasted, 92 days.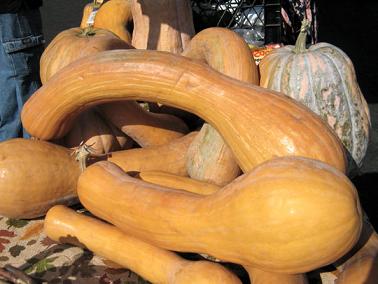 1A366 Tahitian Butternut
Butternut shape, elongated neck, light golden orange skin, sweet flesh, high yield, raw or baked, 110 days.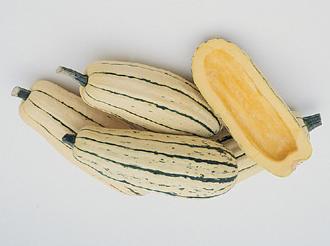 1A363 Delicata
Elongated 8" long, cream with dark stripes, sweet, stores well, great for stuffing/baking, 100 days.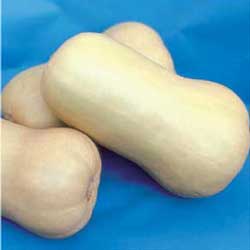 1A364 Waltham Butternut
Butternut, uniform large 5 lb, productive, very long storage potential, tan skin, 100 days.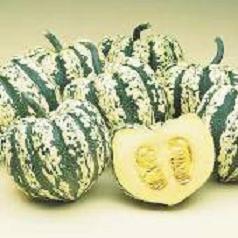 3442 Heart of Gold
Acorn, cream with green stripes, orange flesh, 3 lbs, semi-bush, very tasty, 85 days.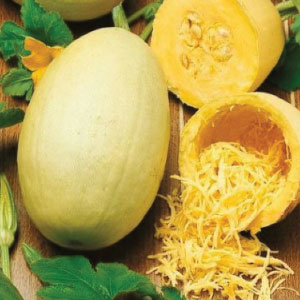 G160 Spaghetti Squash
maturing winter squash producing 4-5 lb fruits. Bake in oven, split open and remove the "spaghetti" and top with your favorite sauce, delicious!
Note: The price of this item has been slashed to Ninety Five cents per pack! To order this and fifty other vegetable seed selections for only 95 cents per pack, please visit our GoodCentsVegetables Seed List.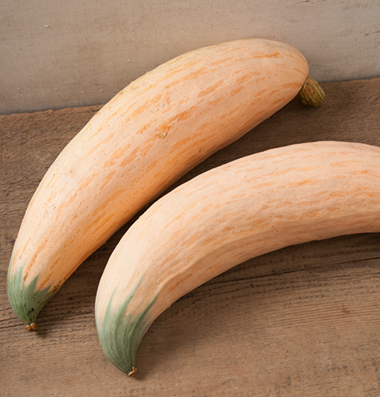 TRM444 Georgia Candy Roaster
Much like the Banana squash, but these get even bigger, up to 60 lbs! The long cylindrical fruit has thin pink skin and delicious orange flesh, is perfect for baking and pies. This heirloom is productive and it keeps well! These are very rare.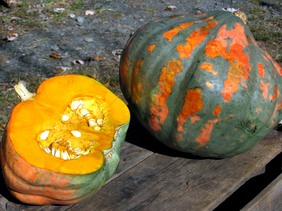 TRM759 Candy Roaster ( Heirloom )
This huge Appalachian heirloom features 30 lb. squash with great flavor. Produces delightfully warty, buttercup-shaped fruit, with pinkish-orange coloring and blue-green markings. Very sweet and excellent for baking. Ribbed pumpkin shape, big vines. 112 days.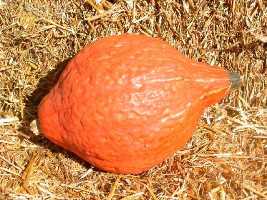 1A203 Golden Hubbard
Introduced by D. M. Ferry in 1898. Typical hard-skinned hubbard, but the shell color is a beautiful deep orange. Fruits weigh from 8-12 pounds and have thick dry sweet fine-grained golden-yellow flesh. Great keeper. 90-100 days. Seeds from SSE.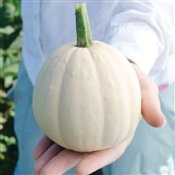 TRN003 Buffy Hybrid
A mini winter squash with long lasting shelf life of 6-8 months if not longer. Nice white to beige coloring. Trailing vine habit, extremely high quality flesh that is high sugary type. Ornamental or edible usage is perfect for this pint size squash. Powdery Mildew Races 1 & 2, Podi Virus. 75 days.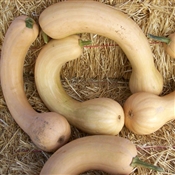 TRN004 Turkeyneck Hybrid
Produces large 5-10 pound squash with great flavor. This is delicious butternut squash of the "neck pumpkin" type. It has an elongated neck for enormous yields of rich orange flesh. The skin is tan and the bulb end has a small seed cavity. The plants are productive. Full vine. Tolerant of PM and ZMV. C. moschata. 90-95 days.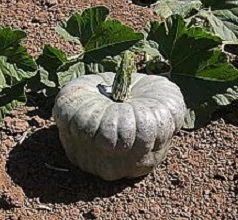 1A205 Queensland Blue
Beautiful variety of winter squash procured from Australia in 1932. Blue skin is deeply ribbed all around the sides, but flat on the top and bottom. Fruits weigh 12-20 pounds when fully mature. Flesh is thick and dense, semi-sweet, very flavorful and of the best quality. Excellent variety for extended winter storage. 100-120 days.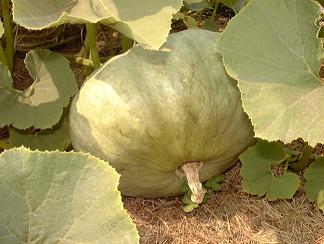 1A352 Sweet Meat
Heirloom, vigorous vine, 10 lb fruit, hard shell, orange flesh, sweet, dry, fine grain, 100 days.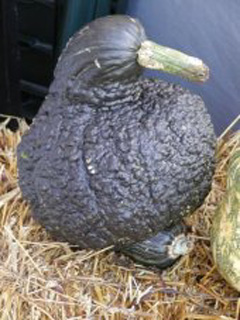 1A353 Chicago Warted Hubbard
Dark green Hubbard shape, 10 x 12", 14 lbs, covered with heavy warts, thick gold flesh, dry, sweet, keeps well, 105 days.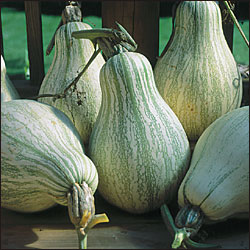 1A208 Tennessee Sweet Potato
First listed in 1847 by New York seedsman Grant Thorburn as Green Striped Bell and most likely re-named by Burpee in 1883 to Tennessee Sweet Potato. Poor eating qualities, 10-20 pound fruits are best for extremely long-lasting decorations. Does well in cooler weather. 95-100 days.
This item is currently out of stock, if you would like to be notified by E-mail when it becomes available again, simply enter your E-mail address in the field below and hit "Submit".