Useful gardening information
Winter squash is a warm-season vegetable that can be grown in most of the country. It differs from summer squash in that it is harvested and eaten in the mature fruit stage, when the seeds within have matured fully and the skin has hardened into a tough rind. When ripened to this stage, fruits of most varieties can be stored for use throughout the winter.
Winter Squash is a tender vegetable. The seeds do not germinate in cold soil, and the seedlings are injured by frost. Do not plant until all danger of frost is past and soil is thoroughly warmed.
Spacing and Depth
The vining types of squash require at least 50 to 100 square feet per hill. Plant seeds one inch deep (four or five seeds per hill). Allow 5 to 6 feet between hills. When the young plants are well-established, thin each hill to the best two or three plants. Allow 7 to 12 feet between rows.
Plant semi-vining varieties one inch deep (four or five seeds per hill) and thin to the best two plants per hill. Allow 8 feet between rows.
Plant bush varieties one inch deep (1 or 2 seeds per foot of row) and thin to a single plant every three feet. Allow five feet between rows.
Informative articles found on the web:
Growing Winter Squash
Winter Squash Recipes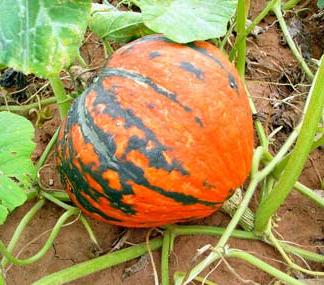 1A442 Lakota ( Heirloom )
Sioux Indian heirloom, pear shape, flame orange with green streaks, 8 x 9", fine grain flesh, nutty taste, beautiful fall decoration, 95 days.
Lakota is as colorful as an Indian blanket with the fine baking quality of Hubbard.
You can store Lakota squash in a cool, dry place for three months or more after picking them. Leave about two inches of stem attached to the vegetables when you harvest them to prevent bacteria and mold spores from entering the stem end. Wash and dry the squash to remove excess soil and to prevent bringing pathogens into the storage area. The cut stem end will dry and form a "handle". Watch for scuffed places on the skin of the squash.
Scuffs and small scrapes will usually heal over by forming a pithy scab, which will keep bacteria out. If scrapes do not heal over, use those squash first so they don't spoil.