FDA Disclaimer
The statements on this web site have not been evaluated by the FDA. The products mentioned herein are not intended to diagnose, treat, cure, or prevent any disease. For medical advice, always consult your health care professional.
---
Stevia Recipes
---
SBE now offers Stevia Rebaudiana in Herbal Powder and Extract Form
What is Stevia? It is an herbal plant originally from Paraguay with small green leaves that have a delicious flavor and is said to be 30 times sweeter than sugar but has no caloric value.
It is an annual plant that can yield up to 1/2 pound of dried leaf per plant.
The leaves of the plant also contain proteins, carbohydrates, iron, potassium, zinc, calcium, magnesium and other minerals along with Vitamins A and C.
It is used in Japan as a noncaloric sweetener, but has not been approved for this use in the United States by the FDA. It has been approved by the FDA as a dietary supplement for nutritional benefits. Dried Stevia leaves are available at herb shops and botanicals and are often used in cooking instead of sugar ( again, this is not approved by the FDA yet ).
Stevia also has many therapeutic uses in other countries. In Brazil, it has been found to lower sugar levels in diabetics. In China, it is used to aid digestion, lose weight and even to stimulate the appetite.
Stevia powder is said to work wonders on any type of external sore and it is said drinking Stevia tea will reduce mouth sores and improve oral health.
We offer the following Stevia Products:
Stevia Seeds
We've been searching for good, viable stevia seeds for years, and now we can finally offer them. A low germinator by nature, you should receive excellent results from these seeds provided you use the Special Seed Starting Trays we offer. This is a tender perennial that is hardy in zone 9, but usually raised as an annual in Northern states.
Requires only 100 days from time you transplant outside till harvest.
Stevia is also an excellent houseplant and can be raised in any sunny location. Provide a container at least 14" wide.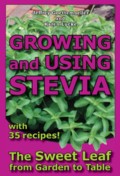 STV077 Growing and Using Stevia New Edition
The Sweet Leaf from Garden to Table
By Jeffrey Goettemoeller
Grow Your Own Sweet Herb!
"Growing and Using Stevia" will equip you to grow, harvest, process, and cook with stevia, the low-calorie sweet herb!
Stevia rebaudiana is a natural, low-glycemic, low-calorie alternative to sugar and artificial sweeteners.
Growing and Using Stevia is your complete stevia guide from garden to table, with chapters about propagating, growing, and harvesting stevia,indoors and out. Enjoy your harvest with 35 delicious recipes developed in the Lucke and Goettemoeller kitchens!
Learn how to:
Start stevia from seeds, cuttings, or transplants. Grow stevia in your garden or in containers. Harvest leaves and make your own green powder or liquid stevia extract. Use homegrown stevia in pies, frozen desserts, herb tea, smoothies, and more!
"...one of our favorites. It's simple and all in one. You get the facts, recipes, and how to grow it. The price is economical and we are happy to offer it along with live plants and other stevia products."
—Marshall and Judy Ayer
Ayer Natural Market and Greenhouse; Bluford, IL
Jeffrey Goettemoeller and Karen Lucke are siblings who grew up gardening and enjoying wholesome home cooking. Karen is now a nutritionist and reflexologist. Jeffrey is the author of Stevia Sweet Recipes: Sugarfree—Naturally!, with over 300,000 copies in print.
He also majored in horticulture at Northwest Missouri State University and completed a published research study on the production of Stevia rebaudiana seeds.
isbn: 978-0-9786293-3-5
Figures
0-1. Branched Stevia sprig — 7
0-2. Stevia plant sprig — 10
0-3. Stevia Leaf — 10
0-4. Magnified Stevia blossoms — 10
2-1. Raised growing beds — 14
2-2. Young plant ready to transplant — 15
2-3. Raised beds with Stevia plants — 16
2-4. Raised bed with shade cover — 18
2-5. Mulched plants with drip hose — 19
2-6. Pruned stevia plant — 20
2-7. Horizontal stem with vertical side branches — 20
2-8. Mature Stevia plant — 21
3-1. Large potted plant — 23
3-2. Newly dug plants — 24
3-3. Young houseplant — 25
3-4. Overwintering plants indoors — 26
3-5. Potted plant in the spring — 27
4-1. Stem cutting — 29
4-2. Newly planted cuttings — 30
4-3. Rooted Cuttings — 31
5-1. Stevia seeds with penny — 33
5-2. Recycled clamshell flat — 34
5-3. Nursery flat with cell packs — 35
5-4. Newly planted cell packs — 36
5-5. Nursery flat and light — 37
5-6. Young seedlings — 37
5-7. Cell packs under fluorescent light — 38
5-8. Stevia seedlings in cell packs — 38
5-9. Young Stevia plant from seed — 39
6-1. Sprig with blossom buds — 41
6-2. Dried leaves on stems — 42
6-3. Drying Stevia leaves on a rack — 42
8-1. Dried Stevia leaves — 46