Thyme Seeds
This long-lived perennial herb is a mainstay of American cuisine. Thyme herb is found in recipes for almost everything including fish, chowders, sauces, stuffings, soups, meats and poultry. The aromatic, warming flavor holds up well during long cooking times.
Useful gardening information
Sow the seeds indoors on sterile starting mix 6-8 weeks before last frost. Keep the seeds moist until germination. Once frost season has passed transplant the seedlings into the garden in a sunny location.
Do not over water. It likes to dry out in-between waterings. Thyme plants dislike wet foliage, so surrounding the plant with a layer of gravel can help this.
Links to useful information on the web:
Planting, growing and harvesting Thyme
---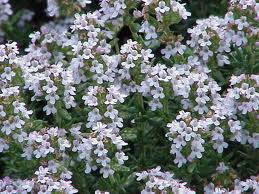 HR229 English Thyme ( Thymus vulgaris )
Plant thyme in your herb garden, at the edge of a walk, along a short garden wall, or in containers. As a special garden treat, put a few along a walkway and between steps, and your footsteps will release its aroma.
It even makes a pretty patch of small ground cover. Growing thyme provides an anchor in an herb garden in areas where it is evergreen in winter. Thyme is also perfect for containers, either alone or in combination with plants that won't shade it out.
It is not only attractive in the perennial border or herb garden, but it also attracts birds, bees and butterflies to the garden as well. It is also commonly referred to as Garden Thyme or English Thyme.
This variety is often planted near vegetables to help control flea beetles and several cabbage pests.
A perennial for zones 4-9.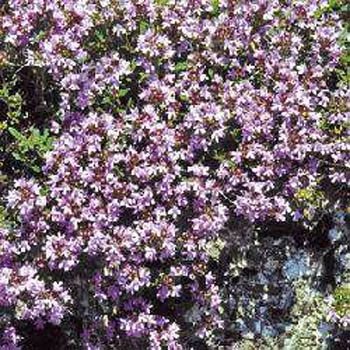 HR234 Creeping Thyme, Mother of Thyme ( Thymus serphyllum )
Used in teas, salads, rice and fish dishes. Trailing, thick flat spreading plants. Good for rockgardens, has small pink flowers.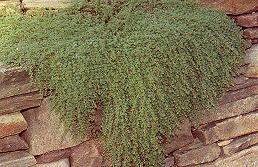 TPF039 Creeping Thyme ( BULK ) Thymus serpyllum
For Zones 5-8. This thyme is a creeping, woody based perennial which is primarily used as a ground cover. Numerous, thin, somewhat woody stems form a flat mat (2-3" tall) with tiny, rounded, glossy blue-green leaves (to 1/4"). Although leaves are aromatic, strength of scent varies according to season and habitat and leaves are usually not considered to be of culinary quality. Clusters of tiny, tubular, deep pink flowers appear in summer. Flowers are attractive to bees. Best as a small area ground cover or filler between stepping stones. Will sprawl over small rocks or over ledges in the rock garden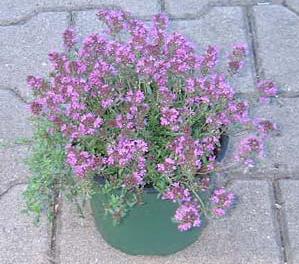 SF169 Aromatic Thyme ( Thymus serpyllum )
(Fragrant Mother-of-Thyme) A versatile perennial that can be used in many ways including in herb gardens, rock gardens, borders and paths. Tea helps cold and coughs. Also used in cooking. Low creeper, well suited as ground cover. Perfumes the air when trodden upon. Helps to clear mucous congestion. Used in cooking. Aromatic low growing bush or creeping herbs, ideal for rockeries, borders, or along pathways. Pretty pink or purple blossoms are a favorite of honeybees. Culinary and medicinal value. Grow indoors or out in full sun.
TRN243 Magic Carpet Thyme ( Thymus serpyllum )
Carmine pink, green leaf, very aromatic, low growing tufts reaching about 2" tall. Grow as an annual.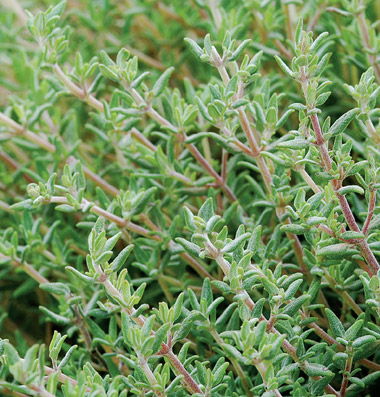 TRN244 Orange Thyme ( Thymus fragrantissimus )
Citrus flavor, perfect with fish or vegetables, hardy "walk on" plant growing about 6" tall. Grow as an annual.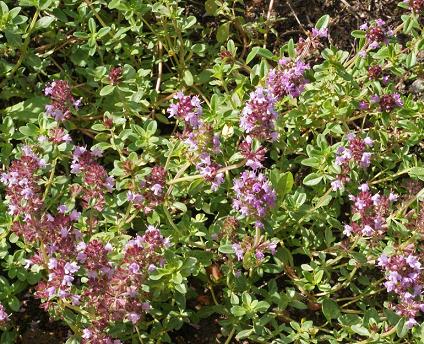 TRN256 Carpet Lilac Thyme ( Thymus serpyllum )
If you have a stepping stone path or a flagstone patio, Magic Carpet is a great way to add lovely, low-growing thyme to the walkway and patio crevices. Creeping thyme ground cover is only 2 - 4 inches high, and it spreads and flowers for most of the summer.
Perfect for edging the flower border, rock gardens, walkways, patios and in containers. The plants are full of tiny lilac pink clusters of blooms that are attractive to butterflies. The groundcover is lemen-scented, and it is a maintenance free, hardy plant that will give years of beauty and enjoyment.
For zones 4-8.
Sow the seeds in starter trays indoors 6 weeks before the last expected frost. Press the Thyme seeds into the soil but do not cover them. Transplant the young seedlings into the garden 12 inches apart. After frost danger has passed, creeping thyme seeds can be directly seeded in a prepared seed bed that is weed free and has had the top several inches loosened and raked fine.
Outside: scatter the seeds and press them firmly into the soil. The ground cover seeds must be consistently kept moist. If weeds grow along with the thyme, it's best to hand pull them.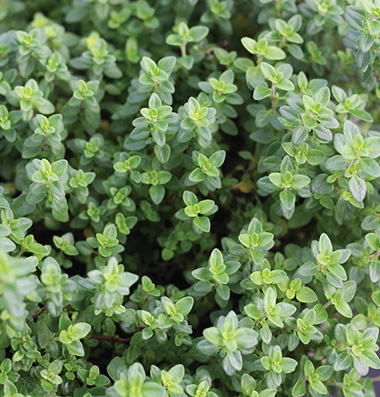 SF122 Aromatic Lemon Thyme Thymus pulegioides
The most fragrant type, thick mats of perfumed rose purple flowers. Lemony flavor used in cooking and cough remedies. Grows about 4" tall. Hardy to zone 6.
---
Share a growing tip or recipe and help other gardeners!

Click on the Contact Form link, place "Tip" in the name line and fill in your information. If we accept your Thyme growing tip or recipe, we will post it on this page.