Purple Top
Crisp, mild-flavored flesh.
Round roots with bright purplish red top, pure white base and firm, crisp, mild-flavored flesh. Harvest in about 55 days.
Note: The price of this item has been slashed to Ninety Five cents per pack! To order this and fifty other vegetable seed selections for only 95 cents per pack, please visit our GoodCentsVegetables Seed List.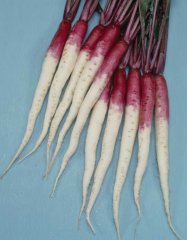 TRM747 Japanese Hinona Kabu
Brassica rapa var rapifera. A unique, long, thin, mild-flavored turnip that has a red top, and the bottom two thirds are white. It measures 1.5" wide and up to 12" long.
This traditional Japanese vegetable or dento yasai originated in the Shiga prefecture in the 1470ís. Used to make sakura zuke or cherry blossom pickle.
Sakura Zuke or Cherry Blossom Pickle Recipe:
Adapted from World Cuisine website.
Ingredients:
1 bunch Hinona Kabu red turnips
1 tsp salt
3/4 cup rice vinegar
1/2 cup sugar
Trim the top off the turnip to make a flat base. Place 2 pencils or other sticks on a cutting board to stop the knife from cutting all the way through the root. Place the turnip on its top (now a flat base) between the sticks. With a sharp knife, make 4 to 6 cuts the full length of the turnip ending carefully at the sticks. This way there will be a piece of turnip intact to hold it together. Turn the root 90° and make another 4 to 6 cuts, stopping at the sticks. Repeat this with all the turnips.
Put the cut turnips in a bowl, sprinkle with salt and lightly massage it in. Place a plate that is smaller than the diameter of the bowl on top of the radishes. Put a weight on top of the plate to force some of the liquid out. After 30 minutes remove the plate and drain the liquid.
Stir the vinegar and sugar together until dissolved, heating a little if necessary. Pour over the turnips and leave at least 8 hours or longer to marinate.
Drain well before serving. Use with green leaves as a garnish.