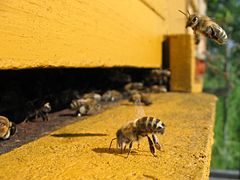 Colony Collapse Disorder
During 2006, an alarming number of honey bee colonies began to die across the continental United States. Subsequent investigations suggest these outbreaks of unexplained colony collapse were experienced by beekeepers for at least the last two years. Reports of similar die offs are documented in beekeeping literature, with outbreaks possibly occurring as long ago as 1896.
The current phenomenon, without a recognizable underlying cause, has been tentatively termed "Colony Collapse Disorder" (CCD), and threatens the pollination industry and production of commercial honey in the United States. -- Colony Collapse Disorder Working Group
The cause (or causes) of the syndrome is not yet well understood. Theories include environmental change-related stresses, malnutrition, pathogens, disease including Israel acute paralysis virus, mites, pesticides such as neonicotinoids or imidacloprid, radiation from cellular phones or other man-made devices, and genetically modified (GM) crops with pest control characteristics such as transgenic maize.
What can you do? Every gardener should try to provide a small pesticide free, bee friendly area in their yard or garden. It doesn't take much effort, and our bee friends will certainly appreciate it!
At Seedman.com, we have thought about this a lot, and have come up with a rewarding way to help out nature. Our seed donations to schools and city beautification projects now feature a special seed mix that is perfect for our honey producing friends.
After a year of testing this mix, we are now making it available to everyone.
It is a special flower seed mixture that provides nectar and shelter for bees, and also benifits people as well.
This special mix is really unique because:
All of the flowers in this mix can be used as cutflowers.
All of the plants in this mix are disease and pest resistant and do not require chemicals to maintain their health and appearance.
This mixture is very easy to grow, throw the seeds into a cultivated area, rake in, and that's it.
This mixture can be grown anywhere in the USA, and most of Canada and Mexico.
This is a designed mix that will keep flowers blooming from early spring to the first frost.
These plants will grow in almost any soil type, they do not require special attention, care or fertilizing..
This is a really beautiful flower selection, planting these seeds will make any are much more beautiful, it is a wonderful way to add color to a neglected area. Imagine how much good could be done is an abandoned lot was transformed into a patch of beautiful flowers.
This mix includes the following flowers:
Zinnia-Dahlia Mix, Sunspot Sunflower, Cornflower, Lemon Mint, Yellow Cosmos, Coreopsis Radiata Mix, Cosmos, Bird's Eyes, Rocket Larkspur, Mountain Garland, Indian Blanket, Red Corn Poppy, Baby's Breath, Gloriosa Daisy, Teddy Bear Sunflower, Bishop's Flower, Scarlet Flax and Catchfly.
All varieties are annuals, or perennials that can be grown as annuals, meaning that they all will bloom the first season planted.
Most varieties in this mix will reseed themselves.

Do nature a favor and plant some of these beautiful flowering plants this season.
Our Bee Lover's Seed Packs are available in the following sizes:
30cc Bee Lover's Seed Packs
This package of seeds will sow a 50 square foot area.
Case of 50 Each 30cc Packs
Each package of seeds will sow a 50 square foot area, this is a good ideal for promotions and fund raisers.
Case of 100 Each 30cc Packs
Each Pack of seeds will sow a 50 square foot area, this is the most economical package.
Four ounce bulk pack
Each pack of seeds will sow a 625 square foot area.
One pound bulk pack
Each pack of seeds will sow a 2,500 square foot area.