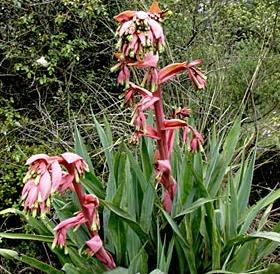 RLP042 Mexican Lily ( Beschorneria yuccoides )
This plant from the Agave family is found in high altitude pine-oak forests in central and eastern Mexico to 3500 m (11500 ft.). It grows a large, suckering rosette of soft, arching, keeled, blue-green leaves to 10 cm (4 in.) wide. The reddish inflorescence has a lily-like appearance.
A stemless rosette native to Mexico that is related to Yucca and Agave, reaching 5-6 feet tall. The tough and pliable leaves are 1 to 2 feet long by 2 inches wide and a gray-green color. In summer, the red flower stalks rise high above the foliage and displays bright green pendulous flowers embraced by red bracts. Plant in full sun, little water. Hardy to minus 15 degrees F, the hardiest species of Beschorneria.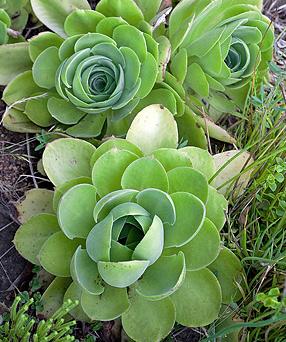 TRM242 Giant Velvet Rose ( Aeonium canariense )
A larger species from Tenerife in the Canary Islands with a sparsely branching stem and flatish rosettes of succulent, spoon-shaped leaves.
This item is currently out of stock, if you would like to be notified by E-mail when it becomes available again, simply enter your E-mail address in the field below and hit "Submit".